Última revisión:
1 Sept 2020
Última actualización:
12 Sept 2019
Resumen
La enfermedad pulmonar obstructiva crónica (EPOC) se caracteriza una limitación progresiva del flujo aéreo que no es totalmente reversible.
Esta enfermedad se sospecha en pacientes con antecedentes de tabaquismo, factores de riesgo laborales y ambientales, o antecedentes personales o familiares de enfermedad pulmonar crónica.
Presenta disnea progresiva, sibilancias, tos y producción de esputo, incluida la hemoptisis.
Las pruebas diagnósticas incluyen pruebas de función pulmonar, radiografía de tórax, tomografía computarizada del tórax, oximetría y análisis de gases sanguíneos arteriales.
Se debe animar a los pacientes a dejar el tabaco o evitar la exposición laboral, y se vacunen contra la influenza viral y el Streptococcus pneumoniae.
Las opciones de tratamiento incluyen broncodilatadores, corticosteroides inhalados y corticosteroides sistémicos.
La oxigenoterapia a largo plazo aumenta la supervivencia en los casos de enfermedad pulmonar obstructiva crónica (EPOC) grave.
Definición
La enfermedad pulmonar obstructiva crónica (EPOC) es un estado de enfermedad prevenible y tratable caracterizado por la limitación del flujo de aire que no es totalmente reversible. Incluye enfisema y bronquitis crónica. La limitación del flujo aéreo generalmente es progresiva y está asociada a una respuesta inflamatoria anormal de los pulmones a partículas o gases nocivos. La principal causa de la enfermedad es el tabaquismo. Si bien la enfermedad pulmonar obstructiva crónica (EPOC) afecta los pulmones, también presenta consecuencias sistémicas importantes. Las exacerbaciones y comorbilidades son factores importantes que contribuyen a la afección general y al pronóstico en pacientes individuales.[1]Global Initiative for Chronic Obstructive Lung Disease (GOLD). Global strategy for the diagnosis, management, and prevention of chronic obstructive pulmonary disease. 2018 [internet publication]. https://goldcopd.org/wp-content/uploads/2017/11/GOLD-2018-v6.0-FINAL-revised-20-Nov_WMS.pdf
Anamnesis y exploración física
presencia de factores de riesgo (p. ej., tabaquismo)
tos
disnea
tórax en tonel
hipersonoridad a la percusión
ruidos respiratorios distantes en la auscultación
flujo débil de aire en la auscultación
sibilancias en la auscultación
crepitantes gruesos
taquipnea
asterixis
venas del cuello distendidas
hinchazón de las extremidades inferiores
fatiga
cefalea
cianosis
P2 fuerte
reflujo hepatoyugular
hepatoesplenomegalia
acropaquias
tabaquismo
edad avanzada
factores genéticos
linaje de raza blanca
exposición a la contaminación del aire o exposición laboral
desarrollo de pulmón anormal
sexo masculino
estado socioeconómico bajo
Pruebas diagnósticas
pruebas funcionales respiratorias
exploración de tórax por tomografía computarizada (TC)
cultivo de esputo
nivel de alfa-1-antitripsina
pruebas de ejercicio
estudio del sueño
función del músculo respiratorio
Más pruebas que considerar
Algoritmo de tratamiento
Colaboradores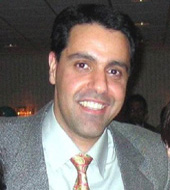 Fountain Valley Regional Medical Center
Fountain Valley
CA
Conflicto de intereses
MAS declares that he has no competing interests.
Dr Manoochehr Abadian Sharifabad would like to gratefully acknowledge Dr Jonathan P. Parsons and Dr Michael Ezzie, the previous contributors to this topic. JPP has contributed at speakers' bureaus for GlaxoSmithKline, Inc., Schering-Plough, Inc., and AstraZeneca, Inc. ME declares that he has no competing interests.
Hackensack University Medical Center
Hackensack
NJ
Conflicto de intereses
HA declares that he has no competing interests.
Assistant Professor of Medicine
National Jewish Medical and Research Center
University of Colorado Health Sciences Center
Denver
CO
Conflicto de intereses
WJ declares that he has no competing interests.
Associate Professor
Director of Respiratory Medicine
Eastern Health & Monash University
Victoria
Australia
Conflicto de intereses
FT declares that he has no competing interests.