Última revisão:
22 Set 2020
Última atualização:
12 Set 2019
Resumo
A doença pulmonar obstrutiva crônica (DPOC) é caracterizada por limitação progressiva do fluxo aéreo que não é totalmente reversível.
Suspeita-se dessa condição em pacientes com história de tabagismo, fatores de risco ocupacionais e ambientais, ou história pessoal ou familiar de doença pulmonar crônica.
Apresenta dispneia progressiva, sibilos, tosse e produção de escarro, incluindo hemoptise.
Os exames diagnósticos incluem testes da função pulmonar, radiografia torácica, tomografia computadorizada do tórax, oximetria e análise da gasometria arterial.
Os pacientes devem ser incentivados a parar de fumar ou a exposição ocupacional e a serem vacinados contra o vírus da gripe (influenza) e o Streptococcus pneumoniae.
As opções de tratamento incluem broncodilatadores, corticosteroides inalatórios e corticosteroides sistêmicos.
A oxigenoterapia de longo prazo aumenta a sobrevida em caso de doença pulmonar obstrutiva crônica (DPOC) grave.
Definição
A doença pulmonar obstrutiva crônica (DPOC) é um estado patológico que pode ser prevenido e tratado, caracterizado por uma limitação do fluxo aéreo que não é totalmente reversível. Ela envolve tanto o enfisema quanto a bronquite crônica. A limitação do fluxo aéreo geralmente é progressiva e está associada a uma reação inflamatória anormal dos pulmões a partículas ou gases nocivos. Ela é causada principalmente pelo tabagismo. Embora a DPOC afete os pulmões, ela também apresenta consequências sistêmicas significativas. As exacerbações e as comorbidades influenciam de maneira importante o quadro clínico e o prognóstico geral dos pacientes.[1]Global Initiative for Chronic Obstructive Lung Disease (GOLD). Global strategy for the diagnosis, management, and prevention of chronic obstructive pulmonary disease. 2018 [internet publication]. https://goldcopd.org/wp-content/uploads/2017/11/GOLD-2018-v6.0-FINAL-revised-20-Nov_WMS.pdf
História e exame físico
presença de fatores de risco (por exemplo, tabagismo)
tosse
dispneia
tórax em tonel
hiper-ressonância/timpanismo à percussão
murmúrio vesicular diminuído à ausculta pulmonar
expansibilidade reduzida à ausculta
sibilância à ausculta
crepitação grossa
taquipneia
asterixis (flapping)
veias jugulares distendidas
edema de membros inferiores
fadiga
cefaleia
cianose
hiperfonese da segunda bulha no foco pulmonar (P2)
refluxo hepatojugular
hepatoesplenomegalia
baqueteamento digital
tabagismo
idade avançada
fatores genéticos
ascendência branca
exposição à poluição do ar ou exposição ocupacional
pulmão com desenvolvimento anormal
sexo masculino
condição socioeconômica baixa
Exames diagnósticos
testes de função pulmonar
tomografia do tórax
cultura de escarro
nível de alfa 1-antitripsina
teste ergométrico
estudo do sono
função do músculo respiratório
Mais exames a serem considerados
Algoritmo de tratamento
Colaboradores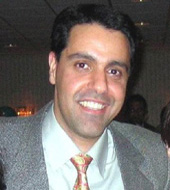 Fountain Valley Regional Medical Center
Fountain Valley
CA
Divulgações
MAS declares that he has no competing interests.
Dr Manoochehr Abadian Sharifabad would like to gratefully acknowledge Dr Jonathan P. Parsons and Dr Michael Ezzie, the previous contributors to this topic. JPP has contributed at speakers' bureaus for GlaxoSmithKline, Inc., Schering-Plough, Inc., and AstraZeneca, Inc. ME declares that he has no competing interests.
Hackensack University Medical Center
Hackensack
NJ
Divulgações
HA declares that he has no competing interests.
Assistant Professor of Medicine
National Jewish Medical and Research Center
University of Colorado Health Sciences Center
Denver
CO
Divulgações
WJ declares that he has no competing interests.
Associate Professor
Director of Respiratory Medicine
Eastern Health & Monash University
Victoria
Australia
Divulgações
FT declares that he has no competing interests.