Epidemiology
Cases have been reported across all continents since the beginning of the pandemic. Over 600 million confirmed cases and over 6.5 million deaths have been reported globally.[22]World Health Organization. Coronavirus disease (COVID-19) weekly epidemiological update and weekly operational update. 2022 [internet publication]. https://www.who.int/emergencies/diseases/novel-coronavirus-2019/situation-reports
[Figure caption and citation for the preceding image starts]: Number of COVID-19 cases reported weekly by WHO Region, and global deaths, as of 4 December 2022World Health Organization [Citation ends].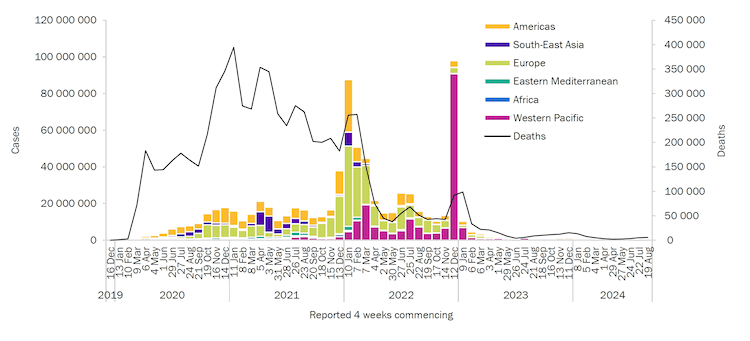 Updated case counts are available from the World Health Organization (WHO) and the Centers for Disease Control and Prevention (CDC):
Data from the CDC between February 2020 to September 2021 indicate the following estimated rates of disease outcomes in the US:[23]Centers for Disease Control and Prevention. Estimated COVID-19 burden. 2022 [internet publication]. https://www.cdc.gov/coronavirus/2019-ncov/cases-updates/burden.html
Infection: 44,650 per 1000,000 (44.6%)

Symptomatic illness: 37,764 per 100,000 (37.8%)

Hospitalization: 2286 per 100,000 (2.3%)

Death: 281 per 100,000 (0.28%).
Older people ≥70 years of age and males are at increased risk for infection and severe disease.[24]Pijls BG, Jolani S, Atherley A, et al. Demographic risk factors for COVID-19 infection, severity, ICU admission and death: a meta-analysis of 59 studies. BMJ Open. 2021 Jan 11;11(1):e044640. https://bmjopen.bmj.com/content/11/1/e044640.long http://www.ncbi.nlm.nih.gov/pubmed/33431495?tool=bestpractice.com  Adolescents appear to have similar susceptibility to infection as adults, and children have a lower susceptibility. However, evidence is conflicting and the detailed relationship between age and susceptibility to infection requires further investigation.[25]Viner RM, Mytton OT, Bonell C, et al. Susceptibility to SARS-CoV-2 infection among children and adolescents compared with adults: a systematic review and meta-analysis. JAMA Pediatr. 2021 Feb 1;175(2):143-56. https://jamanetwork.com/journals/jamapediatrics/fullarticle/2771181 http://www.ncbi.nlm.nih.gov/pubmed/32975552?tool=bestpractice.com [26]World Health Organization. COVID-19 disease in children and adolescents: scientific brief, 29 September 2021. 2021 [internet publication]. https://www.who.int/publications/i/item/WHO-2019-nCoV-Sci_Brief-Children_and_adolescents-2021.1  Unlike adults, children do not seem to be at higher risk for severe disease based on age or sex.[27]Castagnoli R, Votto M, Licari A, et al. Severe acute respiratory syndrome coronavirus 2 (SARS-CoV-2) infection in children and adolescents: a systematic review. JAMA Pediatr. 2020 Sep 1;174(9):882-9. https://jamanetwork.com/journals/jamapediatrics/fullarticle/2765169 http://www.ncbi.nlm.nih.gov/pubmed/32320004?tool=bestpractice.com  Variants may spread more effectively and rapidly among young children compared with the wild-type virus, although hospitalization rates decreased.[28]Somekh I, Stein M, Karakis I, et al. Characteristics of SARS-CoV-2 infections in Israeli children during the circulation of different SARS-CoV-2 variants. JAMA Netw Open. 2021 Sep 1;4(9):e2124343. https://jamanetwork.com/journals/jamanetworkopen/fullarticle/2783851 http://www.ncbi.nlm.nih.gov/pubmed/34491353?tool=bestpractice.com [29]Chen F, Tian Y, Zhang L, et al. The role of children in household transmission of COVID-19: a systematic review and meta-analysis. Int J Infect Dis. 2022 May 11;122:266-75. https://www.ncbi.nlm.nih.gov/pmc/articles/PMC9091150 http://www.ncbi.nlm.nih.gov/pubmed/35562045?tool=bestpractice.com
The incidence of infection in healthcare workers ranged from 0% to 49.6%, and the prevalence of seropositivity ranged from 1.6% to 31.6%. There was no association between age, sex, or healthcare worker role (i.e., nurse versus physician) and the risk for infection, based on moderate-certainty evidence. There was an association between Black race or Hispanic ethnicity and increased risk for infection compared with White race or non-Hispanic ethnicity, based on moderate-certainty evidence. There was an association between use of personal protective equipment and decreased risk for infection, based on moderate-certainty evidence.[30]Chou R, Dana T, Buckley DI, et al. Epidemiology of and risk factors for coronavirus infection in health care workers: a living rapid review. Ann Intern Med. 2020 Jul 21;173(2):120-36. https://www.ncbi.nlm.nih.gov/pmc/articles/PMC7240841 http://www.ncbi.nlm.nih.gov/pubmed/32369541?tool=bestpractice.com [31]Chou R, Dana T, Buckley DI, et al. Update alert 11: epidemiology of and risk factors for coronavirus infection in health care workers. Ann Intern Med. 2022 Aug;175(8):W83-4. https://www.acpjournals.org/doi/10.7326/L22-0235 http://www.ncbi.nlm.nih.gov/pubmed/35816711?tool=bestpractice.com