Patient discussions
General discussions
General prevention measures
Wash hands often with soap and water for at least 20 seconds or an alcohol-based hand sanitiser (that contains at least 60% alcohol), especially after being in a public place, blowing your nose, or coughing/sneezing. Avoid touching the eyes, nose, and mouth with unwashed hands.
Avoid close contact with people (i.e., maintain a distance of at least 1 metre [3 feet]) including shaking hands, particularly those who are sick, have a fever, or are coughing or sneezing. Avoid going to crowded and poorly ventilated places. It is important to note that recommended distances differ between countries (for example, 2 metres [6 feet] is recommended in the US and UK) and you should consult local guidance.

Practice respiratory hygiene (i.e., cover mouth and nose when coughing or sneezing, discard tissue immediately in a closed bin, and wash hands).
Stay at home if you are sick, even with mild symptoms, until you recover (except to get medical care)
Clean and disinfect frequently touched surfaces daily (e.g., light switches, door knobs, countertops, handles, phones).[467]World Health Organization. Coronavirus disease (COVID-19) advice for the public. 2021 [internet publication]. https://www.who.int/emergencies/diseases/novel-coronavirus-2019/advice-for-public [468]Centers for Disease Control and Prevention. How to protect yourself and others. 2020 [internet publication]. https://www.cdc.gov/coronavirus/2019-ncov/prevent-getting-sick/prevention.html
Face masks
Pulse oximetry
Patients may be required to use a pulse oximeter in the home setting. Patient education and appropriate follow-up are required.
Travel advice
Many countries have implemented international travel bans/closed their borders, have issued advice for domestic travel. Some countries are restricting entry to foreign nationals who have been to affected areas in the preceding 14 days, or are enforcing quarantine periods (e.g., at home or in a designated facility such as a medi-hotel) where the person's health and infection status are closely monitored. Some countries are requiring a negative test before departure and after arrival, and are implementing travel measures to protect against new international variants of the virus. Masks may be mandatory on flights.

Consult local guidance for specific travel restriction recommendations in your country:
Pets and animals
Return to physical activity
Recommend a phased return to exercise only when the patient has been symptom-free for at least 7 days. Advise patients to begin with at least 2 weeks of minimal exertion, and to use daily self-monitoring to track progress and decide whether to move up or drop back a phase. Patients who have a history of severe disease, cardiac involvement, ongoing symptoms, or adverse psychological symptoms require further clinical assessment before returning to physical activity.[1221]Salman D, Vishnubala D, Le Feuvre P, et al. Returning to physical activity after covid-19. BMJ. 2021 Jan 8;372:m4721. https://www.bmj.com/content/372/bmj.m4721 http://www.ncbi.nlm.nih.gov/pubmed/33419740?tool=bestpractice.com

Guidance on return to sports after COVID-19 in children is available from the American Academy of Pediatrics: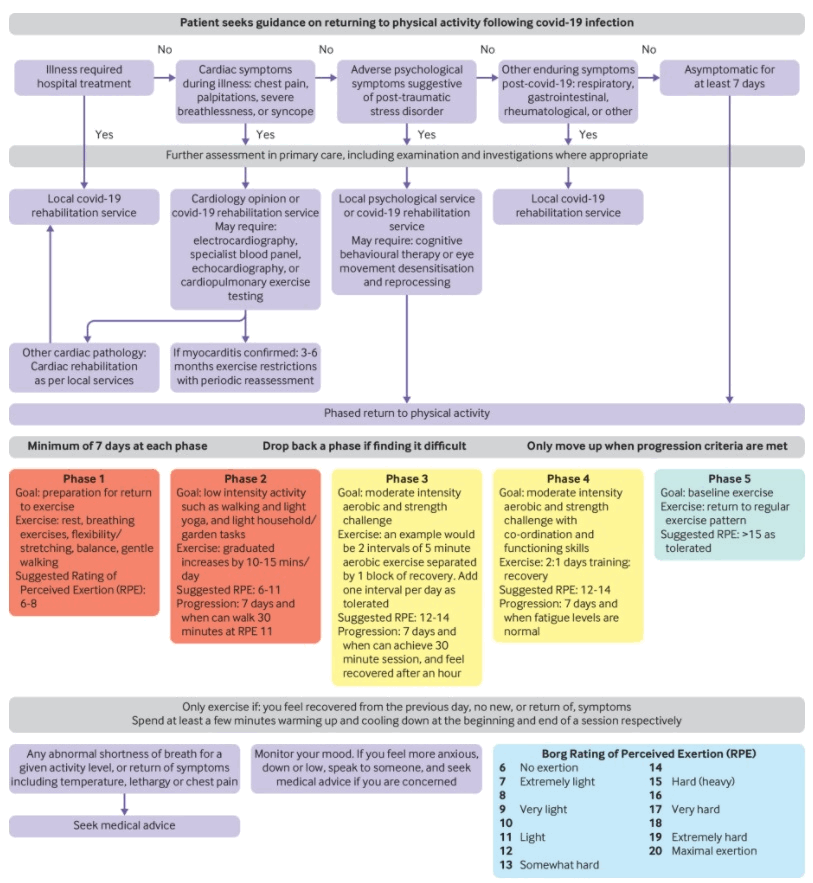 [Figure caption and citation for the preceding image starts]: Suggested return to physical activity after COVID-19: risk stratification to exclude features suggestive of myocarditis or post-acute COVID-19 and phased resumption of physical activity after 7 days without symptomsBMJ. 2021;372:m4721 [Citation ends].
Resources