Last reviewed:
August 2020
Last updated:
September 2019
Summary
Chronic obstructive pulmonary disease (COPD) is characterised by progressive airflow limitation that is not fully reversible.
Suspected in patients with a history of smoking, occupational and environmental risk factors, or a personal or family history of chronic lung disease.
Presents with progressive shortness of breath, wheeze, cough, and sputum production, including haemoptysis.
Diagnostic tests include pulmonary function tests, chest x-ray, chest computed tomography scan, oximetry, and arterial blood gas analysis.
Patients should be encouraged to stop smoking or occupational exposure and be vaccinated against viral influenza and Streptococcus pneumoniae.
Treatment options include bronchodilators, inhaled corticosteroids, and systemic corticosteroids.
Long-term oxygen therapy improves survival in severe COPD.
Definition
Chronic obstructive pulmonary disease (COPD) is a preventable and treatable disease state characterised by airflow limitation that is not fully reversible. It encompasses both emphysema and chronic bronchitis. The airflow limitation is usually progressive and is associated with an abnormal inflammatory response of the lungs to noxious particles or gases. It is primarily caused by cigarette smoking. Although COPD affects the lungs, it also has significant systemic consequences. Exacerbations and comorbidities are important contributors to the overall condition and prognosis in individual patients.[1]Global Initiative for Chronic Obstructive Lung Disease (GOLD). Global strategy for the diagnosis, management, and prevention of chronic obstructive pulmonary disease. 2018 [internet publication]. https://goldcopd.org/wp-content/uploads/2017/11/GOLD-2018-v6.0-FINAL-revised-20-Nov_WMS.pdf
History and exam
presence of risk factors (e.g., smoking)
cough
shortness of breath
barrel chest
hyper-resonance on percussion
distant breath sounds on auscultation
poor air movement on auscultation
wheezing on auscultation
coarse crackles
tachypnoea
asterixis
distended neck veins
lower-extremity swelling
fatigue
headache
cyanosis
loud P2
hepatojugular reflux
hepatosplenomegaly
clubbing
cigarette smoking
advanced age
genetic factors
white ancestry
exposure to air pollution or occupational exposure
developmentally abnormal lung
male sex
low socio-economic status
Diagnostic investigations
pulmonary function tests
chest CT scan
sputum culture
alpha-1 antitrypsin level
exercise testing
sleep study
respiratory muscle function
More investigations to consider
Treatment algorithm
Contributors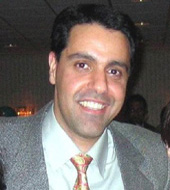 Fountain Valley Regional Medical Center
Fountain Valley
CA
Disclosures
MAS declares that he has no competing interests.
Dr Manoochehr Abadian Sharifabad would like to gratefully acknowledge Dr Jonathan P. Parsons and Dr Michael Ezzie, the previous contributors to this topic. JPP has contributed at speakers' bureaus for GlaxoSmithKline, Inc., Schering-Plough, Inc., and AstraZeneca, Inc. ME declares that he has no competing interests.
Hackensack University Medical Center
Hackensack
NJ
Disclosures
HA declares that he has no competing interests.
Assistant Professor of Medicine
National Jewish Medical and Research Center
University of Colorado Health Sciences Center
Denver
CO
Disclosures
WJ declares that he has no competing interests.
Associate Professor
Director of Respiratory Medicine
Eastern Health & Monash University
Victoria
Australia
Disclosures
FT declares that he has no competing interests.