Última revisão:
20 Abr 2022
Última atualização:
08 Jul 2021
Resumo
A cetoacidose diabética é caracterizada por uma tríade bioquímica de hiperglicemia, cetonemia e acidemia, com rápido início dos sintomas.
Os sintomas e sinais mais comuns incluem poliúria, polidipsia, polifagia, fraqueza, perda de peso, taquicardia, membranas mucosas ressecadas, turgor cutâneo diminuído, hipotensão e, em casos graves, choque.
O sucesso do tratamento inclui a correção da depleção de volume, hiperglicemia, desequilíbrios eletrolíticos e eventos desencadeantes de comorbidade, com monitoramento frequente.
As complicações do tratamento incluem a hipoglicemia, hipocalemia, hipoxemia e raramente edema pulmonar.
O edema cerebral, uma complicação rara, mas potencialmente fatal de forma rápida, ocorre principalmente em crianças. Ele pode ser prevenido ao evitar a reposição excessivamente rápida de fluidos e eletrólitos.
Definição
A cetoacidose diabética (CAD) é uma complicação metabólica aguda do diabetes que é potencialmente fatal e necessita de atendimento médico imediato para que o tratamento tenha sucesso. É caracterizada pela deficiência absoluta de insulina e é a complicação hiperglicêmica aguda mais comum do diabetes mellitus do tipo 1.[1]Kitabchi AE, Umpierrez GE, Miles JM, et al. Hyperglycemic crises in adult patients with diabetes: a consensus statement from the American Diabetes Association. Diabetes Care. 2009 Jul;32(7):1335-43. https://care.diabetesjournals.org/content/32/7/1335.full http://www.ncbi.nlm.nih.gov/pubmed/19564476?tool=bestpractice.com
[Figure caption and citation for the preceding image starts]: Tríade de cetoacidose diabética (CAD)Adaptado com permissão de: Kitabchi AE, Wall BM. Diabetic ketoacidosis. Med Clin North Am. 1995;79:9-37 [Citation ends].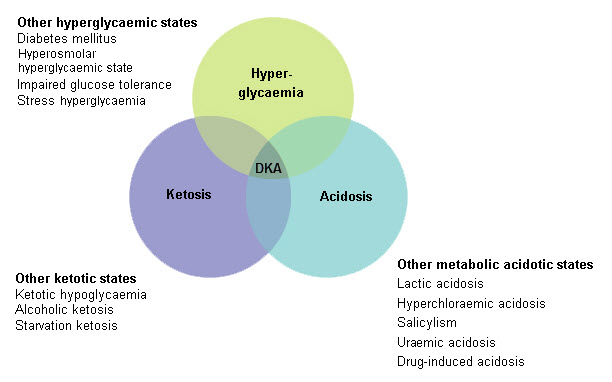 História e exame físico
presença de fatores de risco
poliúria
polifagia
polidipsia
perda de peso
fraqueza
náuseas ou vômitos
dor abdominal
membranas mucosas ressecadas
turgor cutâneo diminuído
olhos encovados
taquicardia
hipotensão
respiração de Kussmaul
hálito cetônico
estado mental alterado
hipotermia
insulinoterapia inadequada ou inapropriada
infecção
infarto do miocárdio
pancreatite
acidente vascular cerebral (AVC)
acromegalia
hipertireoidismo
medicamentos (por exemplo, corticosteroides, tiazidas, pentamidina, simpatomiméticos, antipsicóticos de segunda geração, cocaína, inibidores de checkpoints imunológicos ou inibidores da SGLT2)
Síndrome de Cushing
ancestralidade negra ou hispânica
cirurgia bariátrica
Investigações diagnósticas
glicose plasmática
gasometria arterial
cetonas capilares ou séricas
urinálise
ureia sérica
creatinina sérica
sódio sérico
potássio sérico
cloreto sérico
magnésio sérico
cálcio sérico
fosfato sérico
cálculo do anion gap
creatina fosfoquinase sérica
lactato sérico
testes da função hepática
amilase sérica
lipase sérica
osmolalidade sérica
Hemograma completo
radiografia torácica
eletrocardiograma (ECG)
biomarcadores cardíacos
culturas de sangue, urina ou escarro
Algoritmo de tratamento
Colaboradores
Aidar R. Gosmanov, MD, PhD, FACE

Associate Professor of Medicine

Division of Endocrinology

Albany Medical College

Chief, Endocrinology Section

Albany VAMC

Albany

NY

Declarações

ARG declares that he has no competing interests.
Laleh Razavi Nematollahi, MD

Assistant Professor of Medicine

Case Western Reserve University

Cleveland

OH

Declarações

LRN declares that she has no competing interests.
Agradecimentos

Dr Aidar Gosmanov and Dr Laleh Razavi Nematollahi would like to gratefully acknowledge Professor Abbas E. Kitabchi, the previous contributor to this topic.

Declarações

AEK is an author of a number of references in this topic.
David Jenkins, DM, FRCP

Consultant Physician

Worcestershire Royal Hospital

Worcester

UK

Declarações

DJ declares that he has no competing interests.
Udaya M. Kabadi, MD, FRCP(C), FACP, FACE

Professor of Medicine

University of Iowa

Iowa City

IA

Declarações

UMK declares that she has no competing interests.