Última revisão:
22 Mai 2021
Última atualização:
14 GUA 2020
Resumo
Tumores benignos compostos de tecido adiposo.
Podem ocorrer em qualquer área do corpo, embora sejam encontrados mais frequentemente no tronco e membros proximais. São mais comumente encontrados em tecidos subcutâneos.
Locais raros incluem trato gastrointestinal, glândulas adrenais, glândulas parótidas, espaço parafaríngeo, mama, mediastino, pleura, vias aéreas, coração, veia cava superior, cérebro e áreas intraespinhais.
Lipomas cutâneos geralmente são macios, móveis e superficiais.
Os lipomas não têm potencial maligno. No entanto, o diagnóstico diferencial inclui lipossarcomas, que são malignos; portanto, isso sempre deve ser considerado cautelosamente.
A ressecção cirúrgica é indicada para alívio sintomático, confirmação patológica ou razões cosméticas, ou se houver aumento de tamanho.
Definição
Lipomas são tumores mesenquimais, benignos e de crescimento lento que formam lesões bem circunscritas e lobuladas compostas de adipócitos. São delimitados em relação à gordura adjacente por uma cápsula fina e fibrosa. Eles envolvem 50% das neoplasias de tecidos moles e comumente são encontrados por médicos, cirurgiões e patologistas da unidade básica de saúde.[1]Bancroft LW, Kransdorf MJ, Peterson JJ, et al. Benign fatty tumors: classification, clinical course, imaging appearance, and treatment. Skeletal Radiol. 2006;35:719-733. http://www.ncbi.nlm.nih.gov/pubmed/16927086?tool=bestpractice.com Os lipomas geralmente surgem nos tecidos subcutâneos e podem ocorrer em qualquer área do corpo, embora ocorram com mais frequência no tronco e membros proximais. Não têm potencial maligno, mas o diagnóstico diferencial inclui os lipossarcomas, que apresentam esse potencial; portanto, isso sempre deve ser considerado.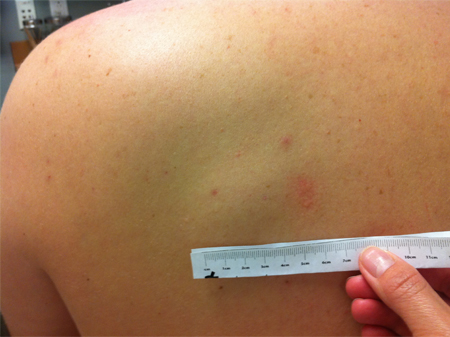 [Figure caption and citation for the preceding image starts]: Lipoma subcutâneo no troncoDo acervo de Dr Kimberly Moore Dalal e Dr Steven D. DeMartini; usado com permissão [Citation ends].
História e exame físico
presença de fatores de risco
massa cutânea <5 cm de diâmetro
massa cutânea macia
massa cutânea móvel
massa cutânea superficial
massa cutânea indolor
obstrução gastrointestinal
hemorragia digestiva
massa abdominal
fraqueza muscular
parestesia
predisposição genética
trauma
consumo excessivo de bebidas alcoólicas
Investigações diagnósticas
RNM
Tomografia computadorizada (TC)
ultrassonografia
biópsia percutânea com agulha grossa
biópsia incisional
biópsia excisional
estudo do trato gastrointestinal superior com contraste
Algoritmo de tratamento
Colaboradores
Medical Director, Surgical Oncology
General Surgery
Mills-Peninsula Hospital
Palo Alto Medical Foundation
Burlingame
CA
Declarações
KMD is an author of a number of references cited in this topic.
Staff Pathologist
Oroville Hospital
Oroville
CA
Declarações
SDD declares that he has no competing interests.