Última revisão:
24 Out 2020
Última atualização:
14 Nov 2018
Resumo
Neoplasia de células B que geralmente é caracterizada por sintomas de fadiga, baço acentuadamente aumentado e aparência histológica distinta no esfregaço de sangue periférico e na biópsia da medula óssea.
A doença não tem cura. No entanto, apresenta alta resposta clínica à terapia e pode ser controlada por uma década ou mais.
Pacientes sem sintomas não precisam de tratamento imediato; o tratamento precoce não aumenta a expectativa de vida.
Em pacientes sintomáticos, análogos da purina substituíram muitas das terapias tradicionais, como a esplenectomia, exceto em casos raros de ruptura esplênica ou esplenomegalia maciça.
Cuidados de suporte com antibióticos, anti-inflamatórios não esteroidais, administração de hemoderivados irradiados e fatores estimuladores de colônias de granulócitos podem ter alguma função na terapia de leucemia de células pilosas.
Definição
A leucemia de células pilosas (LCP) é uma neoplasia incomum e indolor das células B maduras. Foi descrita como uma entidade clínica distinta em 1958.[1]Foucar K, Falini B, Catovsky D, et al. Hairy cell leukemia. In: WHO classification of tumours of haematopoietic and lymphoid tissues, vol 2, 4th ed. Geneva, Switzerland: World Health Organization Press; 2008:188-90. Observadas no microscópio, as células têm projeções citoplasmáticas delicadas, parecidas com cabelos, e por isso a doença foi chamada de leucemia de células pilosas. A doença tem uma manifestação característica de pancitopenia, esplenomegalia e células pilosas em circulação no sangue, medula óssea e outros órgãos hematopoiéticos.[2]Ruiz-Arguelles GJ, Cantu-Rodriquez OG, Gomez-Almaguer D, et al. Hairy cell leukemia is infrequent in Mexico and has a geographic distribution. Am J Hematol. 1996 Aug;52(4):316-8. http://www.ncbi.nlm.nih.gov/pubmed/8701952?tool=bestpractice.com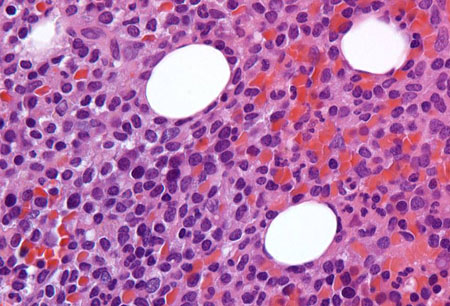 [Figure caption and citation for the preceding image starts]: Citospina preparada a partir do aspirado de medula óssea ilustrando a citologia celular típica, com núcleos ovais e em forma de feijão e quantidades moderadas de citoplasma com bordas citoplasmáticas irregulares (Wright Giemsa, óleo 100x)Do acervo de Lynn Moscinski, MD [Citation ends].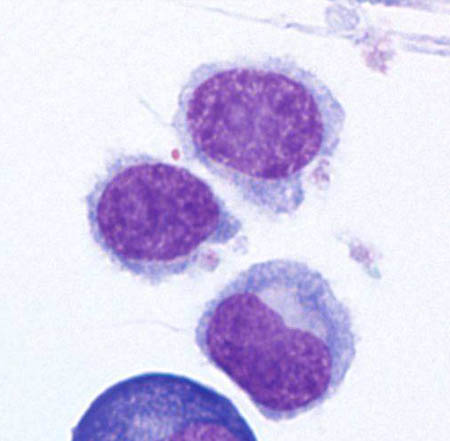 [Figure caption and citation for the preceding image starts]: Seções da punção por agulha grossa (core biopsy) demonstrando linfócitos com citoplasma óbvio no interstício medular, associados à dilatação dos seios medulares e a coleções de eritrócitos (H&E, óleo 50x)Do acervo de Lynn Moscinski, MD [Citation ends].
História e exame físico
presença de fatores de risco
desconforto ou plenitude abdominal
esplenomegalia
fraqueza e fadiga
palidez e petéquias
febre
infecções recorrentes
hepatomegalia
linfadenopatia superficial e profunda
achados neurológicos
distúrbios imunológicos sistêmicos associados
meia-idade
sexo masculino
ascendência branca
localização no hemisfério ocidental
exposições ambientais
predisposição genética
Vírus Epstein-Barr
mononucleose infecciosa
Exames diagnósticos
biópsia ou aspiração da medula óssea
imunofenotipagem
citometria de fluxo
fosfatase ácida tartarato-resistente (TRACP)
tomografia computadorizada (TC) do abdome
Mais exames a serem considerados
Algoritmo de tratamento
Colaboradores
Associate Professor
USF Center for Comparative Effectiveness Research and Evidence Based Medicine
Department of Internal Medicine, College of Medicine
Moffitt Cancer Center & Research Institute, Department of Health Outcomes & Behavior
University of South Florida
Tampa
FL
Divulgações
AK declares that he has no competing interests.
Professor
Division of Hematology-Oncology
Blood and Marrow Transplantation Program
Mayo Clinic
Jacksonville
FL
Divulgações
MKD declares that he has no competing interests.
Dr Ambuj Kumar and Dr Mohamed Kharfan-Dabaja would like to gratefully acknowledge Dr Benjamin Djulbegovic, a previous contributor to this topic. BD declares that he has no competing interests.