Última revisão:
25 Set 2021
Última atualização:
05 Fev 2019
Resumo
O osteossarcoma é a neoplasia maligna primária óssea não hematológica mais comum nas crianças e adolescentes.
Dor e edema são os sintomas manifestos mais comuns.
Embora possa ocorrer em qualquer idade, a doença geralmente afeta pacientes na segunda e na terceira década de vida, atingindo a intensidade máxima entre 13 e 16 anos de idade. É mais comum em indivíduos do sexo masculino.
Quimioterapia combinada com cirurgia é o padrão de cuidados.
O prognóstico dos pacientes com doença localizada melhorou substancialmente depois da introdução da quimioterapia, com índices de sobrevida em 5 anos de 75% a 80%.
Definição
A Organização Mundial da Saúde (OMS) define o osteossarcoma como uma neoplasia óssea maligna primária composta de células mesenquimais que produzem osteoide e osso imaturo, mesmo se somente em pequenas quantidades.[1]Fletcher CDM, Bridge JA, Hogendoorn P, et al. WHO classification of tumours, volume 5. Lyon, France: IARD Press; 2013.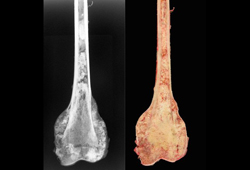 [Figure caption and citation for the preceding image starts]: Osteossarcoma osteoblástico do fêmur distal (radiografia e fotografia do espécime macroscópico)Do acervo do Dr. Michael J. Klein e da Dra. Luminita Rezeanu [Citation ends].
História e exame físico
infância e adolescência
agravamento da dor ao longo de semanas a meses
massa/edema
sexo masculino
claudicação
história de trauma
amplitude de movimentos limitada
ulceração da pele sobrejacente
infância e adolescência
Doença de Paget
radioterapia
síndrome de Rothmund-Thomson
síndrome de retinoblastoma familiar
síndrome de Li-Fraumeni
displasia fibrosa
quimioterapia
sexo masculino
Investigações diagnósticas
radiografias convencionais
fosfatase alcalina sérica
concentração sérica de lactato desidrogenase
tomografia computadorizada (TC) do tumor primário
ressonância nuclear magnética (RNM) do tumor primário
TC do tórax
cintilografia óssea com radionuclídeos
Tomografia por emissão de pósitrons com 18F-fluordesoxiglicose (18F-FDG-PET-CT)
biópsia dos ossos
Algoritmo de tratamento
Colaboradores
David Loeb, MD, PhD

Chief

Division of Pediatric Hematology, Oncology, and Marrow & Blood Cell Transplantation

Children's Hospital at Montefiore

Associate Professor, Pediatrics

Associate Professor, Developmental and Molecular Biology

Albert Einstein College of Medicine

Bronx

NY

Declarações

DL declares that he has no competing interests.
Agradecimentos

Dr David Loeb would like to gratefully acknowledge Dr Luminita Rezeanu and Dr Michael J. Klein, the previous contributors to this topic. LR and MJK declare that they have no competing interests.
Edward Sauter, MD, PhD

Professor of Surgery

Ellis Fischel Cancer Center

University of Missouri

Columbia

MO

Declarações

ES declares that he has no competing interests.
Rachael Windsor, BSc, MBBS, MSc, MRCPCH

Locum Consultant Paediatric Oncologist

University College Hospital

London

UK

Declarações

RW declares that she has no competing interests.