Última revisão:
19 GUA 2021
Última atualização:
10 Mar 2021
Resumo
O cisto de ovário é um saco preenchido por fluido no tecido ovariano. O cisto pode ser unilocular ou multilocular. As causas podem ser fisiológicas, infecciosas, neoplásicas benignas, neoplásicas malignas ou metastáticas.
O passo mais importante no manejo é a avaliação do risco de malignidade.
Os contraceptivos orais não aceleram ou influenciam a regressão de cistos ovarianos benignos.
O tratamento de mulheres menopausadas assintomáticas com cistos ovarianos uniloculares simples de <10 cm de diâmetro e antígeno de câncer (CA)-125 <35 U/mL pode ser conservador com ultrassonografia seriada.
A ultrassonografia pode fornecer um escore de índice morfológico útil para a determinação da probabilidade de malignidade.
Definição
O cisto ovariano é o achado cirúrgico, de imagem ou clínico de um ovário aumentado e preenchido por fluido ou de porção de tecido ovariano preenchida por fluido. Os cistos ovarianos implicam um processo fisiopatológico que envolve o próprio ovário.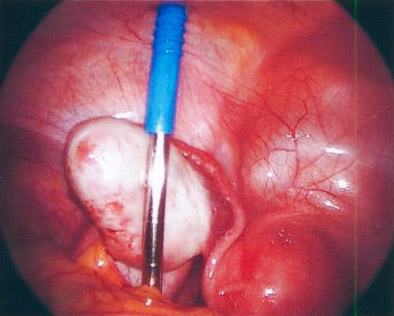 [Figure caption and citation for the preceding image starts]: Vista laparoscópica de um cisto ovariano in vivoDo acervo do Professor Michael Hopkins [Citation ends].
História e exame físico
presença de fatores de risco
dor pélvica
distensão abdominal e saciedade precoce
massa anexial palpável
faixa etária pré-menopáusica
menarca precoce
primeiro trimestre da gestação
história pessoal de infertilidade ou síndrome do ovário policístico
gonadotrofinas intrínsecas ou extrínsecas elevadas
terapia com tamoxifeno
tabagismo
história pessoal ou familiar de endometriose
Investigações diagnósticas
antígeno de câncer (CA)-125 sérico
ultrassonografia do abdome/pelve com power Doppler colorido
ressonância nuclear magnética (RNM) de abdome/pelve
tomografia computadorizada (TC) de abdome/pelve
análise de cariótipo
laparoscopia/laparotomia e histopatologia
tomografia por emissão de pósitrons (PET) de abdome/pelve
biomarcadores séricos (sistema de teste de escore de avaliação de massa anexial ovariana)
Algoritmo de tratamento
Colaboradores
Sareena Singh, MD

Assistant Professor

Department of Obstetrics and Gynecology

Northeast Ohio Medical University

Rootstown

OH

Director of Gynecologic Oncology

Aultman Health Foundation

Canton

OH

Declarações

SS declares that she has no competing interests.
Agradecimentos

Dr Sareena Singh would like to gratefully acknowledge Dr Michael P. Hopkins, Dr Christina N. Kufel, Dr Lauren M. Blue, Dr Jay R. Patibandla, and Dr Laura K. Randolph, previous contributors to this topic.

Declarações

MPH, CNK, LMB, JRP, and LKR declare that they have no competing interests.
John Bachman, MD

Consultant in Family Medicine

Parker D Sanders and Isabella Sanders Professor of Primary Care

Rochester

MN

Declarações

JB declares that he has no competing interests.
David Chelmow, MD

Chair

Department of Obstetrics and Gynecology

Virginia Commonwealth University

Richmond

VA

Declarações

DC declares that he has no competing interests.
T. Justin Clark, MD (Hons), MRCOG

Consultant Obstetrician and Gynaecologist

Birmingham Women's Hospital

Obstetrics and Gynaecology

Birmingham

UK

Declarações

TJC declares that he has no competing interests.