Última revisão:
10 Abr 2021
Última atualização:
16 Fev 2021
Resumo
Classicamente, a uretrite se manifesta como secreção uretral aguda após relações sexuais sem proteção.
Os 2 agentes etiológicos mais importantes são a Neisseria gonorrhoeae e a Chlamydia trachomatis.
O aumento do risco está associado a novos parceiros sexuais, vários parceiros sexuais ou idade inferior a 25 anos. A doença pode ser transmitida para os bebês pelas mães infectadas, resultando em conjuntivite, irite, otite média ou pneumonia.
Maior morbidade em mulheres não tratadas (10% a 40%) que em homens (1% a 2%).
A uretrite gonocócica não tratada pode se disseminar, causando artrite, meningite e endocardite. A uretrite não gonocócica não tratada pode se manifestar com complicações como artrite reativa ou infertilidade.
Definição
A uretrite geralmente é uma infecção sexualmente transmissível que costuma se manifestar com disúria, secreção uretral e/ou prurido no final da uretra. Secreção uretral é o achado físico clássico. Se a urinálise for positiva para esterase leucocitária, a coloração de Gram da secreção (≥2 leucócitos por campo de imersão em óleo) ou do sedimento da primeira urina (≥10 leucócitos por campo de grande aumento) revelarem números anormais de leucócitos polimorfonucleares, o diagnóstico de uretrite é confirmado.[1]Workowski KA, Bolan GA; Centers for Disease Control and Prevention (CDC). Sexually transmitted diseases treatment guidelines, 2015. MMWR Recomm Rep. 2015 Jun 5;64(RR-03):1-137. http://www.cdc.gov/mmwr/preview/mmwrhtml/rr6403a1.htm http://www.ncbi.nlm.nih.gov/pubmed/26042815?tool=bestpractice.com A uretrite é dividida em duas categorias principais: gonocócica, se a Neisseria gonorrhoeae for isolada; não gonocócica (UNG), se a Neisseria gonorrhoeae não for isolada. As causas mais comuns de UNG incluem a Chlamydia trachomatis, a Mycoplasma genitalium e a Ureaplasma urealyticum. O termo uretrite pós-gonocócica refere-se à ocorrência de UNG após tratamento curativo de uretrite gonocócica.[2]Martin DH, Bowie WR. Urethritis in males. In: Holmes KK, Sparling PF, Mardh P, et al., eds. Sexually transmitted diseases. 3rd ed. New York, NY: McGraw-Hill; 1999:833-45.[3]McCormack WM, Rein MF. Urethritis. In: Mandell GL, Bennett JE, Dolin R, eds. Principles and practice of infectious diseases. 6th ed. Pennsylvania: Churchill Livingstone; 2005:1347-57. A uretrite também pode resultar de trauma, mas este tópico tem como foco as causas infecciosas.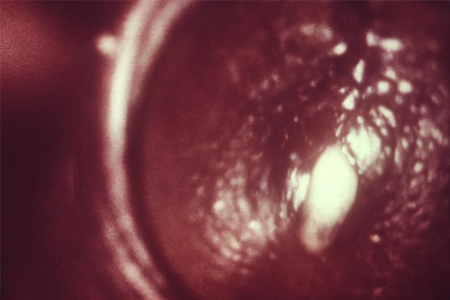 [Figure caption and citation for the preceding image starts]: Gonorreia com secreção no meato uretral penianoCDC Image Library / Susan Lindsley [Citation ends].
História e exame físico
presença de fatores de risco
secreção uretral
irritação ou prurido uretral
disúria
orquialgia
ausência de sensibilidade e/ou inchaço do epidídimo
ausência de dor na pelve (mulheres)
ausência de erupção cutânea pustular ou petequial
ausência de artrite
ausência de inflamação ocular
idade entre 15 e 24 anos
sexo feminino
homens que fazem sexo com homens
condição socioeconômica baixa
novos ou vários parceiros sexuais
IST prévia ou atual
uso inconsistente de preservativo
circuncisão
Investigações diagnósticas
coloração de Gram de secreção uretral e/ou sedimento da urina
testes de amplificação de ácido nucleico (NAATs)
cultura de secreção uretral
preparação de hidróxido de potássio (KOH) de secreção uretral
teste de HIV
Venereal Disease Research Laboratory (VDRL)
urinálise e cultura
câmara úmida de secreção uretral (mulheres)
NAAT e cultura de urina ou swab uretral/vaginal para Trichomonas vaginalis
NAAT para organismos não gonocócicos e não causadores de clamídia
Algoritmo de tratamento
Colaboradores
Assistant Professor
Division of Infectious Diseases
Department of Medicine
UCSD Antiviral Research Center
Division of Family Medicine
Department of Family and Preventive Medicine
UCSD La Jolla Family and Sports Medicine
San Diego
CA
Declarações
SM has stocks in Bristol-Myers Squibb, Forty Seven Inc, and Geron Corp. He has received funding from Gilead Sciences. SM is an author of a number of references cited in this topic.
Dr Sheldon Morris would like to gratefully acknowledge Dr Christina Bailey, a previous contributor to this topic. CB declares that she has no competing interests.
Associate Professor
Ob/Gyn and Urology
Director
Division of Urogynecology
Associate Residency Program Director
Temple University Hospital
Philadelphia
PA
Declarações
VD declares that he has no competing interests.
Assistant Professor of Medicine
Associate Fellowship Program Director
Division of Infectious Diseases
Johns Hopkins University School of Medicine
Baltimore
MD
Declarações
KG declares that he has no competing interests.
Professor of Sexual Health
University of Melbourne
Director
Melbourne Sexual Health Centre
Carlton
Victoria
Australia
Declarações
CF is an author of a number of references cited in this topic. CF has received program grants of 6 figures US$.