Última revisão:
7 Abr 2021
Última atualização:
16 Mar 2021
Resumo
Na maioria das hérnias umbilicais, o fechamento ocorre em torno dos 4 a 5 anos de idade, sem tratamento.
Complicações como encarceramento, estrangulamento e ruptura são incomuns em crianças.
O reparo ambulatorial eletivo está associado a uma baixa taxa de recorrência.
A infecção e o sangramento são as duas complicações pós-operatórias mais comuns.
A terapia de compressão (como o uso de cintas abdominais) não é útil e pode ser prejudicial.
Definição
Hérnia umbilical é um defeito da fáscia da parede abdominal anterior que ocorre quando o anel umbilical não se fecha. O defeito propicia a protrusão de um saco peritoneal que é coberto por pele e pode apresentar conteúdo intra-abdominal, como omento ou intestino.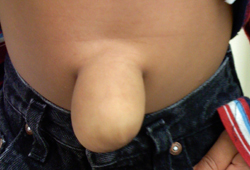 [Figure caption and citation for the preceding image starts]: Grande hérnia umbilicalAcervo pessoal de Charles L. Snyder, MD; usado com permissão [Citation ends].
História e exame físico
presença de fatores de risco
presença desde o nascimento
protuberância no umbigo
alteração no tamanho/tensão durante o movimento
alterações cutâneas
saco herniário facilmente redutível
borda da fáscia bem-definida com defeito central
diâmetro variável do defeito
sintomas de obstrução do intestino delgado
baixo peso ao nascer
ancestralidade africana/afro-americana
síndrome de Beckwith-Wiedemann (BWS)
trissomia dos cromossomos 21, 18, 13
hipotireoidismo congênito
mucopolissacaridose
Investigações diagnósticas
Algoritmo de tratamento
Colaboradores
Professor of Surgery
Chief, Section of Surgery
University of Missouri-Kansas City
Children's Mercy Hospital
Kansas City
MO
USA
Declarações
CLS declares that he has no competing interests.
Associate Professor of Surgery
University of Wisconsin School of Medicine and Public Health
American Family Children's Hospital
Madison
WI
USA
Declarações
CML declares that he has no competing interests.