Última revisão:
4 Sep 2023
Última atualização:
27 Sep 2022
Resumo
O molusco contagioso é uma infecção comum em crianças e adultos jovens e, geralmente, é adquirido por contato direto pele a pele. O diagnóstico é clínico na maioria dos casos.
As lesões surgem como pápulas lisas, umbilicadas e peroladas. Pelo menos um terço dos pacientes desenvolverá sintomas de eritema local, inchaço ou prurido.
O imunocomprometimento e doenças de pele subjacentes, particularmente a dermatite atópica, aumentam o risco de infecção por molusco.
O molusco anogenital deve suscitar um rastreamento completo da saúde sexual.
A maioria das infecções por molusco contagioso não requer tratamento e apresenta resolução espontânea.
Definição
Essa condição é causada pelo vírus do molusco contagioso, um poxvírus que está por toda parte e que escapa da destruição imune por meses a anos. As lesões são cutâneas (menos comumente nas mucosas). Elas aparecem como pápulas lisas, umbilicadas e peroladas. As lesões do molusco apresentam corpos característicos de inclusão intracitoplasmática (denominados corpos de molusco ou corpos de Henderson-Patterson) na histologia. As lesões são geralmente adquiridas por contato pele a pele ou por meio de fômites em crianças e, muitas vezes, por transmissão sexual em adultos.[1]Silverberg NB. Warts and molluscum in children. Adv Dermatol. 2004;20:23-73. http://www.ncbi.nlm.nih.gov/pubmed/15544196?tool=bestpractice.com [Figure caption and citation for the preceding image starts]: Lesões extensivas do molusco no flanco de uma criança pequena; variação de cor de avermelhado a perolado com depressões centraisDo acervo do Dr. Nanette Silverberg [Citation ends].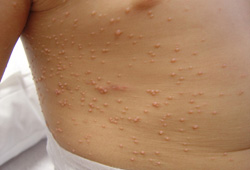 História e exame físico
Principais fatores diagnósticos
presença de fatores de risco
pápula perolada com depressão central
Mais principais fatores diagnósticos
Outros fatores diagnósticos
eritema circundante
lesões distribuídas em face ou virilha
prurido
dermatite atópica
perturbação do sono
Outros fatores diagnósticos
Fatores de risco
contato próximo com uma pessoa infectada
contato sexual com um indivíduo infectado
dermatite atópica
imunocomprometimento
clima tropical
natação
Investigações diagnósticas
Investigações a serem consideradas
dermatoscopia
biópsia por curetagem
coloração de hematoxilina e eosina
exame completo de saúde sexual, incluindo teste de HIV
Mais investigações a serem consideradas
Algoritmo de tratamento
Colaboradores
Nicholas Francis, PhD, MD, BA, MRCGP

Professor of Primary Care Research

Primary Care Research Centre

School of Primary Care, Population Sciences and Medical Education

University of Southampton

Southampton

UK

Declarações

NF declares that he has no competing interests.
Agradecimentos

Dr Nicholas Francis would like to gratefully acknowledge Dr Nanette B. Silverberg, a previous contributor to this topic.

Declarações

NBS declares that she has no competing interests.
David M. Ozog, MD

Director of Cosmetic Dermatology

Department of Dermatology

Cosmetic and Procedural Dermatology

Henry Ford Health System

Detroit

MI

Declarações

DMO declares that he has no competing interests.
Anthony Ormerod, MB, ChB, MRCP, FRCP(Edin), MD, FRCP(Lond)

Consultant Dermatologist

Aberdeen Royal Infirmary

Aberdeen

UK

Declarações

None disclosed.
Andrea Bershow, MD

Staff Dermatologist

VA Medical Center

Minneapolis

MN

Declarações

AB declares that she has no competing interests.
Diagnósticos diferenciais

Verrugas

Infecção fúngica profunda (Cryptococcosis e Penicillium marneffei)

Vírus do herpes simples

Mais Diagnósticos diferenciais

Diretrizes

UK national guideline for the management of genital molluscum in adults

2020 European guideline on the management of genital molluscum contagiosum

Mais Diretrizes

Conectar-se ou assinar para acessar todo o BMJ Best Practice