Última revisão:
22 Set 2020
Última atualização:
24 Out 2019
Resumo
Cirrose é o estágio terminal patológico de qualquer doença hepática crônica e resulta mais comumente de hepatites C e B crônicas, doença hepática relacionada ao álcool e doença hepática gordurosa não alcoólica.
As principais complicações da cirrose estão relacionadas ao desenvolvimento de insuficiência hepática e hipertensão portal e incluem ascite, hemorragia varicosa, icterícia, encefalopatia portossistêmica, lesão renal aguda e síndromes hepatopulmonares, além do desenvolvimento de carcinoma hepatocelular.
Uma vez que um paciente com cirrose desenvolve sinais de descompensação, a sobrevida é significativamente comprometida.
O manejo da cirrose tem como objetivo tratar a doença hepática subjacente, evitando agressões adicionais e tratando as complicações. O encaminhamento em tempo hábil para transplante de fígado pode ser a única opção de tratamento curativo para pacientes com cirrose descompensada.
A doença hepática crônica e a cirrose figuram entre as 10 principais causas de morte em homens nos EUA e no Reino Unido.
Definição
A cirrose é um processo patológico difuso, caracterizado por fibrose e conversão da arquitetura hepática normal para nódulos estruturalmente anormais, conhecidos como nódulos regenerativos.[1]Anthony PP, Ishak KG, Nayak NC, et al. The morphology of cirrhosis: definition, nomenclature, and classification. Bull World Health Organ. 1977;55(4):521-40. http://www.ncbi.nlm.nih.gov/pubmed/304393?tool=bestpractice.com [2]Ratib S, Fleming KM, Crooks CJ, et al. Causes of death in people with liver cirrhosis in England compared with the general population: a population-based cohort study. Am J Gastroenterol. 2015 Aug;110(8):1149-58. http://www.ncbi.nlm.nih.gov/pubmed/26169512?tool=bestpractice.com Ela pode decorrer de diversas causas e é o estágio final de qualquer doença hepática crônica. Pode levar a hipertensão portal, insuficiência hepática e carcinoma hepatocelular. Em geral, é considerada irreversível nos estágios avançados, embora possa haver uma recuperação significativa se a causa subjacente for tratada.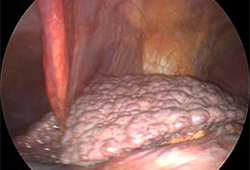 [Figure caption and citation for the preceding image starts]: Vista laparoscópica de um fígado cirróticoCortesia de Dr. Eugene Schiff e Dr. Lennox Jeffers; usado com permissão [Citation ends].
História e exame físico
presença de fatores de risco
distensão abdominal
icterícia e prurido
sangue no vômito (hematêmese) e fezes negras (melena)
alterações das mãos e unhas (por exemplo, leuconíquia, eritema palmar, nevos arâneos)
características faciais (por exemplo, telangiectasia, nevos arâneos, esclera ictérica)
características abdominais (por exemplo, circulação colateral, hepatoesplenomegalia, distensão)
estado mental alterado
sintomas constitucionais
edema dos membros inferiores
odor hepático
perda de massa muscular
edema periférico
infecções recorrentes
diminuição da libido
características da parede torácica (por exemplo, ginecomastia)
dispneia
dor torácica
síncope
abuso de álcool
uso de substâncias por via intravenosa
relação sexual sem proteção
obesidade
país de nascimento
transfusão sanguínea
tatuagem
Exames diagnósticos
testes da função hepática
GGT
albumina sérica
sódio sérico
tempo de protrombina
contagem plaquetária
anticorpos contra o vírus da hepatite C
antígeno de superfície da hepatite B
Mais 1° exames a serem solicitados
ferro total, capacidade total de ligação do ferro (TIBC), saturação da transferrina e ferritina
fator antinuclear (FAN)
anticorpo antimúsculo liso
anticorpo antimitocondrial
ceruloplasmina sérica
alfa 1-antitripsina plasmática
eletroforese de proteínas séricas
ultrassonografia abdominal
tomografia computadorizada (TC) abdominal
ressonância nuclear magnética (RNM) abdominal
endoscopia digestiva alta
biópsia hepática
exames não invasivos de elasticidade hepática
Mais exames a serem considerados
Algoritmo de tratamento
Colaboradores
Clinical Research Fellow
Barts Liver Centre
Barts and the London School of Medicine and Dentistry
London
UK
Divulgações
GED declares that she has no competing interests.
Reader and Honorary Consultant in Hepatology
Barts Liver Centre
Barts and the London School of Medicine and Dentistry
London
UK
Divulgações
PTFK acts as an advisor for Gilead Sciences, Janssen, and Immunocore. PTFK has received grant funding from Gilead Sciences. These roles are unrelated to the current article.
Dr Grace E. Dolman and Dr Patrick T. F. Kennedy would like to gratefully acknowledge Dr Keith D. Lindor and Dr Flavia Mendes, previous contributors to this topic.
Divulgações
KDL is an unpaid advisor for Intercept Pharmaceuticals and Shire Pharmaceuticals. FM declares that she has no competing interests.
Assistant Professor of Medicine
University of Chicago
Center for Liver Disease
Chicago
IL
Divulgações
NR declares that she has no competing interests.
Clinical Assistant Professor
Division of Gastroenterology Hepatology and Nutrition
University of Florida
Gainesville
FL
Divulgações
CL declares that she has no competing interests.
Consultant Physician
Hon Professor in Medicine
Associate Medical Director NHSBT
Queen Elizabeth Hospital
Birmingham
UK
Divulgações
JN declares that he has no competing interests.