Última revisão:
25 Out 2020
Última atualização:
04 Março 2020
Resumo
Manifesta-se principalmente como um nódulo da tireoide assintomático detectado por palpação ou ultrassonografia em mulheres na faixa dos 30 ou 40 anos.
O teste diagnóstico mais importante é a aspiração por agulha fina.
O tratamento geralmente é tireoidectomia total seguida por ablação com radioiodo e supressão do hormônio estimulante da tireoide (TSH, papilar ou folicular).
O tratamento varia e deve ser adaptado para tipos incomuns de câncer de tireoide, como medular, linfoma ou anaplásico.
O prognóstico depende da estratificação do grupo de risco.
Definição
Quatro tipos são responsáveis por mais de 98% das malignidades de tireoide: papilar, folicular, anaplásico e medular.[1]Gimm O. Thyroid cancer. Cancer Lett. 2001 Feb 26;163(2):143-56. http://www.ncbi.nlm.nih.gov/pubmed/11165748?tool=bestpractice.com
História e exame físico
presença de fatores de risco
nódulo palpável da tireoide
início da idade adulta
história familiar de câncer de tireoide
rouquidão
dispneia
disfagia
desvio da traqueia
linfadenopatia cervical
rápido aumento cervical
irradiação da cabeça e do pescoço
sexo feminino
história familiar de câncer de tireoide
Exames diagnósticos
T4 livre
T3 livre
cintilografia da tireoide com captação de I-123
punção por agulha grossa (core biopsy)
tomografia computadorizada (TC) do pescoço
calcitonina sérica
teste genético para síndromes familiares
Mais exames a serem considerados
elastografia por ultrassonografia
análise molecular das amostras de citologia
biópsia do linfonodo sentinela
Mais novos exames
Algoritmo de tratamento
Colaboradores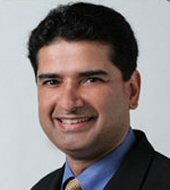 Chairman
Department of Surgery
Chief
Division of Surgical Oncology
Chief
Division of Head and Neck Surgery
South Nassau Hospital
Valley Stream
NY
Divulgações
RD declares that he has no competing interests.
Professor of Surgery
Cornell University Medical College
Attending Surgeon
Memorial Sloan-Kettering Cancer Center
New York
NY
Divulgações
ARS declares that he has no competing interests.
Consultant Endocrine Surgeon
Hammersmith & Charing Cross Hospitals
Clinical Lead for Endocrine Surgery
Honorary Senior Lecturer
Imperial College
London
UK
Divulgações
FFP declares that he has no competing interests.