Última revisão:
5 Fev 2021
Última atualização:
01 Dez 2020
Resumo
O eritema migratório se desenvolve no local da mordida do carrapato, geralmente no prazo de 1 a 2 semanas, e é uma característica patognomônica da doença de Lyme.
Podem ocorrer sintomas constitucionais como febre, cefaleia, mialgia, fadiga e artralgia.
As complicações da doença de Lyme podem ser neurológicas, cardíacas ou musculoesqueléticas.
A base do tratamento é a antibioticoterapia.
Atualmente, não existe uma vacina contra essa doença. A prevenção se baseia na redução da exposição a carrapatos.
Definição
A doença de Lyme é uma infecção zoonótica causada por uma espiroqueta do gênero Borrelia transmitida aos seres humanos por carrapatos. As doenças zoonóticas são transmitidas entre animais vertebrados e humanos. Animais são o principal reservatório da Borrelia. Os carrapatos são infectados ao se alimentarem de um animal infectado. A manifestação inicial mais comum é a lesão cutânea típica conhecida como eritema migratório. As manifestações tardias podem incluir artrite, envolvimento cardíaco ou do sistema nervoso central (SNC).
História e exame físico
presença de fatores de risco
eritema migratório
sintomas constitucionais
paralisia facial
artrite ou artralgia
linfadenopatia regional
rigidez de nuca
linfocitoma da cútis
acrodermatite crônica atrofiante
bloqueio atrioventricular (AV) ou miopericardite
radiculoneuropatia
encefalomielite, neuropatia periférica, encefalopatia
exposição a carrapatos infectados
atividades em ambientes externos
duração da mordida do carrapato
Investigações diagnósticas
imunoensaio enzimático ou ensaio de imunofluorescência
imunoglobulina M (IgM) e imunoglobulina G (IgG) específicas para doença de Lyme
cultura de biópsia da pele
reação em cadeia da polimerase
eletrocardiograma (ECG)
Algoritmo de tratamento
Colaboradores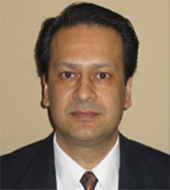 Professor of Medicine and Division Chief
Division of Infectious Diseases
Southern Illinois University School of Medicine
Springfield
IL
Declarações
JK declares that he has no competing interests.
Janak Koirala would like to gratefully acknowledge Dr Tin Han Htwe and Dr Cristian A. Speil, previous contributors to this topic. THH and CAS declare that they have no competing interests.