Última revisão:
7 Fev 2021
Última atualização:
10 Nov 2017
Resumo
Doença autoimune que atinge o folículo piloso.
Caracterizada pelo início súbito da perda de cabelo em placas.
O diagnóstico é clínico. Os achados físicos característicos são fios em ponto de exclamação (fios curtos e quebradiços) e um teste de tração (pull test) positivo. Uma biópsia do couro cabeludo mostra inflamação perifolicular.
Corticosteroides tópicos ou intralesionais são adequados para pacientes com queda limitada de cabelos. A atrofia da pele pode ser um efeito colateral temporário.
Definição
A alopecia areata (AA) é uma doença autoimune que afeta quase 2% da população nos EUA.[1]Safavi KH, Muller SA, Suman VJ, et al. Incidence of alopecia areata in Olmsted County, Minnesota, 1975 through 1989. Mayo Clin Proc. 1995;70:628-633. http://www.ncbi.nlm.nih.gov/pubmed/7791384?tool=bestpractice.com As células inflamatórias atingem o folículo piloso, assim impedindo o crescimento do cabelo. Tipicamente, nota-se uma pequena placa alopécica arredondada.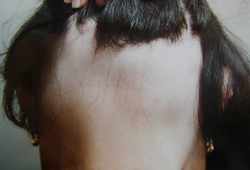 [Figure caption and citation for the preceding image starts]: Alopecia areataConcedido por Paradi Mirmirani, MD [Citation ends]. Essa perda de cabelo em placas pode apresentar novo crescimento, espontaneamente. Em outros casos, pode haver perda extensa dos cabelos em placas e, em casos raros, há perda do cabelo de todo o couro cabeludo e do corpo (alopecia areata universalis).
História e exame físico
queda de cabelos
alopecia não cicatricial
fios em pontos de exclamação
teste positivo de tração do cabelo (pull test)
pele subjacente normal em áreas calvas
depressões nas unhas
doença autoimune
história familiar de doença autoimune
Investigações diagnósticas
Algoritmo de tratamento
Colaboradores
Professor of Dermatology/Medicine (Retired)
David Geffen School of Medicine
UCLA
Los Angeles
CA
Declarações
RAS is currently an honorary member of the National Alopecia Areata Foundation (NAAF) clinical scientific advisory board.
Dr Richard A. Strick would like to gratefully acknowledge Dr Jack Green and Dr Paradi Mirmirani, previous contributors to this monograph. JG is an author of a reference cited in this monograph. PM declares that he has no competing interests.
Professor and Chair
Department of Dermatology
University of Minnesota
Minneapolis
MN
Declarações
MH declares that she has no competing interests.
Associate Professor
Department of Dermatology
University Hospital of Zurich
Zurich
Switzerland
Declarações
RMT is an author of a number of references cited in this monograph.