Última revisão:
25 Mai 2021
Última atualização:
19 Jul 2019
Resumo
Doença auditiva e vestibular episódica caracterizada por início súbito de vertigem, perda auditiva, zumbido e sensação de plenitude aural no ouvido afetado. No início do processo da doença, muitos dos sintomas podem estar ausentes.
A causa é desconhecida, mas resulta na produção excessiva ou na absorção deficiente da endolinfa na orelha interna.
O diagnóstico baseia-se na história clínica e em testes audiológicos detalhados; investigações adicionais podem ser necessárias para excluir outras causas.
Mudanças alimentares e medicamentos diuréticos podem controlar os sintomas nos estágios iniciais da doença; terapias medicamentosas específicas para o controle da vertigem podem ser testadas se necessário.
Se os sintomas persistirem apesar da terapia medicamentosa máxima, várias intervenções cirúrgicas estão disponíveis.
Definição
A doença de Ménière (DM) ou síndrome de Ménière é uma doença auditiva caracterizada por um início súbito e episódico de vertigens, perda auditiva de baixa frequência (nos estágios iniciais da patologia), zumbido em rugido de baixa frequência e sensação de plenitude aural no ouvido afetado. Geralmente os termos são intercambiáveis, mas DM é comumente usada se a doença for idiopática (isto é, sem causa conhecida) e a denominação síndrome de Ménière é utilizada se a mesma for secundária a uma variedade de patologias conhecidas da orelha interna.[1]Thirlwall AS, Kundu S. Diuretics for Ménière's disease or syndrome. Cochrane Database Syst Rev. 2006 Jul 19;(3):CD003599. http://www.ncbi.nlm.nih.gov/pubmed/16856015?tool=bestpractice.com A doença também é chamada de hidropisia endolinfática por causa da descrição do estado patológico observado em cortes histológicos post mortem.[2]da Costa SS, de Sousa LC, Piza MR. Meniere's disease: overview, epidemiology, and natural history. Otolaryngol Clin North Am. 2002 Jun;35(3):455-95. http://www.ncbi.nlm.nih.gov/pubmed/12486835?tool=bestpractice.com Não está claro se isso é uma causa dos sintomas ou o resultado do processo patológico.
História e exame físico
presença de fatores de risco
vertigem
perda auditiva
zumbido
plenitude aural
quedas súbitas
teste de Romberg positivo
teste de passos de Fukuda
sintomas bilaterais
nistagmo
marcha em tandem
infecção viral recente
predisposição genética
doença autoimune
Investigações diagnósticas
condução óssea e aérea de tons puros com mascaramento
audiometria da fala
timpanometria/imitanciometria/níveis do reflexo do estapédio
emissões otoacústicas (EOA)
eletrococleografia
eletronistagmografia
teste da cadeira rotatória
potencial evocado miogênico vestibular (PEMV)
ressonância nuclear magnética (RNM) dos canais auditivos internos
testes da função tireoidiana
doença de Lyme e sorologia para sífilis
anticorpo antinuclear
anticorpo anticitoplasma de neutrófilo
fator reumatoide
Algoritmo de tratamento
Colaboradores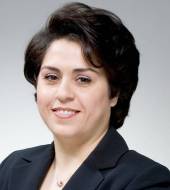 Otology-Neurotology
Ear Nose and Throat Associates of New York
New York
NY
Declarações
SNG declares that she has no competing interests.
Professor Emeritus of Audiology
Department of Communication Sciences and Disorders
Steinhardt School of Culture, Education, and Human Development
New York University
Specialist in Forensic and Occupational Audiology
New York
NY
Declarações
MHM declares that he has no competing interests.