Última revisão:
19 Set 2021
Última atualização:
04 Set 2018
Resumo
Resulta em pressão negativa na fenda auditiva.
Estreitamente relacionada ao surgimento de otite média crônica.
Geralmente acompanhada por doença inflamatória crônica da cavidade nasal.
O diagnóstico pode ser confirmado pela timpanometria.
O tratamento envolve cuidados de suporte e corticosteroides nasais. Cirurgia será adequada se a tuba auditiva estiver obstruída ou em caso de trauma. Se houver complicações otológicas crônicas, serão inseridos tubos de equalização de pressão.
Definição
Disfunção da tuba auditiva é a incapacidade da tuba auditiva de regular adequadamente a pressão de ar no interior da orelha média e/ou drenar, com eficácia, as secreções da fenda auditiva. Ocasionalmente, a disfunção pode envolver refluxo de secreções nasofaríngeas na orelha média. Esses problemas podem ser decorrentes de uma variedade de alterações fisiopatológicas que, de alguma forma, impedem a abertura e o fechamento normais da tuba auditiva.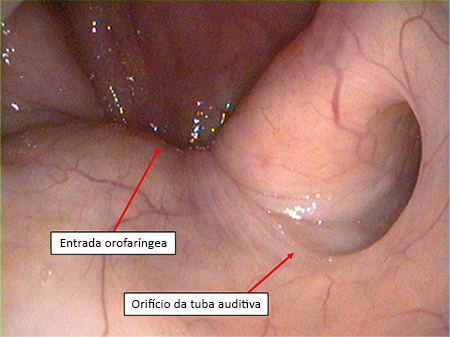 [Figure caption and citation for the preceding image starts]: Tuba auditiva esquerda normal observada por endoscopia a partir da cavidade nasal posterior.Do acervo de Edward D. McCoul; usado com permissão [Citation ends].
História e exame físico
presença de fatores de risco
incapacidade de desobstruir ou desentupir a orelha quando ocorrem alterações na pressão barométrica
exame físico normal da cabeça e do pescoço
plenitude aural
perda auditiva subjetiva
autofonia
história de otite média serosa ou de otite média crônica
edema do orifício da tuba auditiva
história de membrana timpânica retraída ou com hipermobilidade
fenda palatina
hipertrofia das adenoides
rinite alérgica
neoplasia da nasofaringe ou da fossa infratemporal
trauma da tuba auditiva
infecção da tuba auditiva
idade <5 anos
tabagismo
Doença do refluxo gastroesofágico (DRGE)
exposição à radiação
história de perda de peso recente
Investigações diagnósticas
Algoritmo de tratamento
Colaboradores
Edward D. McCoul, MD, MPH

Associate Professor

Department of Otorhinolaryngology

Ochsner Clinical School

University of Queensland School of Medicine

New Orleans

LA

Declarações

EDM is the author of references cited in this topic and was previously a consultant for Acclarent Inc., the manufacturer of a balloon dilation device.
Agradecimentos

Dr Edward D. McCoul would like to gratefully acknowledge Dr Erica R. Thaler, the previous contributor to this monograph. ERT declares that she has no competing interests.
Alan G. Micco, MD

Associate Professor

Otolaryngology: Head and Neck Surgery

Northwestern University Feinberg School of Medicine

Chicago

IL

Declarações

AGM declares that he has no competing interests.
Niels van Heerbeek, MD, PhD

Consultant

Department of Otorhinolaryngology, Head & Neck Surgery

University Medical Centre

Nijmegen

The Netherlands

Declarações

NVH declares that he has no competing interests.