Última revisão:
16 Set 2021
Última atualização:
16 Mar 2018
Resumo
Acúmulo comum de líquido sinovial, que geralmente é o resultado de uma anormalidade da articulação do joelho, como a artrite ou uma laceração na cartilagem.
Pode apresentar-se com edema ou dor atrás do joelho, mas a maioria dos casos é assintomática.
Pode sofrer ruptura, causando edema e dor intensa na panturrilha.
Geralmente, é necessário apenas o tratamento conservador.
Cistos sintomáticos grandes que não remitem podem precisar de drenagem.
Definição
O cisto poplíteo, também conhecido como cisto de Baker, é o resultado de um acúmulo de líquido sinovial externo à articulação e que se forma atrás do joelho. Isso ocorre por meio do aumento da pressão intrassinovial que faz com que a cápsula sinovial forme uma protuberância em uma área onde há falta de suporte anatômico externo.[1]Labropoulos N, Shifrin DA, Paxinos O. New insights into the development of popliteal cysts. Br J Surg. 2004;91:1313-1318. http://www.ncbi.nlm.nih.gov/pubmed/15376180?tool=bestpractice.com As condições subjacentes mais comuns que causam a superprodução de líquido sinovial incluem artrite e rupturas de menisco.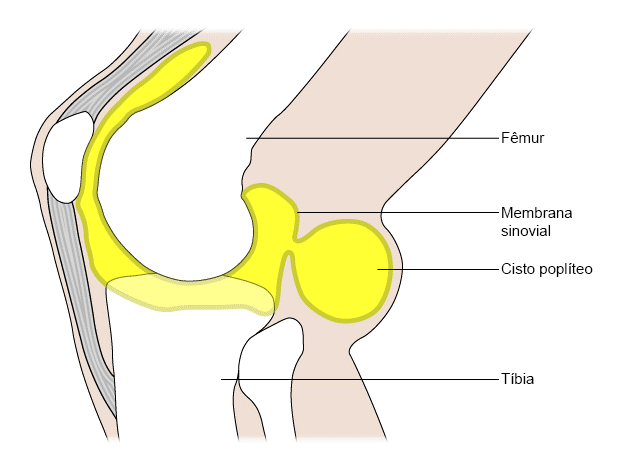 [Figure caption and citation for the preceding image starts]: Cisto poplíteoCriado por BMJ Publishing Group [Citation ends].
História e exame físico
presença de fatores de risco
protuberância poplítea
dor no joelho
edema dos membros inferiores
sensibilidade à palpação da panturrilha
equimose da panturrilha
doença de Lyme
trauma da articulação do joelho
artrite ou sinovite subjacente do joelho
infecção subjacente da articulação do joelho
idade mais avançada
Investigações diagnósticas
ultrassonografia duplex da perna
Algoritmo de tratamento
Colaboradores
John Kelly IV, MD

Associate Professor of Clinical Orthopaedic Surgery

Director of Sports Shoulder Service

Orthopaedic Surgery

University of Pennsylvania

Philadelphia

PA

Declarações

JK declares that he has no competing interests.
Agradecimentos

Dr John Kelly IV would like to gratefully acknowledge Dr Antonios P. Gasparis and Dr Nicos Labropoulos, previous contributors to this topic. APG declares that he has no competing interests. NL is the author of multiple references cited in this topic.
Brian Sabb, DO

Clinical Lecturer II

Orthopedic Radiologist

Department of Radiology

University of Michigan Medical Center

Ann Arbor

MI

Declarações

BS declares that he has no competing interests.
Hill Gaston, MA, PhD, BM BCh, FRCP, FMedSci

Professor of Rheumatology

University of Cambridge

Clinical Director

West Anglia CLRN

Cambridge

UK

Declarações

HG declares that he has no competing interests.
Richard Wakefield, BM, MRCP, MD

Senior Lecturer in Rheumatology

Academic Section of Musculoskeletal Disease

Leeds Institute of Molecular Medicine

Chapel Allerton Hospital

Leeds

UK

Declarações

RW declares that he has no competing interests.