Última revisión:
30 Oct 2020
Última actualización:
05 Marzo 2020
Resumen
La isquemia intestinal se puede clasificar en tres tipos: isquemia mesentérica aguda, isquemia mesentérica crónica e isquemia colónica. La isquemia mesentérica aguda también puede subdividirse en isquemia mesentérica embólica, isquemia mesentérica trombótica e isquemia mesentérica venosa. La isquemia colónica es el tipo más frecuente y el que tiene un pronóstico más favorable.
Clínicamente, puede cursar de diversas formas, como la isquemia reversible transitoria, la isquemia irreversible crónica o la isquemia fulminante aguda.
La trombosis venosa mesentérica puede conducir a isquemia intestinal aguda o subaguda y puede también presentarse en un espectro de gravedad.
Las complicaciones a largo plazo de la enfermedad isquémica intestinal dependen de la ubicación y naturaleza de la patología subyacente. Entre las posibles complicaciones se incluyen la formación de estenosis, síndrome del intestino corto y miedo a ingerir alimentos que conduce a la malnutrición.
Definición
La enfermedad isquémica intestinal abarca un grupo heterogéneo de trastornos causados por procesos agudos o crónicos, motivados por etiologías oclusivas o no oclusivas que provocan una disminución del flujo sanguíneo hacia el tracto gastrointestinal. La evolución clínica puede variar desde transitoria y reversible a fulminante.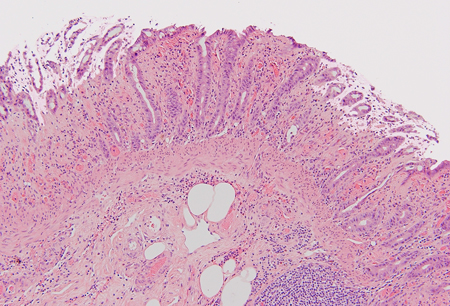 [Figure caption and citation for the preceding image starts]: Histopatología de isquemia intestinalDe la colección de la Dra. Jennifer Holder-Murray; utilizada con autorización [Citation ends].
Anamnesis y exploración física
hematoquecia/melena
diarrea
abdomen doloroso a la palpación
pérdida de peso
soplo abdominal
vasculitis
aturdimiento, palidez, disnea
miedo a ingerir alimentos (sitofobia)
edad avanzada
antecedentes de tabaquismo
estados de hipercoagulabilidad
fibrilación auricular
infarto de miocardio
defectos estructurales del corazón
antecedentes de vasculitis
cirugía cardiovascular reciente
shock
insuficiencia cardíaca congestiva
aterosclerosis
ileostomía previa
síndrome del intestino irritable
carcinoma colónico
estreñimiento
uso de laxantes a largo plazo
uso de vasopresores, digitalina, cocaína
Pruebas diagnósticas
hemograma completo (HC)
perfil de bioquímica sanguínea que incluye lactato sérico
perfil de coagulación
gasometría arterial/nivel de lactato
electrocardiograma (ECG)
radiografía de tórax (RT) en bipedestación
radiografías de abdomen
exploración por tomografía computarizada (TC)/angiografía por TC
sigmoidoscopia o colonoscopia
Más primeras pruebas que solicitar
Algoritmo de tratamiento
Colaboradores
Clinical Senior Lecturer
Honorary Consultant Colorectal Surgeon
Department of Surgery and Cancer
Imperial College London
London
UK 
Conflicto de intereses
AVR declares that he has no competing interests.
Clinical Research Fellow
Department of Surgery and Cancer
Imperial College London
London
UK 
Conflicto de intereses
JL declares that he has no competing interests.
Dr Alex von Roon and Dr James Lewis would like to gratefully acknowledge Dr Amir Bastawrous, Dr Jennifer Holder-Murray, and Dr Alessandro Fichera, the previous contributors to this topic.
Conflicto de intereses
AB, JHM, and AF declare that they have no competing interests.
Professor of Medicine
Rosalind Franklin University Medical School
Chicago
IL
Conflicto de intereses
EDE declares that he has no competing interests.
Consultant Gastroenterologist
St George's Hospital
London
UK
Conflicto de intereses
AP declares that he has no competing interests.