Última revisión:
22 Ago 2021
Última actualización:
31 Ene 2020
Resumen
Los ritmos desfibrilables más frecuentes y que están asociados a paro cardíaco son la taquicardia ventricular sin pulso y la fibrilación ventricular.
Las causas subyacentes más frecuentes son la cardiopatía isquémica y el infarto de miocardio. En algunos entornos, el paro cardíaco es el resultado de un paro respiratorio desencadenado por la toxicidad de los opiáceos.
Su presentación suele ser repentina y se manifiesta como pérdida del conocimiento pero puede ir precedida de dolor torácico o disnea.
El tratamiento es a través de la implementación de los algoritmos de soporte vital básico y avanzado, dependiendo del nivel de formación del proveedor.
La supervivencia global después de un paro cardíaco, especialmente si no hay testigos, es deficiente y, entre los supervivientes primerizos, está plagada de complicaciones de muchos sistemas de órganos debido a una lesión isquémica (es decir, insuficiencia orgánica multisistémica).
Definición
Esta monografía incluye el paro cardíaco en adultos. El paro cardíaco repentino es un estado repentino de insuficiencia circulatoria debido a una pérdida de la función sistólica cardíaca. Es el resultado de 4 alteraciones específicas del ritmo cardíaco: fibrilación ventricular (FV), taquicardia ventricular sin pulso, actividad eléctrica sin pulso y asistolia. ""Torsades de pointes es un subgrupo de TV polimórfica en pacientes con intervalo QT prolongado subyacente, algunas veces asociado a hipomagnesemia.

[Figure caption and citation for the preceding image starts]: Taquicardia ventricular monomórficaDe las colecciones personales de los Dres. A. Askari y A. Krishnaswamy; usado con autorización [Citation ends].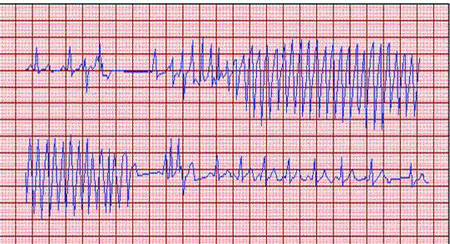 [Figure caption and citation for the preceding image starts]: Torsades de pointesDe la colección personal del Dr. A. Askari; usado con autorización [Citation ends].
Anamnesis y examen
paciente inconsciente
ausencia de respiración normal
ausencia de circulación
alteración del ritmo cardíaco
arteriopatía coronaria (AC)
disfunción ventricular izquierda
cardiomiopatía hipertrófica (CMH)
displasia ventricular derecha arritmogénica (ARVD)
síndrome del segmento QT largo (SQTL)
medicamentos que prolongan el intervalo QT o que provocan alteraciones electrolíticas
emergencia médica o quirúrgica aguda
sustancias ilícitas
síndrome de Brugada
cardiopatía valvular
tabaquismo
antecedentes de trastornos de la alimentación
Pruebas diagnósticas
monitorización cardíaca continua
hemograma completo (HC)
electrolitos séricos
GSA
biomarcadores cardíacos
ecocardiograma
electrocardiograma (ECG)
angiografía coronaria
radiografía de tórax
cribado toxicológico
resonancia magnética cardíaca
electrocardiograma de señal promediada (SAECG)
estudio electrofisiológico
Algoritmo de tratamiento
Colaboradores
John Wink, MD

Resident Physician

Department of Family Medicine

University of Calgary

Calgary

Canada 

Divulgaciones

JW declares that he has no competing interests.
Eddy Lang, MD

Professor and Department Head of Emergency Medicine

Cumming School of Medicine

University of Calgary

Alberta Health Services

Calgary

Canada

Divulgaciones

EL declares that he has no competing interests.
Agradecimientos

Dr John Wink and Professor Eddy Lang would like to gratefully acknowledge Dr Amar Krishnaswamy and Dr Arman T. Askari, previous contributors to this topic.

Divulgaciones

AK and ATA declare that they have no competing interests.
Vaikom Mahadevan, MD

Professor of Medicine

Division of Cardiology

University of California

San Francisco

CA

Divulgaciones

VM declares that he has no competing interests.
Anthony Aizer, MD, MS

Instructor

NYU Department of Medicine (Cardiology)

Leon H Charney Heart Rhythm Center and New York University

New York

NY

Divulgaciones

AA declares that he has no competing interests.
Massimo F. Piepoli, MD, PhD, FESC

Honorary Clinical Senior Lecturer/Consultant

Department of Cardiology

Imperial College London

London

UK

Divulgaciones

MFP declares that he has no competing interests.