Última revisión:
22 Dic 2020
Última actualización:
04 Mar 2020
Resumen
Se presenta con mayor frecuencia como un nódulo tiroideo asintomático, detectado en la palpación o el ultrasonido, en mujeres de 30 a 40 años de edad.
La prueba diagnóstica más importante es la aspiración con aguja fina.
El tratamiento generalmente consiste en la tiroidectomía total seguida de ablación con yodo radioactivo y supresión de la hormona estimulante de la tiroides (TSH) (papilar o folicular).
El tratamiento difiere y se debe adaptar a los tipos infrecuentes de cáncer de tiroides, como el medular, el linfoma o el anaplásico.
El pronóstico depende de la estratificación del grupo de riesgo.
Definición
Son cuatro los tipos que representan más del 98% de las neoplasias malignas tiroideas: papilar, folicular, anaplásico y medular.[1]Gimm O. Thyroid cancer. Cancer Lett. 2001 Feb 26;163(2):143-56. http://www.ncbi.nlm.nih.gov/pubmed/11165748?tool=bestpractice.com
Anamnesis y examen
presencia de factores de riesgo
nódulo tiroideo palpable
etapa adulta temprana
antecedentes familiares de cáncer de tiroides
ronquera
disnea
disfagia
desviación de la tráquea
linfadenopatía cervical
agrandamiento rápido del cuello
irradiación del cuello y la cabeza
sexo femenino
antecedentes familiares de cáncer de tiroides
Pruebas diagnósticas
T4 libre
T3 libre
gammagrafía tiroidea y prueba de captación tiroidea con I-123
biopsia con aguja gruesa
tomografía computarizada de cuello
calcitonina sérica
pruebas genéticas para detectar síndromes hereditarios
Más pruebas diagnósticas que deben considerarse
elastografía con ultrasonido
análisis molecular de muestras citológicas
biopsia del ganglio centinela
Más pruebas emergentes
Algoritmo de tratamiento
Colaboradores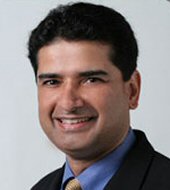 Chairman
Department of Surgery
Chief
Division of Surgical Oncology
Chief
Division of Head and Neck Surgery
South Nassau Hospital
Valley Stream
NY
Divulgaciones
RD declares that he has no competing interests.
Professor of Surgery
Cornell University Medical College
Attending Surgeon
Memorial Sloan-Kettering Cancer Center
New York
NY
Divulgaciones
ARS declares that he has no competing interests.
Consultant Endocrine Surgeon
Hammersmith & Charing Cross Hospitals
Clinical Lead for Endocrine Surgery
Honorary Senior Lecturer
Imperial College
London
UK
Divulgaciones
FFP declares that he has no competing interests.