Última revisión:
1 Nov 2022
Última actualización:
10 Oct 2019
Resumen
El cerumen es una sustancia natural cuya función es limpiar, proteger y lubricar el conducto auditivo externo.
Un tapón de cerumen se diagnostica cuando la acumulación de esta sustancia provoca síntomas, como la pérdida de la audición, o cuando impide la evaluación adecuada del conducto auditivo externo o la membrana timpánica.
La intervención puede incluir remoción manual, irrigación o uso de agentes cerumenolíticos, o una combinación de estas técnicas.
Después del tratamiento, el médico debe examinar de nuevo el oído del paciente y documentar la resolución del tapón de cerumen, así como inspeccionar la membrana timpánica antes obstruida.
Los niños pequeños, las personas de edad avanzada o con algún trastorno cognitivo y las personas que viven en residencias de ancianos presentan alto riesgo de desarrollar tapones de cerumen. Los usuarios de prótesis auditivas también presentan un mayor riesgo. Es preciso examinar a los pacientes detenidamente durante las consultas médicas rutinarias para determinar si presentan tapones de cerumen.
Definición
El cerumen es una mezcla de secreciones y células epiteliales exfoliadas. Un tapón de cerumen es una acumulación de cerumen que causa síntomas, como pérdida de la audición, plenitud auricular, otorrea, acúfenos, mareos u otros síntomas, o impide la realización de una evaluación necesaria del conducto auditivo externo, la membrana timpánica o el sistema audiovestibular.[1]Schwartz SR, Magit AE, Rosenfeld RM, et al. Clinical Practice Guideline (Update): Earwax (Cerumen Impaction). Otolaryngol Head Neck Surg. 2017 Jan;156(1_suppl):S1-S29. https://journals.sagepub.com/doi/abs/10.1177/0194599816671491 http://www.ncbi.nlm.nih.gov/pubmed/28045591?tool=bestpractice.com [Figure caption and citation for the preceding image starts]: Acumulación de cerumenReimpreso con autorización de: Hawke M. Ear disease: a clinical guide. Hamilton, London: Decker DTC; 2003 [Citation ends].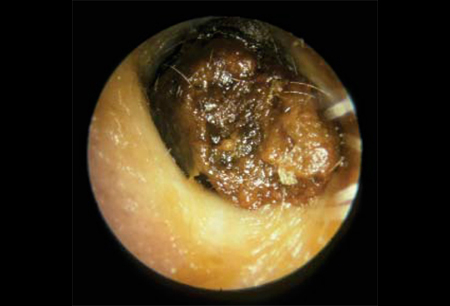 Anamnesis y examen
Principales factores de diagnóstico
presencia de factores de riesgo
visualización del cerumen
pérdida de la audición
plenitud auricular
Más principales factores de diagnóstico
Otros factores de diagnóstico
otorrea
otalgia
acúfenos
tos
vértigo
Otros factores de diagnóstico
Factores de riesgo
edad >50 o <5 años
sexo masculino
conducto auditivo externo estenótico
síndrome de Down
uso de bastoncillos de algodón
uso de una prótesis auditiva
vivir en una residencia de ancianos
Pruebas diagnósticas
Pruebas diagnósticas que deben considerarse
Más pruebas diagnósticas que deben considerarse
Algoritmo de tratamiento
Colaboradores
Stephen Wetmore, MD, MBA, FACS

Professor

Department of Otolaryngology

West Virginia University School of Medicine

Morgantown

WV

Divulgaciones

SW declares that he has no competing interests.
Rahul K. Shah, MD, FAAP

Associate Professor of Otolaryngology and Pediatrics

Division of Otolaryngology

Children's National Medical Center

Assistant Professor

Otolaryngology and Pediatrics

George Washington University School of Medicine and Health Sciences

Washington

DC

Divulgaciones

RKS declares that he has no competing interests.
Seth R. Schwartz, MD, MPH

Director of Research

The Listen For Life Center At Virginia Mason

Otology/Otolaryngology

Department of Otolaryngology

Virginia Mason Medical Center

Seattle

WA

Divulgaciones

SRS is an author of a reference cited in this topic.
Robin Youngs, MD, FRCS

Consultant Otologist

Gloucestershire Royal Hospital

Gloucester

UK

Divulgaciones

RY declares that he has no competing interests.
Diferenciales

Otitis externa

Queratosis obturans

Pólipo en el conducto auditivo externo

Más Diferenciales

Guías de práctica clínica

Clinical practice guideline (update): earwax (cerumen impaction)

Más Guías de práctica clínica

Folletos para el paciente

Cerumen

Más Folletos para el paciente

Log in or subscribe to access all of BMJ Best Practice