Last reviewed:
2 Nov 2023
Last updated:
03 Oct 2023
Summary
Lipomas are benign tumors composed of adipose tissue.
They can occur in any area of the body, although they are most frequently found on the trunk or proximal limbs. They are most commonly found in subcutaneous tissues.
Lipomas may occur in deeper body cavities and within/adjacent to such organs as the gastrointestinal tract, adrenal glands, parotid glands, parapharyngeal space, breast, mediastinum, pleura, airways, heart, superior vena cava, brain, and intraspinal areas.
Cutaneous lipomas are usually soft, mobile, and superficial.
Lipomas have no malignant potential. However, the differential diagnosis of liposarcoma should be carefully considered.
Surgical resection is indicated for symptomatic relief, pathologic confirmation, or cosmetic reasons, or if there is an increase in size.
Definition
Lipomas are slow-growing, benign, mesenchymal tumors that form well-circumscribed, lobulated lesions composed of adipocytes. They are demarcated from surrounding fat by a thin, fibrous capsule. They comprise 50% of soft-tissue neoplasms and are commonly encountered by primary care physicians, surgeons, and pathologists.[1]Bancroft LW, Kransdorf MJ, Peterson JJ, et al. Benign fatty tumors: classification, clinical course, imaging appearance, and treatment. Skeletal Radiol. 2006 Oct;35(10):719-33. http://www.ncbi.nlm.nih.gov/pubmed/16927086?tool=bestpractice.com ​ Lipomas usually arise in the subcutaneous tissues and may occur in any area of the body, although they most frequently occur on the trunk and proximal limbs. They have no malignant potential, but the differential diagnosis of liposarcoma must considered.[Figure caption and citation for the preceding image starts]: Subcutaneous lipoma on the trunkFrom the collection of Dr Kimberly Moore Dalal and Dr Steven D. DeMartini; used with permission [Citation ends].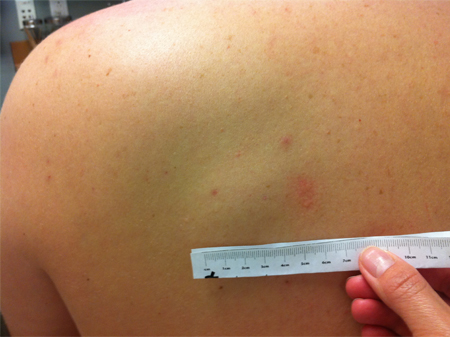 History and exam
Key diagnostic factors
cutaneous mass <5 cm diameter
soft cutaneous mass
mobile cutaneous mass
superficial cutaneous mass
More key diagnostic factors
Other diagnostic factors
painless cutaneous mass
gastrointestinal obstruction
gastrointestinal bleeding
Risk factors
genetic predisposition
trauma
heavy alcohol consumption
Diagnostic investigations
Investigations to consider
ultrasound
MRI
CT scan
core needle biopsy
incisional biopsy
excisional biopsy
upper gastrointestinal contrast study
gastrointestinal endoscopy
More investigations to consider
Treatment algorithm
superficial cutaneous lipoma on trunk or extremity
symptomatic gastrointestinal lipoma
Contributors
Kimberly Moore Dalal, MD

Medical Director, Surgical Oncology

General Surgery

Mills-Peninsula Hospital

Palo Alto Medical Foundation

Burlingame

CA

Disclosures

KMD is an author of a number of references cited in this topic.
Steven D. DeMartini, MD

Staff Pathologist

Oroville Hospital

Oroville

CA

Disclosures

SDD declares that he has no competing interests.
​​William Tseng, MD

Associate Professor of Surgery

City of Hope National Medical Center

Duarte

CA

Disclosures

WT declares that he has no competing interests.