Last reviewed:
16 Apr 2021
Last updated:
14 Nov 2018
Summary
A B-cell malignancy that is characterized commonly by symptoms of fatigue, a markedly enlarged spleen, and a distinctive histologic appearance on peripheral blood smear and bone marrow biopsy.
The disease is not curable. However, it is highly responsive to therapy and may be managed successfully for a decade or more.
Patients who are without symptoms do not require immediate treatment; early treatment does not extend life expectancy.
In symptomatic patients, purine analogs have largely replaced traditional therapies, such as splenectomy, except in rare cases of splenic rupture or massive splenomegaly.
Supportive care with antibiotics, nonsteroidal anti-inflammatory drugs, administration of irradiated blood products, and granulocyte colony-stimulating factors may have a role in therapy for hairy cell leukemia.
Definition
Hairy cell leukemia (HCL) is an uncommon, indolent, mature B-cell neoplasm. It was described as a distinct clinical entity in 1958.[1]Foucar K, Falini B, Catovsky D, et al. Hairy cell leukemia. In: WHO classification of tumours of haematopoietic and lymphoid tissues, vol 2, 4th ed. Geneva, Switzerland: World Health Organization Press; 2008:188-90. Seen under the microscope, the cells have delicate cytoplasmic projections, resembling hair, and that is why the disease was named HCL. The disease has a characteristic presentation of pancytopenia, splenomegaly, and circulating hairy cells in blood, marrow, and other hematopoietic organs.[2]Ruiz-Arguelles GJ, Cantu-Rodriquez OG, Gomez-Almaguer D, et al. Hairy cell leukemia is infrequent in Mexico and has a geographic distribution. Am J Hematol. 1996 Aug;52(4):316-8. http://www.ncbi.nlm.nih.gov/pubmed/8701952?tool=bestpractice.com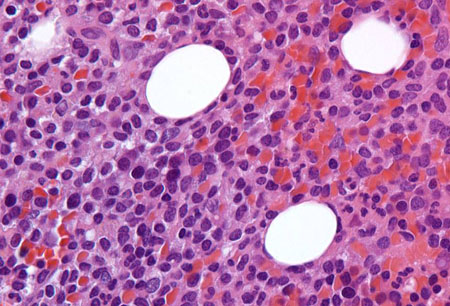 [Figure caption and citation for the preceding image starts]: Cytospin prepared from bone marrow aspirate illustrates the typical cell cytology, with oval- to bean-shaped nuclei and moderate amounts of cytoplasm with irregular cytoplasmic borders (Wright Giemsa 100×oil)From the collection of Lynn Moscinski, MD [Citation ends].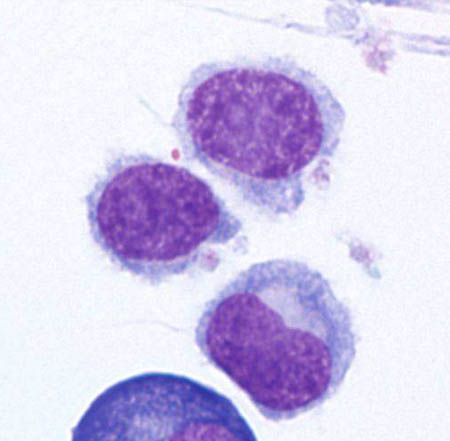 [Figure caption and citation for the preceding image starts]: Sections of core biopsy demonstrate lymphocytes with obvious cytoplasm within the marrow interstitium, associated with dilation of marrow sinuses and red blood cell collections (H&E 50×oil)From the collection of Lynn Moscinski, MD [Citation ends].
History and exam
abdominal fullness or discomfort
splenomegaly
weakness and fatigue
pallor and petechiae
fever
recurrent infections
hepatomegaly
superficial and deep lymphadenopathy
neurologic findings
associated systemic immunologic disorders
middle age
male sex
white ancestry
western hemisphere location
environmental exposures
genetic predisposition
Epstein-Barr virus
infectious mononucleosis
Diagnostic investigations
CBC
peripheral blood smear
bone marrow aspiration or biopsy
immunophenotyping
flow cytometry
tartrate-resistant acid phosphatase (TRAP)
CT of abdomen
genetics/molecular testing
Treatment algorithm
Contributors
Associate Professor
USF Center for Comparative Effectiveness Research and Evidence Based Medicine
Department of Internal Medicine, College of Medicine
Moffitt Cancer Center & Research Institute, Department of Health Outcomes & Behavior
University of South Florida
Tampa
FL
Disclosures
AK declares that he has no competing interests.
Professor
Division of Hematology-Oncology
Blood and Marrow Transplantation Program
Mayo Clinic
Jacksonville
FL
Disclosures
MKD declares that he has no competing interests.
Dr Ambuj Kumar and Dr Mohamed Kharfan-Dabaja would like to gratefully acknowledge Dr Benjamin Djulbegovic, a previous contributor to this topic. BD declares that he has no competing interests.