Last reviewed:
30 Oct 2023
Last updated:
22 Aug 2023
Summary
Urticaria is a skin condition characterized by erythematous, blanching, edematous, nonpainful, pruritic lesions that typically resolve within 24 hours and leave no residual markings.
Acute urticaria lasts less than 6 weeks and is often due to a hypersensitivity reaction to a specific trigger. Underlying viral infections are also a common cause of acute urticaria, particularly in children. Acute urticaria is generally self-limited.
Chronic urticaria is characterized by daily or near-daily episodes of hives occurring for 6 weeks or more and has a complex etiology.
Angioedema is swelling involving the deeper layers of the subdermis and occurs in association with urticaria in about 40% of cases. It can also occur in the absence of urticaria.
Angioedema involving the face or neck can potentially compromise the airway and requires prompt airway management.
Diagnosis of urticaria and angioedema is based on history and physical exam; diagnosis of chronic urticaria and hereditary angioedema may involve additional laboratory testing, depending on the history.
Referral to a specialist may be appropriate, especially in cases of chronic urticaria and chronic or hereditary angioedema.
Antihistamines are the mainstay of therapy for both acute and chronic urticaria. For patients who do not respond to antihistamines, additional treatment options include omalizumab and immunomodulatory medications.
Specific treatments are available to abort acute attacks and for longer-term prophylaxis of hereditary angioedema.
Definition
Urticaria (also called hives) consists of erythematous, blanching, edematous, nonpainful, pruritic lesions that develop rapidly, usually over minutes. Urticaria typically lasts less than 24 hours and leaves no residual skin markings upon resolution.
Approximately 40% of episodes of urticaria have associated angioedema. Angioedema is a sudden, pronounced swelling of the subdermis or mucous membranes. It may be painful, rather than itchy, and last up to 72 hours.[1]Zuberbier T, Abdul Latiff AH, Abuzakouk M, et al. The international EAACI/GA²LEN/EuroGuiDerm/APAAACI guideline for the definition, classification, diagnosis, and management of urticaria. Allergy. 2022 Mar;77(3):734-66. https://www.doi.org/10.1111/all.15090 http://www.ncbi.nlm.nih.gov/pubmed/34536239?tool=bestpractice.com The swelling primarily affects the face, lips, mouth, upper airway, genitals, and extremities.[2]Schaefer P. Acute and chronic urticaria: evaluation and treatment. Am Fam Physician. 2017 Jun 1;95(11):717-24. https://www.aafp.org/afp/2017/0601/p717.html http://www.ncbi.nlm.nih.gov/pubmed/28671445?tool=bestpractice.com
Urticaria, with or without angioedema, may be acute or chronic. Acute episodes, which occur over a period of less than 6 weeks, are usually caused by a specific stimulus, and are self-limited. Chronic episodes occur over a period of 6 or more weeks and are rarely attributable to a specific stimulus.[3]Greaves MW. Chronic urticaria. N Engl J Med. 1995;332:1767-1772. http://www.ncbi.nlm.nih.gov/pubmed/7760895?tool=bestpractice.com
Angioedema can also occur in the absence of urticaria. This is a separate clinical entity, requiring a different diagnostic approach. Patient history, physical exam, and laboratory investigations are used to determine whether angioedema is drug-induced, hereditary, or acquired.[Figure caption and citation for the preceding image starts]: Typical lesions seen in acute or chronic urticariaFrom the collection of Stephen Dreskin, MD, PhD [Citation ends].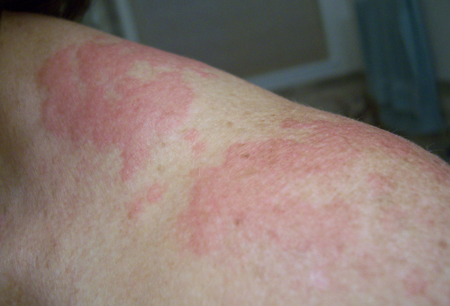 [Figure caption and citation for the preceding image starts]: Angioedema of the lips in a patient who also has urticariaFrom the collection of Stephen Dreskin, MD, PhD [Citation ends].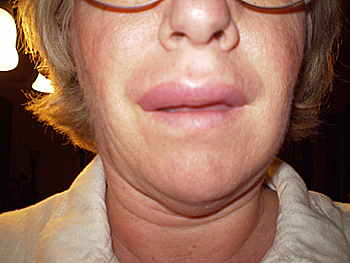 History and exam
Key diagnostic factors
erythematous edematous lesions
pruritus
resolution within 24 hours
swelling of face, tongue, or lips
More key diagnostic factors
Risk factors
positive family history
female sex
exposure to drug trigger
exposure to food trigger
recent viral infection
recent insect bite or sting
Diagnostic investigations
1st investigations to order
CBC with differential
erythrocyte sedimentation rate (ESR)
CRP
C4 level
More 1st investigations to order
Investigations to consider
thyroid-stimulating hormone (TSH)
antinuclear antibodies (ANA)
skin prick testing
allergen avoidance diet
serum tryptase
skin biopsy
C1 esterase inhibitor level
C1 esterase inhibitor function
C1q levels
specific IgE to suspected allergen
More investigations to consider
Treatment algorithm
acute urticaria ± angioedema
chronic urticaria ± angioedema
drug-induced angioedema without urticaria
idiopathic angioedema without urticaria
Contributors
Jonathan Bernstein, MD

Professor of Medicine

Department of Internal Medicine

Division of Immunology/Allergy Section

University of Cincinnati

Cincinnati

OH

Disclosures

JB is a consultant, contracted researcher, and speaker for Sanofi-Regeneron, AstraZeneca, Novartis/Regeneron, Genentech, Shire/Takeda, CSL Behring, Pharming and Biocryst. He is also a consultant and contracted researcher for Amgen, Allakos, Celldex, Kalvista, Biomarin and IONIS. JB is a consultant for Escient, Ono and Pharvaris, he is on the board of directors for AAAAI, and is a member of the Joint Task Force practice parameter. JB has spoken on this topic at National, International and Regional/Local Educational meetings. JB is an author of abstracts and manuscripts related to these topics and is an author of a number of references cited in this topic.
Acknowledgements

Dr Jonathan Bernstein would like to gratefully acknowledge Dr S. Shahzad Mustafa and Dr Stephen Dreskin, previous contributors to this topic.

Disclosures

SM is on the speakers' panel and advisory board for Genentech. SD declares that he has no competing interests.
Frances Humphreys, MB BS, FRCP

Consultant Dermatologist

Warwick Hospital

Honorary Associate Professor

University of Warwick

Warwick Hospital

Warwick

UK

Disclosures

FH has attended educational events organised and funded by Almrall and Schering Plough; has received a speaker's fee from Steibel, Leo, and Schering Plough; and is an author of references cited in this topic.
Alexander M. Marsland, MRCP

Consultant in Dermatology

University Hospital of South Manchester

Manchester

UK

Disclosures

None declared.
Luz Fonacier, MD

Head of Allergy and Training Program Director

Winthrop University Hospital

Associate Professor of Clinical Medicine

SUNY at Stony Brook

Stony Brook

NY

Disclosures

LF declares that she has no competing interests.
Differentials

Anaphylaxis

Dermatographism

Atopic dermatitis

More Differentials

Guidelines

The international WAO/EAACI guideline for the management of hereditary angioedema: the 2021 revision and update​

Guidelines for the management of people with chronic urticaria

More Guidelines

Log in or subscribe to access all of BMJ Best Practice