Last reviewed:
2 Feb 2021
Last updated:
03 Dec 2019
Summary
Occurs when excessive valgus stresses or external rotation forces are placed on the knee joint.
The most common symptom is medial-sided knee pain above or below the joint line. Patients are usually able to walk. 
Diagnosis and grading is primarily made with history taking and physical exam.
Most patients are treated nonoperatively.
Prognosis for isolated medial collateral ligament injuries is good. Most patients return to sports within 3 to 6 weeks and to preinjury levels within 3 months.
Combined multiligament and chronic medial collateral ligament injuries often require operative intervention.
Definition
The medial collateral ligament (MCL) is a supporting structure on the medial part of the knee joint.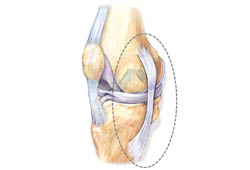 [Figure caption and citation for the preceding image starts]: Medial collateral ligament (right knee)Created by Sanjeev Bhatia, MD; used with permission [Citation ends]. Its primary function is to resist valgus (twisting outward away from the midline) and external rotation forces of the tibia in relation to the femur. The mechanism for MCL injury is typically a large valgus and/or external rotation force that is suddenly placed on the knee joint. Injuries to the MCL range in severity from a few torn fibers to complete disunity of the ligament.
History and exam
injury due to excessive or repetitive valgus loading of MCL
medial knee pain
joint effusion
tenderness
laxity on valgus stress testing
ecchymosis
audible pop or tearing sensation at time of injury
difficulty walking
instability symptoms of knee
mechanical knee symptoms
knee deformity
positive anterior drawer test
positive posterior drawer test
positive Lachman test
positive pivot shift test
joint line tenderness
chronic pain
participation in activities involving valgus stress at the knee joint
age 20 to 35 years
age 55 to 70 years
weak muscles that cross the medial aspect of knee
Diagnostic investigations
plain x-rays of knee
stress x-rays of knee
Treatment algorithm
Contributors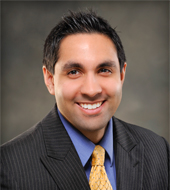 Co-Director, Hip & Knee Joint Preservation Center
Northwestern Medicine Central DuPage Hospital
Northwestern University Feinberg School of Medicine
Warrenville
IL
Disclosures
SB receives royalties from the following Nova publication: Ligamentous Injuries of the Knee. SB has stock ownership in Vericel and Joint Preservation Innovations, LLC.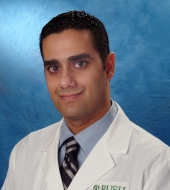 Professor
Department of Orthopedic Surgery
Section of Sports Medicine
Rush University Medical Center
Chicago
IL
Disclosures
NNV declares the following competing interests: American Orthopaedic Society for Sports Medicine: board or committee member; American Shoulder and Elbow Surgeons: board or committee member; Arthrex, Inc.: research support; Arthroscopy: publishing royalties, financial or material support; Arthroscopy Association of North America: board or committee member; Breg: research support; Cymedica: stock or stock options; Knee: editorial or governing board; Minivasive: paid consultant, stock or stock options; Omeros: stock or stock options; Orthospace: paid consultant; Ossur: research support; SLACK Incorporated: editorial or governing board; Smith & Nephew: IP royalties, research support; Vindico Medical-Orthopedics Hyperguide: publishing royalties, financial or material support; Wright Medical Technology Inc.: research support.