Last reviewed:
3 Nov 2023
Last updated:
19 Dec 2022
Summary
Chronic pain is one of the most common reasons for seeing a primary care physician.
Classification of chronic pain may be based on major pain features or by body region: myofascial, musculoskeletal (mechanical), neuropathic, fibromyalgia, and chronic headache syndromes.
One in three patients over the age of 65 years is affected by chronic pain, often due to arthritis, osteoporosis with fractures and/or lumbar spinal stenosis. These conditions are treatable and should not be considered part of the normal aging process. Untreated chronic pain in older patients can result in depression, poor quality of life, and loss of independence.
Some treatments, such as stretching exercises, relaxation techniques, antidepressants, and anticonvulsant drugs, are beneficial for a wide variety of chronically painful conditions.
Opioids should not be used as first-line or routine therapy for chronic pain; evidence for effectiveness is limited, and they are associated with risk of adverse events such as overdose, misuse, fractures from falls, hormonal changes, and increased sensitivity to pain.
Definition
Acute pain is a common consequence of injury or illness, generally decreasing shortly after onset and resolving once healing is complete. Since healing occurs over a maximum of 3 months, pain persisting longer than 3 months is deemed chronic pain or persistent pain. Chronic pain may also occur in patients with ongoing degenerative illnesses, such as rheumatoid arthritis, or other chronic conditions, like migraine or neuropathic pain. Neuropathic pain is characterized by allodynia and hyperalgesia. Allodynia is the perception of non-noxious stimuli as painful. In hyperalgesia, noxious stimuli produce exaggerated or prolonged pain. Pain severity may fluctuate in patients with chronic pain, with periods of increased pain or pain flares occurring either in relation to increased activity or stress, or insidiously. Chronic pain occurs due to persistent activation of neural pain pathways and muscle spasm. [Figure caption and citation for the preceding image starts]: Acute pain occurs with trauma or illness, decreasing during healing and resolving within 3 months. Chronic pain persists after healing is completed, due to continued activation of neural pain pathways and muscle spasmFrom Marcus DA. Headache and chronic pain syndromes. The case-based guide to targeted assessment and treatment. Totowa, NJ: Humana Press; 2007 [Citation ends].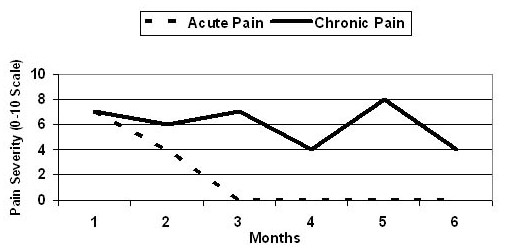 History and exam
Key diagnostic factors
duration of pain more than 3 months
physical comorbidity
psychological comorbidity
previous history of acute pain episodes
pain causing difficulty in performing routine activities of daily living
precipitating factors for myofascial pain
precipitating factors for musculoskeletal pain
herpes zoster infection
history of trauma or limb immobilization
medication use
muscle spasm
associated somatic symptoms
muscle tenderness to palpation
trigger-point tenderness
taut bands
twitch response
joint swelling and tenderness
tender points
More key diagnostic factors
Other diagnostic factors
precipitating factors for chronic headache
duration of headache pain
radiating pain
morning stiffness in joints
pain with prolonged walking, relieved with stooping or sitting
joint pain
burning quality of pain
allodynia
hyperalgesia
chronic headache associated with nausea, vomiting, and sensitivity to light and noise
intermittent pattern of chronic headache pain
bilateral chronic headache pain
unilateral chronic headache pain
limited range of motion (ROM)
painful or limited straight leg raising
symmetrical body pain distribution
worsening headache symptoms despite treatment
headache with posterior head or neck pain
excessive guarding of the painful extremity
diminution or loss of reflexes
tenderness over temporal artery distribution
Risk factors
age over 45 years
female sex
pregnancy
history of trauma or chronic pain
family history of chronic pain syndromes
acute back pain with neurologic signs
high-risk occupation
comorbid personality disorder/psychological distress
pain-related disability
cigarette smoking
Diagnostic investigations
Investigations to consider
plain x-rays of spine, bones, and/or joints
MRI of spine
electromyogram and nerve conduction studies
More investigations to consider
Treatment algorithm
Contributors
Gaurav Chhabra, MBBS, FRCA, FFPMRCA

Consultant, Pain Medicine and Anaesthesia

North Bristol NHS Trust

Bristol

UK

Disclosures

GC declares that they have no competing interests.
Acknowledgements

Dr Gaurav Chhabra would like to gratefully acknowledge Dr Sarah Love-Jones and Dr Dawn A. Marcus, previous contributors to this topic.

Disclosures

SLJ has received consultancy fees for Boston Scientific and Nevro Corporation (regarding spinal cord stimulation) and is an elected council member of the British Pain Society. DAM is an author of a reference cited in this topic.
J. David Sinclair, MD

Clinical Instructor

Department of Anesthesiology

University of Washington School of Medicine

Seattle

WA

Disclosures

JDS declares that he has no competing interests.
Joan Hester, MBBS, FRCA, LRCP, MRCS

Consultant in Pain Management

Pain Unit

King's College Hospital

London

UK

Disclosures

JH has chaired advisory boards for Napp Pharmaceuticals Ltd., chaired a symposium, is a principal investigator and has participated in advisory boards for Grunenthal Ltd., and has given lectures for Pfizer Ltd. JH attended the American Pain Society meeting in 2009 sponsored by Grunenthal.
Beverly J. Collett, MB BS, FRCA, FFPMRCA

Consultant in Pain Medicine

Pain Management Service

University Hospitals of Leicester

Leicester

UK

Disclosures

Not disclosed.
Differentials

Hypothyroidism

Polymyalgia rheumatica (PMR)

Giant cell arteritis (GCA)

More Differentials

Guidelines

Integrative medicine for pain management in oncology

CDC guideline for prescribing opioids for pain: United States, 2022

More Guidelines

Patient leaflets

Back pain (lower back)

Breast pain

More Patient leaflets

Log in or subscribe to access all of BMJ Best Practice