Last reviewed:
23 Sep 2021
Last updated:
29 Apr 2021
Summary
Placenta previa is an uncommon complication of pregnancy. Usually diagnosed on routine ultrasound done for other reasons, but may present with painless vaginal bleeding in the second or third trimester.
Classified according to the placental relationship to the cervical os as complete, partial, marginal, or low-lying.
Bleeding in placenta previa may be (or become) torrential, and appropriate monitoring should be performed. Digital vaginal examination should not be performed on women with active vaginal bleeding until the position of the placenta is known with certainty.
Most seen on early ultrasound will resolve spontaneously.
Cesarean section will eventually be necessary in all cases of complete placenta previa. Cesarean sections may be complicated by excessive bleeding and the need for cesarean hysterectomy (or uterine artery embolization, or other interventional radiology procedure), and should only be performed by experienced physicians.
Definition
Placenta previa (PP) is defined as the placenta overlying the cervical os. It can be complete, partial, marginal, or low lying. Partial, marginal, and low-lying PP may resolve as pregnancy progresses. In women with a scarred uterus (most commonly from a prior cesarean section), PP may be associated with an abnormally adherent placenta, where the placenta attaches to the myometrial layer of the uterus. Vasa previa, where the fetal vessels lie over the internal cervical os, is an associated condition.
In this topic we refer to all varieties of invasive placentation as abnormally adherent placenta. There are three commonly defined variants: placenta accreta (where chorionic villi attach to the myometrium, rather than being restricted within the decidua basalis), placenta increta (where the chorionic villi invade into the myometrium), and placenta percreta (where the chorionic villi invade through the myometrium and sometimes into adjoining tissue).[1]Publications Committee, Society for Maternal-Fetal Medicine, Belfort MA. Placenta accreta. Am J Obstet Gynecol. 2010 Nov;203(5):430-9. https://www.ajog.org/article/S0002-9378(10)01159-2/fulltext http://www.ncbi.nlm.nih.gov/pubmed/21055510?tool=bestpractice.com Although these distinctions are important to consultants, they do not change management decisions for primary care providers.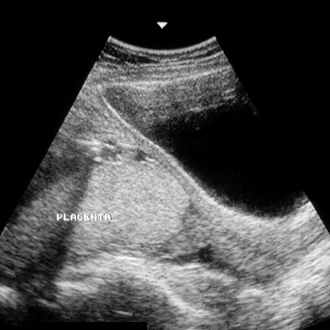 [Figure caption and citation for the preceding image starts]: Complete previa at 22 weeksFrom the teaching collection of Janet R. Albers, MD [Citation ends].
History and exam
scarred uterus
painless vaginal bleeding
absence of cervical/vaginal causes of bleeding on speculum examination
previous ultrasound anomaly in first trimester
lack of uterine tenderness
low blood pressure and tachycardia
advanced maternal age
multiple previous pregnancies
smoking
uterine scarring (most commonly due to prior cesarean section)
infertility treatments
previous miscarriage
previous induced abortion
prior placenta previa
other placental abnormalities
short interpregnancy intervals
illicit drug use
Diagnostic investigations
uterine ultrasound with color flow Doppler analysis
CBC
type and crossmatch
MRI placenta
INR/PTT, fibrinogen, and fibrinogen degradation products
Kleihauer-Betke test
Treatment algorithm
Contributors
Janet R. Albers, MD

Professor

Department Chair

Family and Community Medicine

Southern Illinois University School of Medicine

Springfield

IL

Disclosures

JRA declares that she has no competing interests.
Thomas H. Miller, MD

Professor

Clinical Family and Community Medicine

Associate Chairman - Western Region

Southern Illinois University School of Medicine

Springfield

IL

Disclosures

THM declares that he has no competing interests.
Acknowledgements

Dr Janet R. Albers and Dr Thomas H. Miller would like to gratefully acknowledge Dr Robert Ewart and Dr Matthew Hagermeyer, previous contributors to this topic.

Disclosures

RE and MH declare that they have no competing interests.
Yosra Tahir Jarjees, MD

Assistant Professor

Head of Department of Obstetrics and Gynecology

Mosul College of Medicine

Mosul

Iraq

Disclosures

YTJ declares that he has no competing interests.
John Bachman, MD

Consultant in Family Medicine

Parker D Sanders and Isabella Sanders Professor of Primary Care

Rochester

MN

Disclosures

JB declares that he has no competing interests.