Last reviewed:
25 Dec 2021
Last updated:
24 Sep 2021
Summary
An ovarian cyst is a fluid-filled sac in the ovarian tissue. The cyst may be unilocular or multilocular. The causes may be physiologic, infectious, benign neoplastic, malignant neoplastic, or metastatic.
The most important step in management is assessing the risk of malignancy.
Oral contraceptives do not hasten or influence regression of benign ovarian cysts.
Asymptomatic postmenopausal women with simple unilocular ovarian cysts <10 cm in diameter and cancer antigen (CA)-125 <35 U/mL can be managed conservatively with serial ultrasonography.
Ultrasonography can provide a morphology index score that is useful in determining likelihood of malignancy.
Guidelines by the American College of Obstetricians provide validated criteria for referral to gynecologic oncology.
Definition
Ovarian cyst is a surgical, imaging, or exam finding of an enlarged, fluid-filled ovary or portion of ovarian tissue. Ovarian cysts imply a pathophysiologic process involving the ovary itself.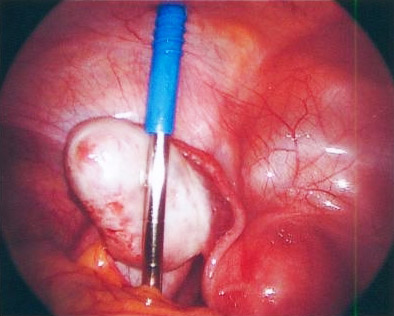 [Figure caption and citation for the preceding image starts]: Laparoscopic view of ovarian cyst in vivoFrom the collection of Professor Michael Hopkins [Citation ends].
History and exam
pelvic pain
bloating and early satiety
palpable adnexal mass
premenopausal age group
early menarche
first trimester of pregnancy
personal history of infertility or polycystic ovary syndrome
increased intrinsic or extrinsic gonadotropins
tamoxifen therapy
smoking
personal or family history of endometriosis
Diagnostic investigations
serum cancer antigen (CA)-125
color power Doppler ultrasonography of abdomen/pelvis
MRI of abdomen/pelvis
CT imaging of abdomen/pelvis
karyotype analysis
laparoscopy/laparotomy and histopathology
PET imaging of abdomen/pelvis
serum biomarkers (ovarian adnexal mass assessment score test system)
Treatment algorithm
Contributors
Sareena Singh, MD

Assistant Professor

Department of Obstetrics and Gynecology

Northeast Ohio Medical University

Rootstown

OH

Director of Gynecologic Oncology

Aultman Health Foundation

Canton

OH

Disclosures

SS declares that she has no competing interests
Acknowledgements

Dr Sareena Singh would like to gratefully acknowledge Dr Michael P. Hopkins, Dr Christina N. Kufel, Dr Lauren M. Blue, Dr Jay R. Patibandla, and Dr Laura K. Randolph, previous contributors to this topic.

Disclosures

MPH, CNK, LMB, JRP, and LKR declare that they have no competing interests.
John Bachman, MD

Consultant in Family Medicine

Parker D Sanders and Isabella Sanders Professor of Primary Care

Rochester

MN

Disclosures

JB declares that he has no competing interests.
David Chelmow, MD

Chair

Department of Obstetrics and Gynecology

Virginia Commonwealth University

Richmond

VA

Disclosures

DC declares that he has no competing interests.
T. Justin Clark, MD (Hons), MRCOG

Consultant Obstetrician and Gynaecologist

Birmingham Women's Hospital

Obstetrics and Gynaecology

Birmingham

UK

Disclosures

TJC declares that he has no competing interests.