Last reviewed:
28 Oct 2023
Last updated:
28 Jan 2022
Summary
Brachial plexus injuries most commonly result from motor vehicle accidents, gunshot or stab wounds, contact sports accidents, or workplace accidents during heavy physical labor.
Injury may involve the upper 2 or 3 nerve roots (partial injury) or all 5 nerve roots (complete injury). Partial and complete brachial plexus injuries can both be repaired successfully. Complete injuries require multiple major operations over the course of several years, while partial injuries can often be corrected in a single operation.
Complete injuries can be ruptures (roots still connected to the spinal cord) or avulsions (roots detached from the spinal cord). Nerve transfer techniques, which can be successfully applied to both ruptures and avulsions, are the treatment of choice for microsurgical repair.
An injury that does not resolve within a few days will often require major surgical reconstruction. The speed of nerve regeneration after spontaneous recovery or nerve repair is about 1 mm per day (1 inch per month).
Given the time frame to permanent paralysis (about 1 year), surgical repair is best carried out by 4 to 6 months after injury.
Definition
Brachial plexus injuries are usually caused by trauma to the roots of the plexus as they exit the cervical spine.[1]Nath RK, Lyons AB, Bietz G. Physiological and clinical advantages of median nerve fascicle transfer to the musculocutaneous nerve following brachial plexus root avulsion injury. J Neurosurg. 2006;105:1-5. http://www.ncbi.nlm.nih.gov/pubmed/17405252?tool=bestpractice.com This most commonly occurs in road traffic accidents and falls from height. Inflammatory, neoplastic, and compressive causes are also possible.[2]Moghekar AR, Moghekar AR, Karli N, et al. Brachial plexopathies: etiology, frequency, and electrodiagnostic localization. J Clin Neuromuscul Dis. 2007;9:243-7. http://www.ncbi.nlm.nih.gov/pubmed/17989587?tool=bestpractice.com The effects of the injury can include paralysis, loss of sensation, and pain. The specific clinical presentation will depend on the roots involved and the degree of injury to each root.[Figure caption and citation for the preceding image starts]: Left brachial plexusFrom the collection of the Texas Nerve and Paralysis Institute, Dr Rahul Nath, Founder and Medical Director; used with permission [Citation ends].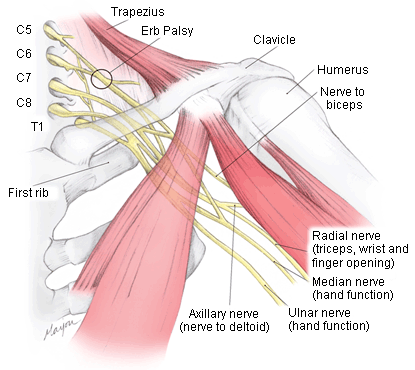 History and exam
Key diagnostic factors
presence of polytrauma/multiple injury
paralysis of shoulder
paralysis of bicep
numbness of radial digits of hand and shoulder
paralysis of triceps
paralysis of wrist/finger extensors
flail/insensate extremity
absent tendon reflexes
More key diagnostic factors
Risk factors
motor vehicle accident
neurofibromatosis
improper positioning during surgery
age <50 years
male sex
Parsonage-Turner syndrome
tumors (primary and metastatic tumors)
rib abnormalities
metabolic disorders
Diagnostic investigations
1st investigations to order
More 1st investigations to order
Investigations to consider
More investigations to consider
Treatment algorithm
upper (C5-6) with or without middle (C7) root injury
isolated lower root (C8-T1) injury
total root avulsion (C5-T1) injury
Contributors
Rahul K. Nath, MD

Director

Texas Nerve and Paralysis Institute

Houston

TX

Disclosures

RKN is an author of a number of references cited in this topic.
Abdelouahed Amrani, MD

Professor

Children's Hospital

Rabat

Morocco

Disclosures

AA declares that he has no competing interests.
S. Raja Sabapathy, MS, MCh, DNB, FRCS, MAMS

Director and Head

Department of Plastic, Hand and Reconstructive Microsurgery and Burns

Ganga Hospital

Coimbatore

India

Disclosures

SRS declares that he has no competing interests.
Differentials

Functional or psychogenic weakness (e.g., unilateral loss of motor function or psychogenic parkinsonism)

Amyotrophic lateral sclerosis (ALS)

Brain or spinal cord injury

More Differentials

Guidelines

ACR appropriateness criteria: plexopathy

More Guidelines

Patient leaflets

Rotator cuff injury

Whiplash

More Patient leaflets

Log in or subscribe to access all of BMJ Best Practice