Last reviewed:
March 2020
Last updated:
January 2018
Summary
A cellulitis of the supraglottis that may cause airway compromise. An airway emergency, especially in children, and precautionary measures must be taken.
Epiglottitis is classically described in children aged 2 to 6 years of age; however, it may manifest at any age, including in newborns. It may now be more common in older children and adults due to the Haemophilus influenzae type B (Hib) vaccine.
The most common signs are rapid onset of high fever, sore throat, inability to control secretions, classic tripod positioning, difficulty breathing, and irritability. Adults may have a more indolent presentation and may not require airway intervention (only about 20% of adults require intubation whereas most children do).
Cooperation between the otolaryngologist, pediatrician, or emergency room physician and anesthesiologist is crucial.
No action should be taken that could stimulate a child with suspected epiglottitis, including examination of the oral cavity, starting intravenous lines, blood draws, or even separation from a parent. Similar caution is required in fulminant acute epiglottitis in adults.
Diagnosis is made on clinical grounds and laboratory or other interventions should not preclude or delay timely control of the airway in a suspected case of epiglottitis.
Once the airway has been secured and antibiotics have been initiated, the condition usually resolves rapidly.
Vaccination does not preclude the possibility of epiglottitis or even the possibility of epiglottitis from Haemophilus influenzae.
Definition
Epiglottitis is a cellulitis of the supraglottis that has the potential to cause airway compromise and should be treated as a surgical emergency until the airway is examined and secured.[1]Duncan NO. Infections of the airway. In: Cummings CW. Otolaryngology: head and neck surgery, 4th ed. Philadelphia, PA: Mosby; 2005. Pertinent diagnostic criteria include the classic "tripod" position of the patient, drooling, high fever, and a toxic appearance.
History and exam
nonvaccination with Hib vaccine
sore throat
dysphagia
difficulty in controlling secretions
toxic appearance
acute distress
fever
tripod position
difficulty breathing
decreased oral intake
muffled voice
stridor
irritability
drooling
nonvaccination with Hib vaccine
immunocompromise
middle age
Diagnostic investigations
Treatment algorithm
Contributors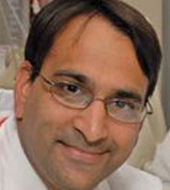 VP, Chief Quality and Safety Officer
Children's National Health System
Washington
DC
Disclosures
RKS declares that he has no competing interests.
Otolaryngologist
South Abilene Ear, Nose & Throat
Abilene
TX
Disclosures
JLA declares that he has no competing interests.