Last reviewed:
25 May 2021
Last updated:
16 Mar 2021
Summary
Most umbilical hernias will close by 4 to 5 years of age without treatment.
Complications including incarceration, strangulation, and rupture are uncommon in children.
Elective outpatient repair is associated with a low recurrence rate.
Infection and bleeding are the two most common postoperative complications.
Compression therapy (such as abdominal binders) is not helpful and may be harmful.
Definition
An umbilical hernia is a defect of the anterior abdominal wall fascia that occurs when the umbilical ring fails to close. The defect allows protrusion of a peritoneal sac that is covered by skin and may contain intra-abdominal contents, such as omentum or bowel.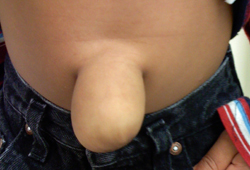 [Figure caption and citation for the preceding image starts]: Large umbilical herniaPersonal collection of Charles L. Snyder, MD; used with permission [Citation ends].
History and exam
present since birth
bulge at the umbilicus
change in size/tension during movement
skin changes
easily reducible hernia sac
well-defined rim of fascia with central defect
variable diameter of defect
symptoms of small bowel obstruction
low birth weight
African/African-American ancestry
Beckwith-Wiedemann syndrome (BWS)
trisomy 21, 18, 13
congenital hypothyroidism
mucopolysaccharidoses
Diagnostic investigations
Treatment algorithm
Contributors
Professor of Surgery
Chief, Section of Surgery
University of Missouri-Kansas City
Children's Mercy Hospital
Kansas City
MO
Disclosures
CLS declares that he has no competing interests.
Associate Professor of Surgery
University of Wisconsin School of Medicine and Public Health
American Family Children's Hospital
Madison
WI
Disclosures
CML declares that he has no competing interests.