Last reviewed:
23 Aug 2023
Last updated:
08 Aug 2023
Summary
Hearing loss is one of the most common sensory impairments. An estimated 1.57 billion people globally had hearing loss in 2019.[1]GBD 2019 Hearing Loss Collaborators. Hearing loss prevalence and years lived with disability, 1990-2019: findings from the Global Burden of Disease Study 2019. Lancet. 2021 Mar 13;397(10278):996-1009. https://www.thelancet.com/journals/lancet/article/PIIS0140-6736(21)00516-X/fulltext http://www.ncbi.nlm.nih.gov/pubmed/33714390?tool=bestpractice.com
Hearing loss affects people of all ages and can be permanent if not treated correctly. Proper diagnosis rests on a thorough understanding of ear anatomy and physiology.
Anatomy
The human ear is divided into 3 parts: the external ear, the middle ear, and the inner ear.[Figure caption and citation for the preceding image starts]: Anatomy of the earCreated by BMJ Knowledge Centre [Citation ends].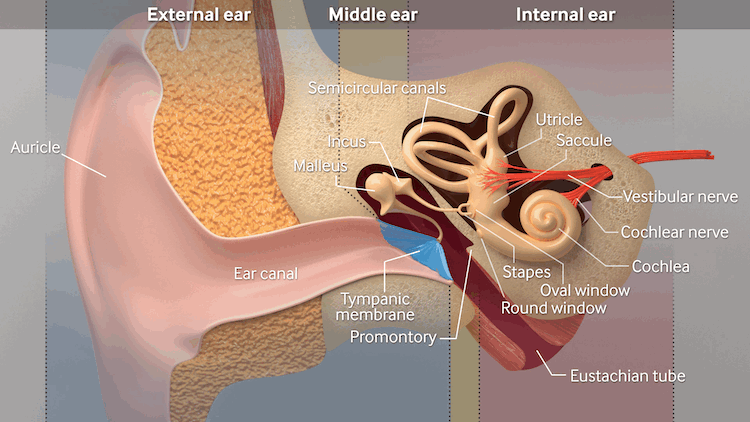 The external ear consists of the auricle (or pinna), the ear canal, and the tympanic membrane (or ear drum). The tympanic membrane divides the external ear from the middle ear.

Like the external ear, in its normal state, the middle ear is filled with air. Connected to the malleus (or hammer) is the incus (anvil), which is then connected to the stapes (stirrup). On the medial wall of the middle ear is the promontory, which demarcates the inner ear and, specifically, the basal turn of the cochlea. The stapes sits in an area called the oval window. The round window is inferior to the oval window. These windows lead to the inner ear.

The inner ear is fluid-filled and contains the organs of hearing (the cochlea) and the organs of balance (the semicircular canals, utricle, and saccule). The cochleovestibular nerve connects the end organs to the auditory and vestibular pathways.[Figure caption and citation for the preceding image starts]: Picture of a normal left earFrom the collection of Dr Richard Buckingham [Citation ends].
Physiology
Sound waves require a medium, such as air or water. The compression in a sound wave is channeled down the ear canal to the tympanic membrane. Vibrations of the tympanic membrane are then transmitted by the ossicular chain through the oval window into the cochlea. The vibrations of the cochlea cause a fluid wave, which stimulates hair cells within the cochlea. This generates an electrical impulse, which is transmitted along the cochlear nerve to the brain, where it is interpreted.
Anything that interferes with the movement of sound from the external ear to the middle ear to the inner ear, and then to the brain, can cause a hearing loss. The external ear and middle ear may appear normal on exam if the cause is in the inner ear or brain.
Classification of hearing loss
Generally, hearing loss is classified as conductive or sensorineural.
Conductive hearing loss: caused by pathology of the external ear, tympanic membrane or middle ear which disrupts sound transmission to the inner ear. Many causes can be treated successfully with surgery.

Sensorineural hearing loss: caused by abnormal function of the cochlea, auditory nerve, or higher auditory processing pathways.[2]Chandrasekhar SS, Tsai Do BS, Schwartz SR, et al. Clinical Practice Guideline: Sudden Hearing Loss (Update). Otolaryngol Head Neck Surg. 2019 Aug;161(1_suppl):S1-S45. https://www.doi.org/10.1177/0194599819859885 http://www.ncbi.nlm.nih.gov/pubmed/31369359?tool=bestpractice.com  Many sensorineural hearing losses are permanent because the human inner ear and hair cells have only limited ability to repair themselves.[3]Nacher-Soler G, Garrido JM, Rodríguez-Serrano F. Hearing regeneration and regenerative medicine: present and future approaches. Arch Med Sci. 2019 Jul;15(4):957-967. https://www.doi.org/10.5114/aoms.2019.86062 http://www.ncbi.nlm.nih.gov/pubmed/31360190?tool=bestpractice.com
Differentials
Cerumen impaction
Foreign body
Benign tumors (e.g., exostosis, osteoma, polyps)
Uncomplicated otitis externa
Acute otitis media
Serous otitis media/middle-ear effusion
Cholesteatoma
Labyrinthitis
Noise-related hearing loss
External ear canal trauma
Complication of meningitis
Stroke
Presbycusis
External ear canal neoplasm
Necrotizing otitis externa
Tympanic membrane perforation
Temporal bone fracture
Isolated developmental abnormality
Congenital hearing loss
Alport syndrome
Jervell Lange-Nielsen syndrome
Craniofacial abnormalities (e.g., Pierre Robin, Crouzon, Apert syndromes)
Waardenburg syndrome
Acoustic neuroma (vestibular schwannoma)
Glomus tumor
Cytomegalovirus (CMV) infection
Toxoplasmosis infection
Syphilis infection
Paget disease
Systemic lupus erythematosus (SLE)
Granulomatosis with polyangiitis (formerly known as Wegener granulomatosis)
Diabetes mellitus
Osteogenesis imperfecta
Vertebral artery dissection
Multiple sclerosis (MS)
Arnold-Chiari malformation
Auditory neuropathy
Idiopathic sudden sensorineural hearing loss
Ototoxic drugs
Meniere disease
Neonatal hyperbilirubinemia
Otosclerosis
Autoimmune inner ear disease
Perilymphatic fistula
Contributors
Seth R. Schwartz, MD, MPH

Otolaryngologist (Otology/Neurotology)

Department of Otolaryngology

Virginia Mason Medical Center

Medical Director

The Listen for Life Center at Virginia Mason

Seattle

WA

Disclosures

SRS is an author of a reference cited in this topic.
Acknowledgements

Dr S.R. Schwartz would like to gratefully acknowledge Dr S.J. Marzo, Dr J.P. Leonetti, and Dr R.J. Buckingham, previous contributors to this topic. SJM, JPL, and RJB declare that they have no competing interests.
Alan Micco, MD, FACS

Assistant Professor

Department of Otolaryngology

Department of Neurosurgery

Northwestern University Feinberg School of Medicine

Chicago

IL

Disclosures

AM declares that he has no competing interests.
George Browning, MD ChB FRCS (Ed & Glasg)

Professor of Otorhinolaryngology

MRC Institute of Hearing Research

Glasgow

UK

Disclosures

GB is an author of several books that include discussion of evaluation of hearing loss.