Last reviewed:
22 May 2021
Last updated:
19 Mar 2019
Summary
Chronic inflammatory condition defined by endometrial stroma and glands found outside of the uterine cavity. The most common sites affected are the pelvic peritoneum and ovaries.
May present incidentally in asymptomatic patients, or more commonly in women of reproductive age who complain of chronic pelvic pain and/or subfertility.
Clinical suspicion is generally sufficient to initiate therapy, but the diagnosis can only be confirmed by direct visualization and focused biopsies during laparoscopy.
Treatment options include nonsteroidal anti-inflammatories (NSAIDs), combined oral contraceptive pills, gonadotropin-releasing hormone (GnRH) agonists and antagonists, progestin-containing compounds, danazol (or related androgens), and surgical destruction of lesions. Controlled ovarian hyperstimulation and IVF may be considered for patients with subfertility.
Individualized care for patients with pelvic pain should incorporate a multidisciplinary evaluation and treatment plan that focuses on limiting the risk of recurrence and improving quality of life.
Definition
Endometriosis is defined as the presence of endometrial glands and stroma outside the endometrial cavity and uterine musculature. Surgical appearance varies significantly from superficial blebs to infiltrating fibrosis. Direct visualization confirmed by histological examination remains essential for diagnosis.
History and exam
dysmenorrhea
chronic or cyclic pelvic pain
dyspareunia
subfertility
uterosacral ligament nodularity
pelvic mass
fixed, retroverted uterus
depression
dysuria, flank pain, hematuria
dyschezia, hematochezia
reproductive age group
white ethnicity
positive family history
nulliparity
low body mass index (BMI)
mullerian anomalies
autoimmune disease
late first sexual encounter
smoking
previous cesarean section
Diagnostic investigations
transvaginal ultrasound (TVUS)
rectal endoscopic ultrasound
3D ultrasonography
hysterosalpingography
MRI pelvis
diagnostic laparoscopy
Treatment algorithm
Contributors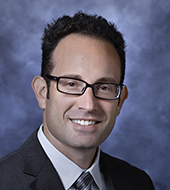 Associate Professor of Obstetrics & Gynaecology
Head of Gynaecology & Minimally Invasive Surgery
Faculty of Medicine at the University of Toronto
Mt. Sinai Hospital
Toronto
Canada
Disclosures
MJS is an author of a number of references cited in this monograph. He acts as a consultant for AbbVie (manufacturers of depot leuprolide) and Medtronic.
Clinical Fellow
Advanced Gynaecologic Surgery Department
Department of Obstetrics & Gynecology
Mt. Sinai Hospital
University of Toronto
Toronto
Canada
Disclosures
AS declares that he has no competing interests.
Dr M. Jonathon Solnik and Dr Ari Sanders would like to gratefully acknowledge Dr Sharon M. Jakus, a previous contributor to this topic. SMJ declares that she has no competing interests.
Professor
Department of Obstetrics, Gynecology, and Reproductive Sciences
Vice Chairman
Reproductive Sciences
Director
Division of Reproductive Endocrinology and Infertility
University of Pittsburgh
Pittsburgh
PA
Disclosures
JSS declares that he has no competing interests.
Professor of Obstetrics and Gynaecology
Leicester Royal Infirmary
Leicester
UK
Disclosures
JCK is an author of a reference cited in this monograph.