Last reviewed:
4 Jul 2021
Last updated:
12 Mar 2019
Summary
Acquired through skin-to-skin or fomite contact in children and is sexually transmitted in adulthood.
Lesions appear as umbilicated, pearl-like, smooth papules. At least one third of patients will develop symptoms of local erythema, swelling or pruritus.
Diagnosis is usually clinical.
Children are primarily managed conservatively. Adults should be treated with curettage, cryotherapy or cantharidin. However, available treatment options are the same for both adults and children.
Complications relate to treatment; discomfort, secondary infection of the wound or scarring may occur.
Definition
This condition is caused by the molluscum contagiosum virus, a ubiquitous poxvirus that escapes immune destruction for months to years. Lesions are cutaneous (less commonly mucosal). They appear as pearl-like, smooth papules, which are umbilicated. The histologic equivalent of epidermal collections of molluscum bodies is referred to as Henderson-Patterson bodies; virally infected keratinocytes with a central orifice. Lesions are generally caused via skin-to-skin or fomite contact in children and by sexual transmission in adults.[1]Silverberg NB. Warts and molluscum in children. Adv Dermatol. 2004;20:23-73. http://www.ncbi.nlm.nih.gov/pubmed/15544196?tool=bestpractice.com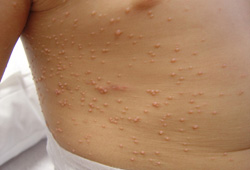 [Figure caption and citation for the preceding image starts]: Extensive molluscum lesions on the flank of a young child; lesions are flesh to pearly colored with central dellsFrom the collection of Dr Nanette Silverberg [Citation ends].
History and exam
pearly papule with a central dell
surrounding erythema
facial or groin distribution of lesions
pruritus
atopic dermatitis
sleep disturbance
close contact with an infected individual
sexual contact with an infected individual
HIV infection
tropical climate
swimming
atopic dermatitis
Diagnostic investigations
curettage biopsy
Tzanck stain
hematoxylin and eosin staining
HIV test
Treatment algorithm
Contributors
Nicholas Francis, PhD, MD, BA, MRCGP

Professor of Primary Care Research

School of Medicine

Neuadd Meirionnydd

University Hospital of Wales

Cardiff

UK

Disclosures

NF declares that he has no competing interests.
Acknowledgements

Dr Francis would like to gratefully acknowledge Dr Nanette B. Silverberg, a previous contributor to this topic.

Disclosures

NBS declares that she has no competing interests.
David M. Ozog, MD

Director of Cosmetic Dermatology

Department of Dermatology

Cosmetic and Procedural Dermatology

Henry Ford Health System

Detroit

MI

Disclosures

DMO declares that he has no competing interests.
Anthony Ormerod, MB, ChB, MRCP, FRCP(Edin), MD, FRCP(Lond)

Consultant Dermatologist

Aberdeen Royal Infirmary

Aberdeen

UK

Disclosures

None disclosed.
Andrea Bershow, MD

Staff Dermatologist

VA Medical Center

Minneapolis

MN

Disclosures

AB declares that she has no competing interests.