Last reviewed:
6 Apr 2021
Last updated:
25 Aug 2020
Summary
A noncontagious, chronic, multisystem disease.
Initial symptoms are nonspecific and include fatigue, vague musculoskeletal complaints, diffuse swelling of hands, and Raynaud phenomenon.
Etiology and pathogenesis are unknown.
Disease course is variable, but the condition rarely subsides spontaneously.
There are two main subtypes of systemic sclerosis (SSc): limited cutaneous SSc and diffuse cutaneous SSc. The limited cutaneous form tends to have less severe internal organ involvement and a better prognosis, but these subjects still need to be followed closely for possible complications.
Clinical course is determined by extent of vascular and fibrosing complications. Vascular involvement includes Raynaud phenomenon, ischemic digital ulcers, hypertensive crisis, and pulmonary arterial hypertension. Fibrosis can involve lungs, heart, and gastrointestinal tract.
Treatment is targeted on disease processes that are potentially reversible (e.g., active inflammation or vasoconstriction) and aims to minimize functional impairment of the patient.
Definition
Systemic sclerosis (SSC), also known as scleroderma, is a multisystem, autoimmune disease, characterized by functional and structural abnormalities of small blood vessels, fibrosis of skin and internal organs, and production of autoantibodies.
History and exam
Raynaud phenomenon
digital pits or ulcers
swelling of the hands and feet
skin thickening
loss of function of hands
sclerodactyly
heartburn, reflux, and dysphagia
bloating
fecal incontinence
arthralgias and myalgias
abnormal nail-fold capillaroscopy
telangiectasia
subcutaneous calcinosis
dyspnea
dry crackles at lung bases
tendon friction rub
abrupt onset moderate/marked hypertension
fatigue
dry cough
decreased exercise tolerance
weight loss
inflammatory arthritis
proximal muscular weakness (inflammatory myositis)
synovitis
increased accentuation of the pulmonic component of S2 heart sound
signs of anemia
famliy history of scleroderma
immune dysregulation (e.g., positive ANA)
exposure to environmental substances and toxins (e.g., silica dust or solvents)
Diagnostic investigations
serum autoantibodies
CBC
BUN and serum creatinine
ESR
CRP
urine microscopy
complete pulmonary function tests (spirometry, lung volumes, and diffusing capacity measurement)
ECG
echocardiogram
CXR
barium swallow
high-resolution CT scan of chest
upper gastrointestinal endoscopy ± biopsy
serum muscle enzymes
electromyogram/nerve conduction studies
muscle biopsy
Treatment algorithm
Contributors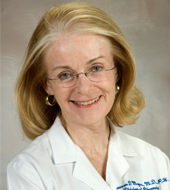 Professor of Medicine
Division of Rheumatology and Clinical Immunogenetics
University of Texas Health Science Center
Houston Medical School
Houston
TX
Disclosures
MDM is an advisory board member for Boehringer-Ingelheim, Galapagos, Corbus, and Eicos. MDM is on the grant review board for Medtelligence. She receives royalties from Oxford University Press and Henry Stewart Talks. MDM is an author of a number of references cited in this topic.
Dr Maureen D. Mayes would like to gratefully acknowledge Dr Rajpreet K. Arora-Singh, a previous contributor to this topic. RKA declares that she has no competing interests.