Last reviewed:
5 Sep 2023
Last updated:
16 Aug 2022
Summary
Acute appendicitis is an acute inflammation of the vermiform appendix.
Typically presents as acute abdominal pain starting in the mid-abdomen and later localizing to the right lower quadrant.
Associated with fever, anorexia, nausea, vomiting, and elevation of the neutrophil count.
Diagnosis is usually made clinically. If investigation is required, computed tomography scan or ultrasonography may show dilatation of the appendix outer diameter to more than 6 mm.
Definitive treatment is surgical appendectomy. A nonoperative, antibiotic-only approach may be feasible in select patient populations.
Definition
Acute appendicitis is an acute inflammation of the vermiform appendix, most likely due to obstruction of the lumen of the appendix (by fecalith, normal stool, infective agents, or lymphoid hyperplasia).[1]Fitz RH. Perforating inflammation of the vermiform appendix with special reference to its early diagnosis and treatment. Am J Med Sci. 1886;92:321-46.[2]Itskowitz MS, Jones SM. Appendicitis. Emerg Med. 2004;36:10-5.[Figure caption and citation for the preceding image starts]: Acute appendicitis - intraoperative specimen.Nasim Ahmed, MBBS, FACS; used with permission [Citation ends].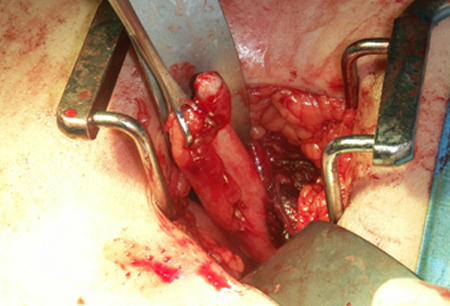 History and exam
Key diagnostic factors
abdominal pain
anorexia
right lower quadrant tenderness
More key diagnostic factors
Other diagnostic factors
age of occurrence
nausea
fever
diminished bowel sounds
tachycardia
vomiting
Rovsing sign
psoas sign
obturator sign
Risk factors
<6 months of breastfeeding
low dietary fiber
improved personal hygiene
smoking
Diagnostic investigations
1st investigations to order
CBC
CRP
abdominal and pelvic CT scan
urinary pregnancy test
More 1st investigations to order
Investigations to consider
abdominal ultrasound
urinalysis
abdominal and pelvic MRI in pregnancy
More investigations to consider
Treatment algorithm
uncomplicated acute appendicitis
ill with perforation or abscess
Contributors
Peter Szasz, MD, PhD, FRCSC

Assistant Professor

Department of Surgery

Queen's University

Kingston

Ontario

Canada

Disclosures

PS declares that he has no competing interests.
Acknowledgements

Dr Peter Szasz would like to gratefully acknowledge Professor Ali Tavakkoli, Professor Dileep N. Lobo and Dr Nasim Ahmed, previous contributors to this topic. AT is a consultant for Medtronic. DNL is the author of an article cited in the topic. NA declares that he has no competing interests.
John M. Davis, MD

General Surgery

Jersey Shore Medical Center

Neptune

NJ

Disclosures

JMD declares that he has no competing interests.
Differentials

Acute mesenteric adenitis

Viral gastroenteritis

Meckel diverticulitis

More Differentials

Guidelines

ACR Appropriateness Criteria: right lower quadrant pain - suspected appendicitis

WSES Jerusalem guidelines for diagnosis and treatment of acute appendicitis

More Guidelines

Patient leaflets

Appendicitis

More Patient leaflets

Calculators

APACHE II scoring system

More Calculators

Videos

Venepuncture and phlebotomy: animated demonstration

Peripheral venous cannulation: animated demonstration

More videos

Log in or subscribe to access all of BMJ Best Practice