Last reviewed:
19 Aug 2021
Last updated:
11 Jun 2021
11 Jun 2021
Updated international guidance on the diagnosis and management of acute appendicitis.
The World Society of Emergency Surgery has released an update (2020) of its Jerusalem guidelines on the diagnosis and treatment of acute appendicitis. New or revised recommendations include the following:
In uncomplicated appendicitis:
Postoperative antibiotics should no longer be prescribed since there is no evidence they decrease the rate of surgical infection. This resolves previous controversy over the risk-benefit ratio of their use.

An antibiotic-only approach should not be used if an appendicolith is present since nonoperative management carries a significant failure rate.
In complicated appendicitis:
Screening for colonic malignancy should be completed in any patient ages ≥40 years who is managed conservatively without interval appendectomy, since the incidence of appendicular neoplasms is high in this group.

Conservative treatment should be considered in selected patients with a periappendicular phlegmon or abscess. Although optimal management remains subject to date, intravenous antibiotics and percutaneous image-guided drainage in patients is a reasonable alternative to surgery if the patient is stable, and laparoscopic appendicectomy is unavailable.
In pregnancy:
A negative or inconclusive MRI does not exclude appendicitis and surgery should be still considered if clinical suspicion is high.

Laparoscopic appendectomy should be preferred to open appendectomy when surgery is indicated and where expertise of laparoscopy is available. Laparoscopy during pregnancy is safe in terms of risk of fetal loss and preterm delivery and is associated with shorter hospital stays and lower incidence of surgical site infection compared to open surgery. This recommendation resolves previous controversy around fetal risks associated with the surgical approach.
Original source of updateexternal link opens in a new window
Summary
Acute appendicitis is an acute inflammation of the vermiform appendix.
Typically presents as acute abdominal pain starting in the mid-abdomen and later localizing to the right lower quadrant.
Associated with fever, anorexia, nausea, vomiting, and elevation of the neutrophil count.
Diagnosis is usually made clinically. If investigation is required, computed tomography scan or ultrasonography may show dilatation of the appendix outer diameter to more than 6 mm.
Definitive treatment is surgical appendectomy. A nonoperative, antibiotic-only approach may be feasible in select patient populations.
Definition
Acute appendicitis is an acute inflammation of the vermiform appendix, most likely due to obstruction of the lumen of the appendix (by fecalith, normal stool, infective agents, or lymphoid hyperplasia).[1]Fitz RH. Perforating inflammation of the vermiform appendix with special reference to its early diagnosis and treatment. Am J Med Sci. 1886;92:321-46.[2]Itskowitz MS, Jones SM. Appendicitis. Emerg Med. 2004;36:10-5.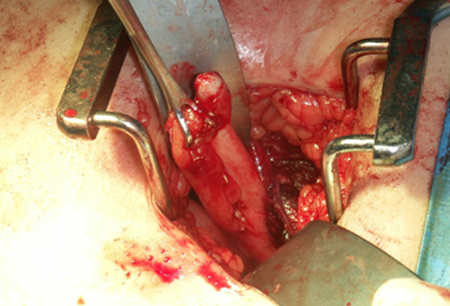 [Figure caption and citation for the preceding image starts]: Acute appendicitis - intraoperative specimen.Nasim Ahmed, MBBS, FACS; used with permission [Citation ends].
History and exam
abdominal pain
anorexia
right lower quadrant tenderness
age of occurrence
nausea
fever
diminished bowel sounds
tachycardia
vomiting
Rovsing sign
psoas sign
obturator sign
<6 months of breastfeeding
low dietary fiber
improved personal hygiene
smoking
Diagnostic investigations
CBC
CRP
abdominal and pelvic CT scan
urinary pregnancy test
abdominal ultrasound
urinalysis
abdominal and pelvic MRI in pregnancy
Treatment algorithm
Contributors
Peter Szasz, MD, PhD, FRCSC

General and Minimally Invasive Surgeon

Toronto

Ontario

Canada

Disclosures

PS declares that he has no competing interests.
Acknowledgements

Dr Peter Szasz would like to gratefully acknowledge Professor Ali Tavakkoli, Professor Dileep N. Lobo and Dr Nasim Ahmed, previous contributors to this topic. AT is a consultant for Medtronic. DNL is the author of an article cited in the topic. NA declares that he has no competing interests.
John M. Davis, MD

General Surgery

Jersey Shore Medical Center

Neptune

NJ

Disclosures

JMD declares that he has no competing interests.