Last reviewed:
30 Oct 2023
Last updated:
27 Apr 2021
Summary
Reactions range from local irritation and mild swelling to gross oral swelling and difficulty breathing.
Treatment is usually entirely supportive, aimed at alleviating immune reactions. Severe reactions and anaphylaxis require immediate intervention to maintain airway patency and prevent cardiovascular collapse. Injected epinephrine is the mainstay treatment of severe reactions.
Fatal spider bites are exceedingly rare. Most spider bites can be treated with supportive care.
Guidelines are mainly based on clinical experience and expert consensus due to the variability and unpredictability of reactions.
There is a risk of late-phase (delayed) anaphylactic reactions.
Primary care physicians should be notified of severe reactions involving their patients.
Definition
The term "insect" refers to a distinct taxonomic class. However, it is used generically throughout this topic to represent a multitude of bugs, including arachnids. Encounters with insects or arachnids can result in bites or stings.
Bites stem from puncture with a proboscis (head appendage) or fangs, or from chewing with mouth parts. Depending on the source, bites range from being immediately painful to completely unfelt, and health consequences may be caused by local trauma, the injection of various substances (irritants, venoms, poisons, toxins, anesthetics, enzymes, anticoagulants), disease transmission, secondary infection, or systemic allergic reactions (rare).
Stings from insects are administered from ovipositors (organs used for laying eggs that may also inject various noxious substances) or modified ovipositors (e.g., barbed stingers of bees and wasps). Stings are almost always immediately painful. Reactions range from local irritation and swelling to life-threatening anaphylactic reactions.[Figure caption and citation for the preceding image starts]: Honeybee stinging fleshCourtesy of Rick Vetter [Citation ends].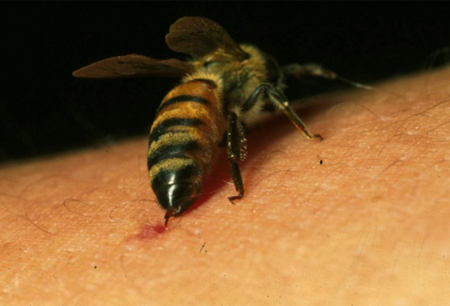 [Figure caption and citation for the preceding image starts]: Close-up of honeybee stingerCourtesy of Rick Vetter [Citation ends].

History and exam
Key diagnostic factors
witnessed bite/sting
local edema
local pain
local warmth
local markings
pruritus
wheal and flare
skin pallor
clamminess
signs of airway compromise
oropharyngeal edema
dyspnea
rales/crackles/wheeze
tachycardia
irregular pulse
skin flushing
altered alertness
More key diagnostic factors
Other diagnostic factors
pustules
bulls-eye-shaped rash
rash on palms and soles
linear raised rash
hypertension
fever
muscle cramp
diaphoresis
tremor
paresthesia and/or fasciculations
generalized pain
nausea/vomiting
headache
abdominal pain
history of immunocompromised state
history of cardiovascular disease
abscess
necrosis
cough
hypotension
arthralgia
adenopathy
Risk factors
occupational or recreational exposure to insects
geographic exposure to insects
previous history of anaphylactic (or anaphylactoid) response
Diagnostic investigations
1st investigations to order
More 1st investigations to order
Investigations to consider
CBC
serum tryptase
sensitivity testing
More investigations to consider
Treatment algorithm
anaphylaxis/anaphylactoid reaction
secondary infection: immunocompetent; low MRSA risk
Contributors
Tom Morrissey, MD, PhD

Associate Professor

Department of Emergency Medicine

University of Florida

Jacksonville

FL

Disclosures

TM declares that he has no competing interests.
Acknowledgements

Tom Morrissey would like to gratefully acknowledge the assistance of Richard Vetter (MS) from the Department of Urban Entomology at the University of California.

Disclosures

Not disclosed.
Theodore M. Freeman, MD

Allergist and Immunologist

Jacobs Ramirez and Freeman Allergy & Immunology

San Antonio

TX

Disclosures

TMF is an author of a number of references cited in this topic.
Andrew Parfitt, MBBS, FFAEM

Clinical Director

Acute Medicine

Associate Medical Director

Consultant Emergency Medicine

Guy's and St Thomas' NHS Foundation Trust

Clinical Lead and Consultant

Accident Emergency Medicine

St Thomas' Hospital

London

UK

Disclosures

AP declares that he has no competing interests.
Richard DeShazo, MD

Chairman and Professor

Department of Medicine

Professor of Pediatrics

Billy S. Guyton Distinguished Professor

University of Mississippi Medical Center

Jackson

MS

Disclosures

RD is an author of a reference cited in this topic.
Differentials

Cellulitis

Periorbital and orbital cellulitis

Abscess

More Differentials

Guidelines

Anaphylaxis - a 2020 practice parameter update, systematic review, and Grading of Recommendations, Assessment, Development and Evaluation (GRADE) analysis

Anaphylaxis - a 2020 practice parameter update, systematic review, and Grading of Recommendations, Assessment, Development and Evaluation (GRADE) analysis

More Guidelines

Patient leaflets

Insect bites and stings

More Patient leaflets

Log in or subscribe to access all of BMJ Best Practice