Last reviewed:
4 Sep 2023
Last updated:
03 Oct 2023
Summary
Cirrhosis is the pathologic end-stage of any chronic liver disease and most commonly results from chronic hepatitis B and C, alcohol-related liver disease, and nonalcoholic fatty liver disease.
The main complications of cirrhosis are related to the development of liver insufficiency and portal hypertension and include ascites, variceal hemorrhage, jaundice, portosystemic encephalopathy, acute kidney injury and hepatopulmonary syndromes, and the development of hepatocellular carcinoma.
Once a patient with cirrhosis develops signs of decompensation, survival is significantly impaired.
Management of cirrhosis includes treating underlying liver disease, avoiding superimposed injury, and managing complications. Timely referral for liver transplantation may be the only curative treatment option for patients with decompensated cirrhosis.
Chronic liver disease and cirrhosis are significant causes of premature mortality.
Definition
Cirrhosis is a diffuse pathologic process, characterized by fibrosis and conversion of normal liver architecture to structurally abnormal nodules known as regenerative nodules.[1]Anthony PP, Ishak KG, Nayak NC, et al. The morphology of cirrhosis: definition, nomenclature, and classification. Bull World Health Organ. 1977;55(4):521-40. http://www.ncbi.nlm.nih.gov/pubmed/304393?tool=bestpractice.com
It can arise from a variety of causes and is the final stage of any chronic liver disease. It can lead to portal hypertension, liver failure, and hepatocellular carcinoma. In general, it is considered to be irreversible in its advanced stages, although there can be significant recovery if the underlying cause is treated.[Figure caption and citation for the preceding image starts]: Laparoscopic view of a cirrhotic liverCourtesy of Dr Eugene Schiff and Dr Lennox Jeffers; used with permission [Citation ends].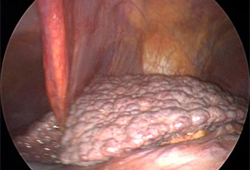 History and exam
Key diagnostic factors
abdominal distension
jaundice and pruritus
blood in vomit (hematemesis) and black stool (melena)
hand and nail features (e.g., leukonychia, palmar erythema, spider nevi)
facial features, e.g., telangiectasia, spider nevi, jaundiced sclera
abdominal features (e.g., collateral circulation, hepatosplenomegaly, distension)
altered mental status
More key diagnostic factors
Other diagnostic factors
constitutional symptoms
lower extremity swelling
hepatic fetor
muscle wasting
peripheral edema
recurrent infections
decreased libido
chest wall features (e.g., gynecomastia)
dyspnea
chest pain
syncope
Risk factors
alcohol misuse
intravenous drug use
unprotected intercourse
obesity
country of birth
blood transfusion
tattooing
Diagnostic investigations
1st investigations to order
liver function tests
gamma-glutamyl transferase (GGT)
serum albumin
serum sodium
serum potassium
prothrombin time
platelet count
antibodies to hepatitis C virus
hepatitis B surface antigen ± hepatitis B DNA assay
More 1st investigations to order
Investigations to consider
total iron, total iron binding capacity (TIBC), transferrin saturation, and serum ferritin
antinuclear antibody
antismooth muscle antibody
antimitochondrial antibody
serum immunoglobulins
serum ceruloplasmin
plasma alpha-1 antitrypsin
alpha-fetoprotein
abdominal ultrasound
abdominal CT
abdominal MRI
upper gastrointestinal endoscopy
liver biopsy
noninvasive tests of liver elasticity
More investigations to consider
Treatment algorithm
Contributors
Apostolos Koffas, MD (AUTH), MRCP (UK)

Clinical Research Fellow

Barts Liver Centre

Barts and the London School of Medicine and Dentistry

London

UK

Disclosures

AK declares that he has no competing interests.
Patrick T. F. Kennedy, MB, BCh, BAO, BMedSci, FRCP, MD

Professor and Consultant Hepatologist

Barts Liver Centre

Barts and the London School of Medicine and Dentistry

London

UK

Disclosures

PTFK acts as an advisor for Gilead Sciences, Janssen, and Immunocore. PTFK has received grant funding from Gilead Sciences. These roles are unrelated to the current article.
Acknowledgements

Dr Apostolos Koffas and Professor Patrick T. F. Kennedy would like to gratefully acknowledge Dr Grace E. Dolman, Dr Keith D. Lindor, and Dr Flavia Mendes, previous contributors to this topic.

Disclosures

GED declares that she has no competing interests. KDL is an unpaid advisor for Intercept Pharmaceuticals and Shire Pharmaceuticals. FM declares that she has no competing interests.
Nancy Reau, MD

Assistant Professor of Medicine

University of Chicago

Center for Liver Disease

Chicago

IL

Disclosures

NR declares that she has no competing interests.
Cynthia Levy, MD

Clinical Assistant Professor

Division of Gastroenterology Hepatology and Nutrition

University of Florida

Gainesville

FL

Disclosures

CL declares that she has no competing interests.
James Neuberger, DM, FRCP, Hon

Consultant Physician

Hon Professor in Medicine

Associate Medical Director NHSBT

Queen Elizabeth Hospital

Birmingham

UK

Disclosures

JN declares that he has no competing interests.
Differentials

Budd-Chiari syndrome

Portal vein thrombosis

Splenic vein thrombosis

More Differentials

Guidelines

ACR Appropriateness Criteria: abnormal liver function tests

Management of post-liver transplant biliary strictures: summary and recommendations

More Guidelines

Patient leaflets

Cirrhosis: what is it?

Cirrhosis: what treatments work?

More Patient leaflets

Calculators

NAFLD Fibrosis Score

More Calculators

Videos

Ascitic drainage: animated demonstration

More videos

Log in or subscribe to access all of BMJ Best Practice