Last reviewed:
23 May 2021
Last updated:
23 Apr 2021
Summary
Squamous cell carcinoma of the skin occurs in keratinocytes, which are located in the epidermis.
Second most common nonmelanoma skin cancer worldwide, secondary to basal cell carcinoma.
Cumulative ultraviolet exposure, most commonly from the sun, and immunosuppression are major risk factors.
Treatments include nonsurgical destruction (e.g., using cryotherapy), topical and systemic chemotherapy, traditional surgical excision, and Mohs micrographic surgery.
Definition
Cutaneous squamous cell carcinoma (SCC) is the proliferation of atypical, transformed keratinocytes in the skin with malignant behavior. It ranges from in situ tumors (also known as Bowen disease) to invasive tumors and metastatic disease. Precursor lesions for SCCs are called actinic (or sun-damage) keratosis.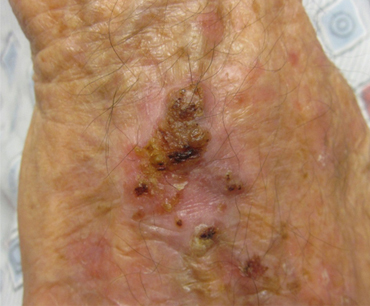 [Figure caption and citation for the preceding image starts]: Squamous cell carcinoma on the dorsal hand with evidence of extensive sun damageFrom the private collection of Dr Nwaneshiudu and Dr Soltani [Citation ends].
History and exam
previous skin cancer
bleeding
crusting
evidence of sun damage to skin
tender or itchy nonhealing wound originally caused by trauma
erythematous papules or plaques
thin, flesh-colored or erythematous plaques
dome-shaped nodule
exophytic, fungating, verrucous nodules or plaques
ulcerated tumors
lymphadenopathy
bone pain
hepatomegaly
neurologic signs
Ultraviolet radiation exposure
immunosuppression
fair skin
human papillomavirus
hereditary skin conditions
older age
male sex
ionizing radiation
carcinogens
actinic keratosis
previous skin cancer
tobacco smoking
thiazide diuretics and cardiac drugs
tattoos
Diagnostic investigations
CT body scan
MRI scan
PET scan
CBC with differential
LFTs
chest x-ray
noninvasive imaging technologies
Treatment algorithm
Contributors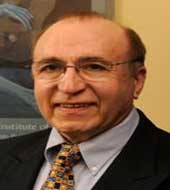 Professor
Department of Medicine
Director of Immunopathology
Laboratory Section of Dermatology
The University of Chicago
Chicago
IL
Disclosures
KS declares that he has no competing interests.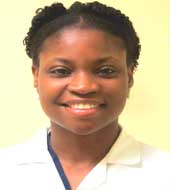 Medical Director, Dermatologist, and Dermatopathologist
Cutis Wellness Dermatology & Dermatopathology, PLLC
Preceptor
University of the Incarnate Word
Department of Family Medicine
Laredo
TX
Disclosures
AIN declares that she has no competing interests.
Prof K. Soltani and Dr A. I. Nwaneshiudu would like to gratefully acknowledge Dr Carlos Paz and Dr Jessica M. Sheehan, the previous co-contributors to this topic. CP and JMS declare that they have no competing interests.