Last reviewed:
1 Sep 2023
Last updated:
12 Jul 2023
Summary
Myocarditis describes a heterogeneous group of disorders characterized by myocardial inflammation in the absence of predominant acute or chronic ischemia.
Can affect all age groups with an apparent slightly higher incidence in males than females and equal incidence in black people and white people.
May present as fulminant, acute, or chronic myocarditis.
Treatment is usually supportive care and conventional heart failure therapy. More severe presentations may need aggressive pharmacologic treatment with escalation to mechanical circulatory support. Occasionally, certain cases do not respond to conventional therapy and progress to heart transplantation or death.
Prognosis is variable but is related to presentation and underlying etiology. Most cases of viral myocarditis are asymptomatic and spontaneously resolve. Patients who present with mild to moderate heart failure tend to improve or recover but may progress to chronic severe heart failure. Surprisingly, patients who present with fulminant, acutely decompensated heart failure almost universally recover back to baseline function, if death is prevented through management in the acute phase.
Definition
Myocarditis is clinically and pathologically defined as inflammation of the myocardium in the absence of the predominant acute or chronic ischemia characteristic of coronary artery disease. It is a clinical syndrome of nonischemic myocardial inflammation resulting from a heterogeneous group of infectious, immune, and nonimmune diseases. Histopathologically, it is characterized by an inflammatory cellular infiltrate with or without evidence of myocyte injury.[1]Aretz HT, Billingham ME, Edwards WD, et al. Myocarditis. A histopathologic definition and classification. Am J Cardiovasc Pathol. 1987 Jan;1(1):3-14. http://www.ncbi.nlm.nih.gov/pubmed/3455232?tool=bestpractice.com [Figure caption and citation for the preceding image starts]: Histologic findings in a patient with giant cell myocarditis. A: severe myocardial necrosis and fibrotic replacement of the cardiomyocytes with granulation tissue and fibrosis is present in a section from the anterolateral left ventricular wall; B: a sharp demarcating border between vital and necrotic myocardium is seen, confirmed by additional immunohistochemical staining for myoglobin; C: at the inflammatory border, cells consisting of prominent multinucleated giant cells, macrophages, lymphocytes, and eosinophilic granulocytes are seen in close proximity to vital myocardium; D: immunohistochemical staining for complement 4d is positive in all vessels, suggestive of complement cascade activationFrom: Rasmussen TB, Dalager S, Andersen NH, et al. BMJ Case Reports 2009; doi:10.1136/bcr.09.2008.0997 [Citation ends].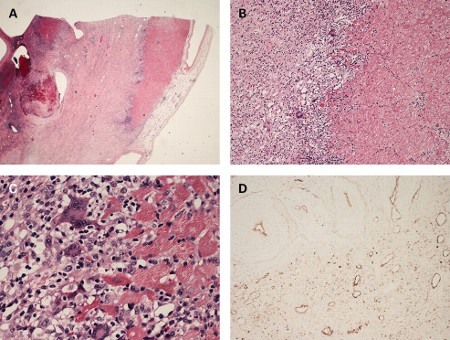 History and exam
Key diagnostic factors
viral syndrome (prior)
autoimmune disease
infectious disease
drugs and toxins
More key diagnostic factors
Other diagnostic factors
age <50 years
chest pain
dyspnea
orthopnea
fatigue
palpitations
rales
elevated neck veins
S3 gallop
sinus tachycardia
atrial and ventricular arrhythmias
tachypnea
hepatomegaly
syncope
fever
gastrointestinal issues
rhinorrhea
cough
S3 and S4 summation gallop
pericardial friction rub
peripheral hypoperfusion
hypotension
altered sensorium
lymphadenopathy
respiratory distress
Risk factors
infection (non-HIV)
HIV infection
autoimmune/immune-mediated diseases
peripartum and postpartum periods
drugs and toxins
Diagnostic investigations
1st investigations to order
12-lead ECG
CXR
serum CK
serum CK-MB
serum troponin (I or T)
serum B-type natriuretic peptide
two-dimensional echocardiogram
More 1st investigations to order
Investigations to consider
endomyocardial biopsy (EMB)
coronary angiography
18F-fluorodeoxyglucose positron emission tomography-computed tomography (18F-FDG PET-CT)
cardiac MRI
viral polymerase chain reaction (PCR)
More investigations to consider
Treatment algorithm
hemodynamically stable: no evidence of LV systolic dysfunction
hemodynamically stable: evidence of LV systolic dysfunction
hemodynamically unstable: adults
hemodynamically unstable: children
end-stage heart failure or refractory life-threatening arrhythmias
Contributors
Shriprasad R. Deshpande, MBBS, MS

Medical Director

Heart Transplant and Advanced Cardiac Therapies Program

Children's National Hospital

Associate Professor of Pediatrics

The George Washington University

Washington

DC

Disclosures

SRD declares that he has no competing interests.
Bibhuti Das, ​MBBS, MD, FAAP, FACC

Pediatric Cardiology

Chief, McLane Children's Hospital, BSW Medical Center

Baylor Scott and White Medical Center

Professor of Pediatrics

Baylor College of Medicine-Temple

Director of ACHD and CPET

Temple

TX

Disclosures

BD declares that he has no competing interests.
Acknowledgements

Dr Shriprasad R. Deshpande and Dr Bibhuti Das would like to gratefully acknowledge Dr Katherine C. Wu, Dr James E. Harvey, and Dr Arman T. Askari, previous contributors to this topic. KCW, JEH, and ATA declare that they have no competing interests.
David A. Leaf, MD, MPH

Professor of Medicine

School of Medicine

VA Greater Los Angeles Healthcare System

UCLA

Los Angeles

CA

Disclosures

DAL declares that he has no competing interests.
John Charpie, MD, PhD

Associate Professor of Pediatrics

Medical Director

Pediatric Cardiothoracic Intensive Care Unit

University of Michigan Congenital Heart Center

Ann Arbor

MI

Disclosures

JC declares that he has no competing interests.
Lokesh Tejwani, MD, FACC

Assistant Professor of Clinical Medicine

University of Missouri Hospitals and Clinics

Harry S. Truman VA Hospital

Columbia

MO

Disclosures

LT declares that he has no competing interests.
Differentials

Acute coronary syndrome

Dilated cardiomyopathy

Pericarditis

More Differentials

Guidelines

2022 ESC Guidelines for the management of patients with ventricular arrhythmias and the prevention of sudden cardiac death

2022 ESC Guidelines on cardio-oncology

More Guidelines

Log in or subscribe to access all of BMJ Best Practice