Last reviewed:
6 Nov 2023
Last updated:
18 Nov 2022
Summary
Infective endocarditis (IE) often presents with nonspecific features, most commonly fever.
Historical sources of bacteremia should be considered, such as indwelling vascular catheters, intravenous drug use, and recent dental work.
Symptoms are often subtle and exam is often unrevealing, but may demonstrate cardiac murmur, peripheral emboli, Osler nodes, Roth spots, and Janeway lesions.
At least two sets of blood cultures taken at different times (ideally >6 hours if clinical status allows) should be obtained prior to initiation of antibiotic therapy.
An echocardiogram should be obtained in all suspected cases.
Antimicrobial therapy is guided by presentation, clinical findings, and organism virulence. The decision on the need for, and timing of, surgery should be made by the cardiac surgery team.
Definition
Infective endocarditis (IE) is an infection involving the endocardial surface of the heart, including the valvular structures, the chordae tendineae, sites of septal defects, or the mural endocardium.[1]Mylonakis E, Calderwood SB. Medical progress: infective endocarditis in adults. N Engl J Med. 2001 Nov 1;345(18):1318-30. http://www.ncbi.nlm.nih.gov/pubmed/11794152?tool=bestpractice.com [Figure caption and citation for the preceding image starts]: Gross pathology of subacute bacterial endocarditis involving mitral valveCDC/Dr Edwin P. Ewing, Jr.; used with permission [Citation ends].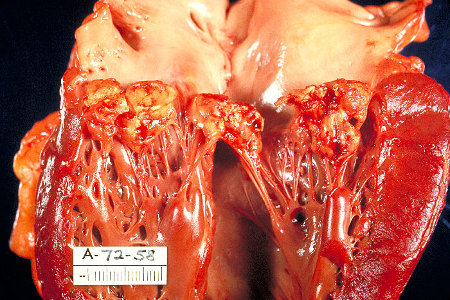 History and exam
Key diagnostic factors
fever/chills
night sweats, malaise, fatigue, anorexia, weight loss, myalgias
weakness
arthralgias
headache
shortness of breath
meningeal signs
cardiac murmur
Janeway lesions
Osler nodes
Roth spots
More key diagnostic factors
Other diagnostic factors
splinter hemorrhages
cutaneous infarcts
chest pain
back pain
palatal petechiae
Risk factors
prior history of infectious endocarditis
presence of artificial prosthetic heart valves
certain types of congenital heart disease
postheart transplant (patients who develop a cardiac valvulopathy)
presence of cardiac implanted electronic device or intravascular catheters (e.g., for hemodialysis)
acquired degenerative valve disease
mitral valve prolapse or bicuspid valve prolapse
hypertrophic cardiomyopathy
intravenous drug use
Diagnostic investigations
1st investigations to order
CBC
serum chemistry panel with glucose
urinalysis
blood cultures
ECG
echocardiogram
More 1st investigations to order
Investigations to consider
rheumatoid factor
erythrocyte sedimentation rate
complement levels
cardiac CT
head MRI
More investigations to consider
Treatment algorithm
suspected infective endocarditis
native valve: confirmed endocarditis
prosthetic valve: confirmed endocarditis
at high risk of infective endocarditis
Contributors
Ammara Mushtaq, MD

Clinical Assistant Professor

University of Florida

Division of Infectious Disease and Global Medicine

Gainesville

FL

Disclosures

AM declares that she has no competing interests.
Acknowledgements

Dr Tracey Keteepe-Arachi, Dr Aneil Malhotra, and Dr Michael Papadakis would like to gratefully acknowledge Professor Sanjay Sharma, Dr Jason C. Schultz, Dr Nisha K. Lassi, and Dr Nandan S. Anavekar, previous contributors to this topic. JCS, NKL, NSA, and SS declare that they have no competing interests.
Vandana Desai, MD

Professor of Pediatrics

SMIMER Hospital

Gujarat

India

Disclosures

VD declares that she has no competing interests.
Lucieni Oliveira Conterno, MD, PhD

Director

Clinical Epidemiology Unit

Marilia Medical School

Sao Paulo

Brazil

Disclosures

LOC declares that she has no competing interests.
Andrew Wang, MD

Associate Professor of Medicine

Director, Cardiovascular Disease Fellowship Program

Duke University Medical Center

Durham

NC

Disclosures

AW declares that he has no competing interests.
Differentials

Rheumatic fever

Atrial myxoma

Libman-Sacks endocarditis

More Differentials

Guidelines

Prevention of viridans group streptococcal infective endocarditis

ACR appropriateness criteria: infective endocarditis

More Guidelines

Patient leaflets

Endocarditis

More Patient leaflets

Calculators

Endocarditis Diagnostic Criteria - Modified Duke Criteria

More Calculators

Videos

Venepuncture and phlebotomy: animated demonstration

How to perform an ECG: animated demonstration

More videos

Log in or subscribe to access all of BMJ Best Practice