Last reviewed:
25 Aug 2022
Last updated:
24 Mar 2020
Summary
An inflammatory disorder involving both the peripheral bronchioles and alveoli simultaneously. It has distinctive radiographic findings, histologic features, and response to corticosteroids (unlike usual interstitial pneumonia).
Most common type is idiopathic BOOP; other types include focal nodular, postinfection, drug-related, rheumatologic, immunologic, organ transplantation, radiation therapy, environmental, and miscellaneous BOOP.
Accounts for 20% to 30% of all cases of chronic infiltrative lung diseases. It occurs equally among men and women, and is not related to smoking.
High-resolution chest computed tomography scan shows bilateral patchy triangular ground-glass opacities with air bronchograms usually located peripherally.
Lung biopsy may be required to establish the definitive diagnosis in patients with unusual findings or severe disease.
Idiopathic BOOP is treated with corticosteroids.
Cases with an underlying cause (e.g., drug-related BOOP) should have the causative factor removed; corticosteroid therapy is indicated in some cases.
Definition
Bronchiolitis obliterans organizing pneumonia (BOOP) is defined as organized polypoid granulation tissue in the distal airways extending into the alveolar ducts and alveoli.[1]Epler GR, Colby TV. The spectrum of bronchiolitis obliterans. Chest. 1983;83:161-162. http://www.sciencedirect.com/science/article/pii/S0012369215399633 http://www.ncbi.nlm.nih.gov/pubmed/6822090?tool=bestpractice.com [2]Epler GR, Colby TV, McLoud TC, et al. Bronchiolitis obliterans organizing pneumonia. N Engl J Med. 1985;312:152-158. http://www.ncbi.nlm.nih.gov/pubmed/3965933?tool=bestpractice.com [3]Epler GR. Bronchiolitis obliterans organizing pneumonia, 25 years: a variety of causes, but what are the treatment options? Expert Rev Respir Med. 2011;5:353-361. http://www.ncbi.nlm.nih.gov/pubmed/21702658?tool=bestpractice.com BOOP is an inflammatory disorder involving both the peripheral bronchioles and alveoli simultaneously and has distinctive radiographic findings, histologic features, and response to therapy.[Figure caption and citation for the preceding image starts]: Medium-powered pathology slide showing circular and branching bronchioles filled with polypoid plugs of granulation tissue and alveoli filled with organizing pneumoniaFrom the collection of Gary R. Epler, MD [Citation ends].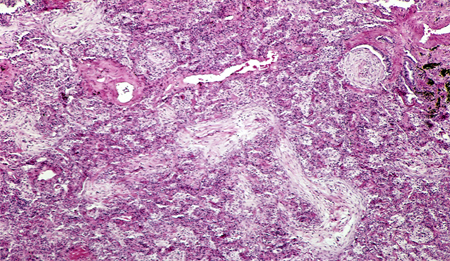 The term cryptogenic organizing pneumonia (COP) is a general term referring to organized inflammatory process in the alveoli from an unknown cause.[4]Travis WD, Costabel U, Hansell DM, et al. An official American Thoracic Society/European Respiratory Society statement: Update of the international multidisciplinary classification of the idiopathic interstitial pneumonias. Am J Respir Crit Care Med. 2013 Sep 15;188(6):733-48. https://www.atsjournals.org/doi/full/10.1164/rccm.201308-1483ST http://www.ncbi.nlm.nih.gov/pubmed/24032382?tool=bestpractice.com COP is somtimes noted as a preferred term because it captures an "acinar" rather than an airway disease, and BOOP may be confused with obliterative bronchiolitis.[5]Bradley B, Branley HM, Egan JJ, et al; British Thoracic Society Interstitial Lung Disease Guideline Group, British Thoracic Society Standards of Care Committee; Thoracic Society of Australia; New Zealand Thoracic Society; Irish Thoracic Society. Interstitial lung disease guideline. Thorax. 2008;63(suppl 5):v1-v58. http://thorax.bmj.com/content/63/Suppl_5/v1.full http://www.ncbi.nlm.nih.gov/pubmed/18757459?tool=bestpractice.com
However, the author uses the term BOOP because it continues to be recognized and used throughout the world. It is a specific pulmonary lesion recognized by pathologists with a characteristic clinical pattern and response to treatment. BOOP is simultaneous inflammation of the distal bronchiolar airways, respiratory bronchioles, alveolar ducts, and alveoli. BOOP is a diffuse interstitial parenchymal disease and acinar disease and not an airway disease, especially because of the presence of crackles, decreased diffusing capacity, no airflow obstruction, and high-resolution chest computed tomography scans showing triangular-shaped, ground-glass opacities with air bronchograms.
BOOP is not confused with obliterative bronchiolitis because BOOP is a diffuse parenchymal lung disease and not an airway disease; wheezing is not a common symptom of BOOP; crackles, and not wheezes, are heard by auscultation in BOOP; the FEV1/FVC ratio is normal or slightly increased in BOOP, not decreased as in airway obstructive diseases; and the radiographic findings show bilateral patchy infiltrates, not normal or hyperinflation seen in airflow obstructive diseases.
The term BOOP is also used for nonidiopathic types such as postinfection BOOP; drug-related BOOP; connective tissue and immunologic disease-related BOOP; bone marrow, stem cell, and lung transplant-related BOOP; radiation therapy-related BOOP; occupational and environmentally related BOOP; and continually newly described systemic disease-related BOOP.
Finally, the term BOOP is easy for patients to remember and use to advance their understanding of the disease process by obtaining accessible scientific publications.
History and exam
Key diagnostic factors
flu-like illness with low-grade fever, fatigue, and arthralgia
More key diagnostic factors
Other diagnostic factors
cough
shortness of breath
bilateral crackles
Risk factors
infectious pneumonia
connective tissue diseases
immunologic diseases and inflammatory bowel disease
organ transplantation
medication use
breast radiation therapy
exposure to toxins
Diagnostic investigations
1st investigations to order
CXR
high-resolution chest CT scan (HRCT)
CBC
erythrocyte sedimentation rate
More 1st investigations to order
Investigations to consider
pulmonary function tests
video-assisted thoracoscopic biopsy
creatine kinase 
anticardiolipin antibodies
lupus anticoagulant antibodies
More investigations to consider
Treatment algorithm
recurrent BOOP, rapidly progressive
recurrent BOOP, not rapidly progressive
Contributors
Gary R. Epler, MD

Clinical Associate Professor

Harvard Medical School

Boston

MA

Disclosures

GRE is an author of several references cited in this topic.
Steven Sahn, MD

Professor of Medicine and Director

Division of Pulmonary/Critical Care/Allergy/Sleep Medicine

Medical University of South Carolina

Charleston

SC

Disclosures

SS declares that he has no competing interests.
Teofilo Lee-Chiong, MD

National Jewish Medical and Research Center

Denver

CO

Disclosures

TLC has been reimbursed by the American College of Chest Physicians (ACCP), American Academy of Sleep Medicine, American Thoracic Society, and Cephalon, the manufacturer of modafinil, for attending several conferences. He has been paid by the ACCP for running educational programs and by Elsevier for serving as consultant of the Sleep Medicine Clinics. He has also received research funding from the National Institutes of Health, Respironics, Restore, and Schwarz Pharma, and has been a member of the speakers' bureau for GlaxoSmithKline.
Differentials

Nodular sarcoidosis

Chronic eosinophilic pneumonia (CEP)

Bronchiolitis interstitial pneumonia (BIP)

More Differentials

Guidelines

An official American Thoracic Society/European Respiratory Society statement: update of the international multidisciplinary classification of the idiopathic interstitial pneumonias

More Guidelines

Patient leaflets

Pneumonia

More Patient leaflets

Log in or subscribe to access all of BMJ Best Practice