Last reviewed:
1 Sep 2023
Last updated:
07 Jul 2022
Summary
Inflammatory arthritis is a common term for several conditions that manifest as joint pain, swelling, and stiffness with varying degrees of functional impairment. These diseases can be broadly categorized as:
Infectious arthritis

Immune-mediated arthritis

Noninfectious and nonimmune-mediated inflammatory arthritis

Paraneoplastic arthritis

Neoplastic arthritis.
In patients with pain and swelling in a single joint, acute infection is a relatively common cause - one that can result in rapid and irreversible damage. In contrast, the majority of patients with involvement of multiple joints tend to have disorders of chronic duration. The prognosis is good for those who remain unclassifiable, with nearly 50% of such patients undergoing remission requiring no pharmacologic therapy at follow-up at 1 year.
[Figure caption and citation for the preceding image starts]: Acute monoarthritis of the right kneeFrom the collection of Dr Soumya Chatterjee [Citation ends].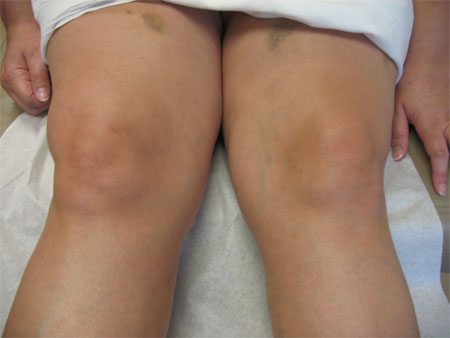 Differentiation of joint pain
In addition to inflammatory joint diseases, joint pain can also be due to:
Joint damage (e.g., osteoarthritis, or trauma leading to a fracture or internal derangement)

Referred pain

Altered pain threshold (as is seen in central sensitization syndromes such as fibromyalgia).
Pain due to an intra-articular pathology needs to be differentiated from referred pain arising from adjacent soft tissues or juxta-articular bone. In the context of referred pain, the range of motion of the joint is usually unaffected, and joint motion does not aggravate pain, whereas palpation over a regional bursa, tendon, or ligament can elicit pain.
Characteristics of inflammation
The classic signs of inflammation generally also apply to inflammatory joint disease:
Pain (aggravated by movement)

Erythema

Warmth

Swelling

Stiffness

Limitation of range of motion.
It is usually not possible to detect all of the above features (especially swelling and erythema) in deep-seated joints such as the shoulders, hips, intervertebral joints, and sacroiliac joints.
Mono- versus poly- site arthritis
Most causes of oligoarthritis (involving 2-4 joints) or polyarthritis (involving ≥5 joints) can also be causes of monoarthritis, because almost any arthritic condition can initially affect a single joint. The most important and serious condition that needs to be considered in the workup of an acute monoarthritis is septic (pyogenic) nongonococcal arthritis. If the diagnosis is missed and appropriate antimicrobial therapy is not instituted early, rapid destruction of articular cartilage can lead to irreversible joint damage.
Differentials
Septic nongonococcal arthritis
Gonococcal arthritis
Rheumatoid arthritis
Gout
Pseudogout
Psoriatic arthritis
Indolent infections
Parvoviral syndrome
Lyme disease
Juvenile idiopathic arthritis (oligo-articular type)
Acute rheumatic fever (ARF)
Sarcoidosis
Spondyloarthropathy
Systemic lupus erythematosus (SLE)
Adult-onset Still disease (AOSD)
Reactive arthritis
Ankylosing spondylitis (AS)
Osteoarthritis
Trauma
Nontraumatic hemarthrosis
Hypertrophic osteoarthropathy
Intra-articular metastatic cancer
Synovial sarcoma
Arbovirus infections (e.g., chikungunya)
Inflammatory bowel disease (ulcerative colitis and Crohn disease)
Celiac disease
Whipple disease
Bowel-associated dermatosis arthritis syndrome
Synovitis, acne, pustulosis, hyperostosis, and osteitis (SAPHO) syndrome
Drug-induced
Remitting seronegative symmetrical synovitis with pitting edema (RS3PE) syndrome
Ebola virus
Diffuse tenosynovial giant cell tumor (formerly, diffuse pigmented villonodular synovitis)
Localized tenosynovial giant cell tumor (formerly, localized pigmented villonodular synovitis)
Synovial osteochondromatosis
Amyloid arthropathy
Fibroblastic rheumatism
Multicentric reticulohistiocytosis (MRH)
Contributors
Soumya Chatterjee, MD, MS, FRCP(UK), FACP, FACR

Professor of Medicine

Cleveland Clinic Lerner College of Medicine of Case Western Reserve University

Rheumatology Fellowship Program Director

Staff, Department of Rheumatic and Immunologic Diseases

Orthopedic and Rheumatologic Institute

Cleveland Clinic

Cleveland

OH

Disclosures

SC declares that he has no competing interests.
Hill Gaston, MA, PhD, BM BCh, FRCP, FMedSci

Professor of Rheumatology

University of Cambridge

Clinical Director

West Anglia CLRN

Cambridge

UK

Disclosures

HG declares that he has no competing interests.
Don L. Goldenberg, MD, FACP

Chief of Rheumatology

Director

Arthritis-Fibromyalgia Center

Newton-Wellesley Hospital

Newton

Professor of Medicine

Tufts University School of Medicine

Boston

MA

Disclosures

DLG declares that he has no competing interests.
Brent A. Ponce, MD

Associate Professor

Division of Orthopedic Surgery

University of Alabama

Birmingham

AL

Disclosures

BAP declares that he has no competing interests.