Last reviewed:
22 Dec 2021
Last updated:
22 Oct 2020
Summary
Hereditary spherocytosis is an inherited abnormality of the red blood cell, caused by defects in structural membrane proteins. It is the most common form of inherited hemolytic anemia in the US and northern Europe. The severity of resultant hemolysis is related to the type and amount of membrane disruption.
May be diagnosed at any age. The key laboratory features are the presence of spherocytes on the blood smear in association with a negative direct antiglobulin test (DAT) and an elevated reticulocyte count.
May be newly diagnosed in children who present with severe anemia due to parvovirus infection. Patients may also be completely asymptomatic. In these cases, HS may be detected on a blood count/smear done for other reasons.
Management depends on the severity of the hemolysis and degree of anemia, but is generally supportive for most patients.
Splenectomy is the treatment of choice in patients with severe HS. This is best avoided until at least 6 years of age to reduce the risk of postsplenectomy sepsis.
Definition
Hereditary spherocytosis (HS) is an inherited abnormality of the red blood cell, caused by defects in structural membrane proteins. The condition is dominantly inherited in 75% of people. The severity of the disorder is related to the type and amount of membrane disruption, which is genetically determined. The abnormal cells are spherical. They are removed by the spleen, resulting in a reduced red-cell life span that deviates from the normal of 120 days by a variable degree. In severe cases, red-cell life span may be only 10 days. The severity of hemolysis varies between different individuals and can be exacerbated by infection. HS is associated with splenomegaly (commonly), anemia (variably) with an increased reticulocyte count, and jaundice (occasionally).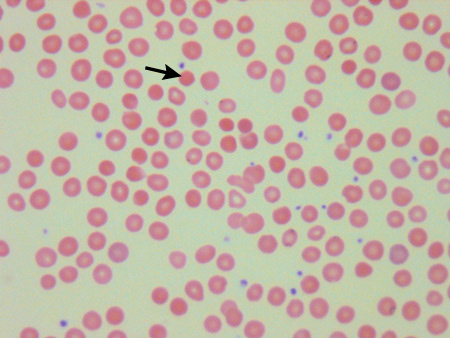 [Figure caption and citation for the preceding image starts]: Blood smear of a patient with HS; spherocyte indicatedFrom the collection of Shelley Crary, University of Texas Southwestern Medical Center, TX; used with permission [Citation ends].
History and exam
positive family history
at risk demographic
pallor
jaundice
splenomegaly
fatigue
hydrops fetalis or stillbirth
family history of splenectomy, anemia, jaundice, or HS
at risk demographic
Diagnostic investigations
CBC
reticulocyte count
blood smear
serum bilirubin
serum aminotransferases
direct antiglobulin test (DAT)
eosin-5-maleimide binding test
acidified glycerol lysis test
sodium dodecyl sulfate-polyacrylamide gel electrophoresis
Treatment algorithm
Contributors
Shelley Crary, MD, MSCS

Associate Professor of Pediatrics

University of Arkansas for Medical Sciences

Little Rock

AR

Disclosures

SC is on an advisory board for Genentech for a hemophilia product (unrelated to this article).
Acknowledgements

Dr Shelley Crary would like to gratefully acknowledge Dr Paula Bolton-Maggs, a previous contributor to this topic. PB-M has received travel and accommodation payments to give a series of lectures on paediatric haematology, one of which was on HS. She also was an expert witness in a legal case concerning a child with HS. PB-M is an author of some references cited in this topic.
Robert Schilling, MD

Professor of Medicine Emeritus

School of Medicine and Public Health

University of Wisconsin-Madison

Madison

WI

Disclosures

RS is an author of a number of references cited in this topic.