Last reviewed:
30 Oct 2023
Last updated:
13 Aug 2019
Summary
A rare inflammatory skin disease with unclear etiology.
It manifests as widespread polymorphic papulosquamous dermatitis that varies in a spectrum of clinical presentations and course. The course of pityriasis lichenoides is unpredictable.
Very rarely, it may progress to the cutaneous form of lymphoma.
It is optimally managed with a combination of topical, light, and systemic therapies.
Definition
Pityriasis lichenoides is an uncommon, acquired, idiopathic skin condition. It is a challenging disorder to diagnose, categorize, and treat due to its varied presentation and uncertain course. Pityriasis lichenoides manifests as diffuse polymorphic, papulosquamous dermatitis that varies in severity, temporal onset and development, and prognosis. The scope of presentations is classified along a continuum of 3 subtypes, including pityriasis lichenoides et varioliformis acuta, pityriasis lichenoides chronica, and febrile ulceronecrotic Mucha-Habermann disease.[1]Khachemoune A, Blyumin ML. Pityriasis lichenoides: pathophysiology, classification, and treatment review. Am J Clin Dermatol. 2007;8(1):29-36. http://www.ncbi.nlm.nih.gov/pubmed/17298104?tool=bestpractice.com [Figure caption and citation for the preceding image starts]: Acute form of pityriasis lichenoides on the trunk and arm of a young boyFrom the collection of Dr A. Khachemoune, SUNY Downstate Medical Center, Brooklyn. [Citation ends].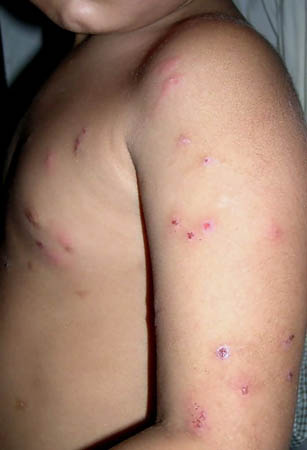 History and exam
Key diagnostic factors
acute to subacute recurrent skin eruption
polymorphic, generalized, nonpruritic skin eruption
More key diagnostic factors
Other diagnostic factors
scars or pigment changes
immunosuppression
recent illness
family history of pityriasis lichenoides
headache
myalgias/arthralgias
malaise
burning/pruritus
multiorgan failure
Risk factors
childhood to early adult age
male sex
HIV
Diagnostic investigations
1st investigations to order
More 1st investigations to order
Investigations to consider
antistreptolysin titers
Epstein-Barr virus IgM/IgG viral capsid antigen and nuclear antigen antibody
monospot or heterophil antibody test
hepatitis B surface antigen, antisurface antibody, and anticore IgM
hepatitis C virus antibody
HIV screening
rapid plasma reagin
throat cultures
toxoplasma Sabin-Feldman dye test, indirect immunofluorescence/hemagglutination
erythrocyte sedimentation rate
CRP
serum LDH
WBC count
serum albumin
More investigations to consider
Treatment algorithm
severe disease or treatment resistance
Contributors
Amor Khachemoune, MD, CWS

Clinical Instructor in Dermatology

SUNY Downstate Medical Center

Brooklyn

NY

Disclosures

AK declares that he has no competing interests.
Marianna Blyumin-Karasik, MD

Dermatology Faculty

Department of Dermatology & Cutaneous Surgery

University of Miami

Miami

FL

Disclosures

MB-K declares that she has no competing interests.
Andrew D. Lee, MD

Resident

Department of Dermatology

Wake Forest University School of Medicine

Winston-Salem

NC

Disclosures

ADL declares that he has no competing interests.
Abdulhafez Selim, MD

Assistant Professor

King Fahd University of Petroleum and Minerals

Dhahran

Saudi Arabia

Disclosures

AS declares that he has no competing interests.