Last reviewed:
2 Feb 2021
Last updated:
19 Mar 2018
Summary
Genetic disorder with an autosomal inheritance pattern and codominant expression of alleles.
Pulmonary and hepatic manifestations include emphysema, COPD, and cirrhosis.
Granulomatosis with polyangiitis (formerly known as Wegener granulomatosis) and necrotizing panniculitis are infrequent complications but can prompt diagnosis.
Plasma AAT levels, protein phenotyping (called Pi-typing), and protein genotyping may be necessary for diagnosis. Rare alleles may require gene sequencing.
Intravenous AAT augmentation therapy benefits some patients.
Definition
Alpha-1 antitrypsin (AAT) deficiency is an autosomal codominant genetic disorder (i.e., 1 allele is inherited from each parent and each allele is expressed equally) resulting from AAT allele mutations at the protease inhibitor (PI) locus. PI* allele mutations cause ineffective activity of the specific protease inhibitor alpha-1 antitrypsin, which is the enzyme responsible for neutralizing neutrophil elastase and preventing inflammatory tissue damage in the lungs.[1]Laurell CB, Eriksson S. The electrophoretic alpha 1-globulin pattern of serum in alpha 1-antitrypsin deficiency. Scand J Clin Lab Invest. 1963;15:132-140.[2]Brantly M, Nukiwa T, Crystal RG. Molecular basis of alpha 1-antitrypsin deficiency. Am J Med. 1988;84:13-31. http://www.ncbi.nlm.nih.gov/pubmed/3289385?tool=bestpractice.com Variants of the enzyme may also polymerize and accumulate in the liver, resulting in hepatic failure. Alpha-1 antitrypsin is also known as alpha-1 proteinase inhibitor.
History and exam
productive cough
shortness of breath on exertion
current cigarette smoker
exposure to gas, fumes, and/or dust
hepatomegaly
ascites
confusion
age 32-41
male gender
wheezing
chest hyperinflation
scleral icterus/jaundice
asterixis
Diagnostic investigations
plasma AAT level
pulmonary function testing
chest x-ray
chest CT
LFTs
phenotyping
genotyping
exercise testing with ABG analysis
alpha-fetoprotein
abdominal CT
Treatment algorithm
Contributors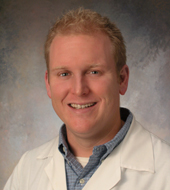 Associate Professor
Pulmonary and Critical Care
University of Chicago
Chicago
IL
Disclosures
DKH has served as a consultant for CSL Behring: manufacturer of AAT replacement therapy. Has lectured for CSL Behring, Grifols, and Shire: manufacturers of AAT replacement therapy. Research sponsored by Shire: manufacturer of AAT replacement therapy.
Dr D. Kyle Hogarth would like to gratefully acknowledge Dr Paul J. Hutchison, a previous contributor to this monograph. PJH declares that he has no competing interests.
Assistant Professor of Medicine
David Geffen School of Medicine at UCLA
Los Angeles
CA
Disclosures
JD declares that she has no competing interests.
Chair of Quality
Director
Pulmonary Hypertension Clinic
Head
Pulmonary Education and Rehabilitation
Department of Pulmonary, Allergy and Critical Care
Cleveland Clinic Florida
Weston
FL
Disclosures
FR has been a consultant and speaker and has received funding from Baxter Healthcare and CSL Behring.
Consultant Chest Physician
Aberdeen Royal Infirmary
Aberdeen
UK
Disclosures
GPC declares that he has no competing interests.