Last reviewed:
1 Jul 2021
Last updated:
16 Mar 2018
Summary
Common accumulation of synovial fluid that is usually the result of a knee joint abnormality, such as arthritis or a cartilage tear.
May present with swelling or pain behind the knee, but most cases are asymptomatic.
May rupture, leading to severe pain and calf swelling.
Usually only conservative treatment is required.
Large symptomatic cysts that do not resolve may require drainage.
Definition
Popliteal cyst, also known as Baker cyst, is the result of an accumulation of joint synovial fluid outside the knee joint that forms behind the knee. This occurs via increased intrasynovial pressure and causes the synovial capsule to bulge at an area where there is a lack of external anatomic support.[1]Labropoulos N, Shifrin DA, Paxinos O. New insights into the development of popliteal cysts. Br J Surg. 2004;91:1313-1318. http://www.ncbi.nlm.nih.gov/pubmed/15376180?tool=bestpractice.com The most common underlying conditions that lead to overproduction of synovial fluid include arthritis and meniscal tears.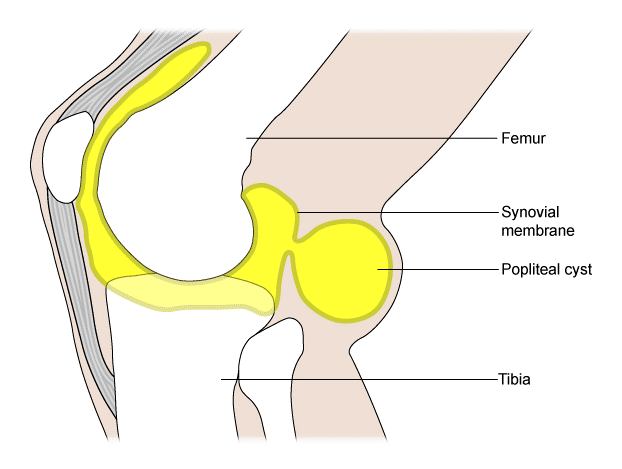 [Figure caption and citation for the preceding image starts]: Popliteal cystCreated by BMJ Publishing Group [Citation ends].
History and exam
popliteal bulge
knee pain
leg swelling
calf tenderness
calf ecchymosis
lyme disease
knee joint trauma
underlying knee joint arthritis or synovitis
underlying knee joint infection
increasing age
Diagnostic investigations
duplex ultrasound of the leg
MRI of the leg
CT scan of the leg
Treatment algorithm
Contributors
John Kelly IV, MD

Associate Professor of Clinical Orthopaedic Surgery

Director of Sports Shoulder Service

Orthopaedic Surgery

University of Pennsylvania

Philadelphia

PA

Disclosures

JK declares that he has no competing interests.
Acknowledgements

Dr John Kelly IV would like to gratefully acknowledge Dr Antonios P. Gasparis and Dr Nicos Labropoulos, previous contributors to this topic. APG declares that he has no competing interests. NL is the author of multiple references cited in this topic.
Brian Sabb, DO

Clinical Lecturer II

Orthopedic Radiologist

Department of Radiology

University of Michigan Medical Center

Ann Arbor

MI

Disclosures

BS declares that he has no competing interests.
Hill Gaston, MA, PhD, BM BCh, FRCP, FMedSci

Professor of Rheumatology

University of Cambridge

Clinical Director

West Anglia CLRN

Cambridge

UK

Disclosures

HG declares that he has no competing interests.
Richard Wakefield, BM, MRCP, MD

Senior Lecturer in Rheumatology

Academic Section of Musculoskeletal Disease

Leeds Institute of Molecular Medicine

Chapel Allerton Hospital

Leeds

UK

Disclosures

RW declares that he has no competing interests.